Forest River's 20-foot R-Pod RP-180 travel trailer provides maximum comfort in a minimal package
RVers seeking a comfortable travel trailer that would fit into snug Forest Service or similar-type campsites often required a full-size tow vehicle because the available trailers typically exceeded the towing capacity of smaller pickups and SUVs. Today, that's not the case. RV manufacturers offer numerous well-appointed lightweight trailers, and automotive manufacturers have beefed up the towing muscle of their midsize offerings. Combine a newer midsize pickup or SUV with an ultralight trailer, and you have a comfy combo for those who like to keep their RVing footprint small.
---

Related Stories

---
A fine example is the 2018 Forest River R-pod RP-180, which we towed with a 2017 GMC Canyon Denali 4×4 to a BLM campground on the banks of Oregon's Umpqua River. The truck and trailer mate as if they were meant for each other, and the combination would make an excellent weekend-getaway package for young couples and empty nesters alike.
Small Footprint, Big Features
The RP-180 is one of the newest offerings from Forest River, and one of six R-pod models with a slideout galley that makes the interior quite comfortable inside the cozy 20-foot platform. The test Hood River Edition, which we picked up at George M. Sutton RV in Eugene, Oregon, includes a $384 option package on the West Coast production models that swaps out the 205/75R14 street tires for more aggressive and taller 235/75R15 off-road tires on aluminum rims for greater ground clearance and durability on unpaved backcountry roads. The package also includes a MaxxAir vent cover and a double entry step.
The eye-catching exterior is two-tone gel-coated fiberglass, akin to what the boating industry uses. Under that, Forest River employs welded-aluminum side walls and floor covered by a one-piece R9-insulated fiberglass roof, R7-insulated laminated walls and R9-insulated flooring for an interior that is both warm and quiet. When it's chilly, a touch on the digital thermostat brings to life the 20,000-Btu furnace, located under the queen bed in the rear, and it takes just a couple minutes to get toasty. If it's hot and humid, the optional 13,500-Btu air conditioner ($978) cools things down just as quickly.
We loved the 6½-foot ceiling and the huge amount of storage between all the drawers, cubbies, cabinets and open space under the queen-size bed. Add to that a couple of exterior cargo compartments, the front one being an L-shaped area spanning the width of the trailer. The spacious rear bathroom has a wall of storage nooks and drawers, as well as a corner shower and vanity that are separate from the toilet.
Little but Loaded
R-pods come standard with a nice combination of appliances and features, including a two-burner stove and 3.7-cubic-foot refrigerator, vinyl flooring and LED lighting. In addition to the Hood River upgrades, three option packages elevated the test trailer from standard trim to the comfortable level of camping we enjoyed: Interior Luxury ($1,160), Exterior Luxury ($1,740) and Camper Friendly ($530). The add-ons made our several-day stay at Tyee Campground that much more pleasant.
The interior package includes a remote-controlled AM/FM/CD Jensen Bluetooth sound system, pleated night shades, a four-speed Maxxair roof fan, 4.2-cubic-foot refrigerator and 6-gallon DSI water heater. The Camper Friendly option adds a Go Power solar-charging port, an outside shower, friction-hinged entry door, EZ Glide dinette table, recessed cooktop with a glass cover, and a seamless countertop with an under-mount stainless sink and recessed sink cover.
The Exterior Luxury Package tops everything off with a dual-battery rack, external speakers, 5-gallon LP-gas cylinder with an ABS cover, front and rear manual stabilizer jacks, folding entry-door-assist handle, independent-torsion axle, detachable 30-amp power cord, black-tank flush, TV antenna and magnetic door catches for the outside compartments. These well-thought-out options are worth the extra coins, and we appreciated the convenience and utility.
During the test, a couple of items caught our attention. One was that the 20,000-Btu direct-vent furnace is located directly under the bed and the discharge faces inward toward what appears to be a convenient storage area. We had to remind ourselves several times to keep that area clear.
The other item was the slideout. While it functions fine, after it rains and the slide is retracted, it drags in a couple cups of water, depositing it evenly down both walls and onto the vinyl floor at the base of the galley. This is common with this style of slide room. Such water intrusion can be reduced by having a slideout awning installed — something to think about at the time of purchase.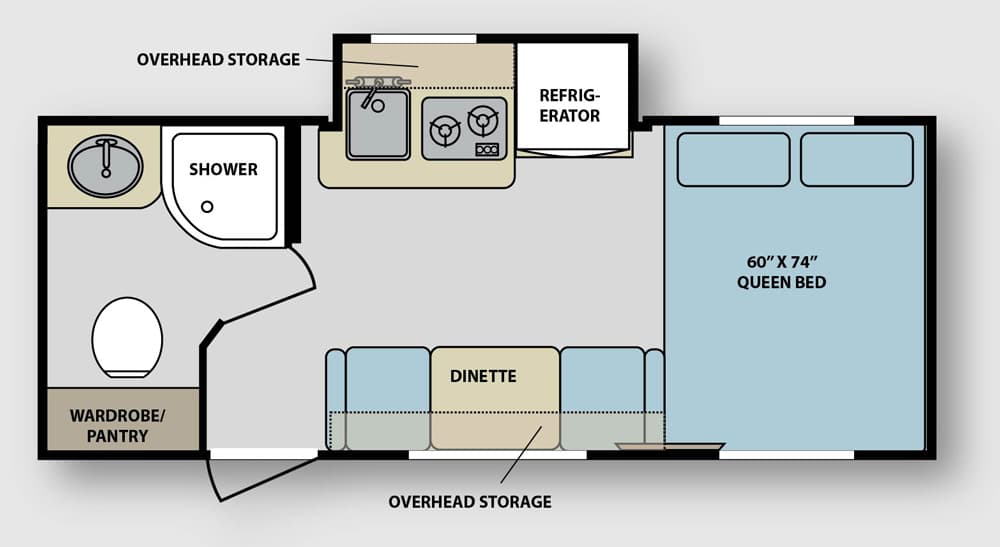 Two for the Road
Getting to and from the campground was just as pleasant as our accommodations. The Canyon Denali 4WD Crew is the flagship of GMC's midsize pickups. It's loaded with all the creature comforts and towing ability we've come to expect when the Denali moniker is placed on a GMC, from heated and cooled seats to the IntelliLink touch-screen system to connect everything.
With a 308-horsepower 3.6-liter V-6 and eight-speed automatic as the driving force, the Canyon Denali never lacked for pulling power needed to easily climb mountain grades, merge into fast traffic or pass slower-moving vehicles, all while getting 13.4 mpg towing the 3,400-pound R-pod.
As for towing ability, the Canyon Denali 4WD shortbed is rated for 7,000 pounds with the 3.42:1 axle ratio and towing package, which is how the test truck was equipped. The ideal hitch weight is between 10 and 12 percent, and the trailer's hitch weight was 330 pounds. That put it a hair on the light side, which is probably what contributed to a slight wag rolling down the highway. A sway control is in order for this combination, and it's best to place heavier cargo in the front portion of the trailer.
The short take on the Hood River Edition R-pod RP-180 is that it accommodates two adults with enough of the niceties to make getaways very enjoyable, and the Canyon Denali makes getting there just as relaxing. My wife and I would have loved to keep this combo around for the rest of the summer and fall. It fits our lifestyle, allowing us to camp in style at smaller, more remote or less frequented campgrounds and off-the-grid locations.
Forest River | 866-837-6044 | www.forestriverinc.com/travel-trailers/r-pod
---
A respected automotive and RV journalist and longtime Trailer Life contributor, Bruce W. Smith has held numerous editorial titles at automotive and boating magazines, and authored more than 1,000 articles, from tech to trailering. He considers his home state of Oregon a paradise for RVing and outdoor adventure.
---