With 21 inches of ground clearance, the Vorsheer XOC (eXtreme Overland Camper) four-season, two-person trailer is right at home off the beaten path.
It's no surprise Utah is fast becoming one of the hotbeds of off-road trailer building with all the off-grid camping opportunities throughout the state and surrounding region. Vorsheer knows that area and market quite well. Formed by a group of enterprising and talented fabricators and craftsmen who were manufacturing tiny trailers for others, the company has begun production of its own off-road-adventure trailer called the Vorsheer XOC, for eXtreme Overland Camper. Vorsheer's flagship trailer is offered in three trim levels: Tier 1, 2 and 3, with the latter being the fully loaded model highlighted here.
Living Area
The Vorsheer XOC body is built from aluminum and hardwood using the newest technologies found in the marine and RV industries to maximize weather resistance. Two windowed side doors make it easy to get in and out. Inside, the 15-foot trailer is finished in handcrafted solid Baltic birch attached to the laser-cut, CNC-bent, TIG-welded aluminum frame. Fitment of all the trailer's cabinets, windows and doors is uniform and smooth. Vorsheer even includes a convenient laptop slide-out tray built in under the stereo.
The Tier 3 XOC provides all the conveniences to be comfortable on multiday off-grid camping excursions including an 8-inch-thick queen mattress, 30-gallon on-demand hot-water system, external shower, audio system and thermostat-controlled LP-gas cabin heater. Air conditioning is an available upgrade. Lighting is LED, and the trailer is set up for both battery and shorepower, with dual deep-cycle batteries part of the Tier 3 package. Multiple plug-ins for USB and 120-volt AC are also standard.
Kitchen & Storage
The XOC has a lot of storage for a tiny trailer if you opt for the Tier 2 or top-end Tier 3 model.  The latter has two powder-coated-aluminum external storage lockers sitting on the front, supplementing the interior and exterior cabinets. There's also storage for jerricans in the special holder at the back of the curb-side fender, while the LP-gas cylinder is secured at the rear of the trailer's street-side fender. Up top is a sturdy cargo rack, accessible via a safari-type ladder, capable of supporting the largest of rooftop tents or an abundance of supplies and gear.
Meals are prepped and cooked using the street-side galley slide-out at the rear of the XOC. It­ features a two-burner stove that slides out from beneath the cabinet holding the stainless-steel sink. The countertop runs the full width of the trailer, providing an abundance of work space. Above it are four hardwood cabinets, and below on the curb side is another slide-out for a big fridge-freezer that's part of the Tier 3 package. Overhead, built into the robust rear hatch, are LED lights and speakers for the sound system.
Special Features
The XOC is designed to be used off pavement. It has 31-inch off-road tires and an impressive 23 inches of free ground clearance. The steel frame's side rails are angled inward "to be more forgiving of obstacles," according to Vorsheer's David Rodriguez. Another special aspect is all of the steel and aluminum components are sandblasted and powder-coated to maximize corrosion resistance. Vorsheer partners with rooftop-tent maker 23Zero, so it's easy to have the XOC set up with a tent system for additional sleeping accommodations.
---
Manufacturer's Specifications
Vorsheer XOC Tier 3
Exterior Length: 15′
Exterior Width: 7′ 6″
Exterior Height: 7′
Freshwater Cap.: 30 gal.
Black-Water Cap.: NA
Gray-Water Cap.: NA
LP-Gas Cap.: 7 gal.
UVW: 2,600 lbs.
Hitch Weight: 200 lbs.
GVWR: 5,200 lbs.
MSRP, Base: $19,999 (Tier 1)
MSRP, As Shown: $37,999 (Tier 3)
www.vorsheer.com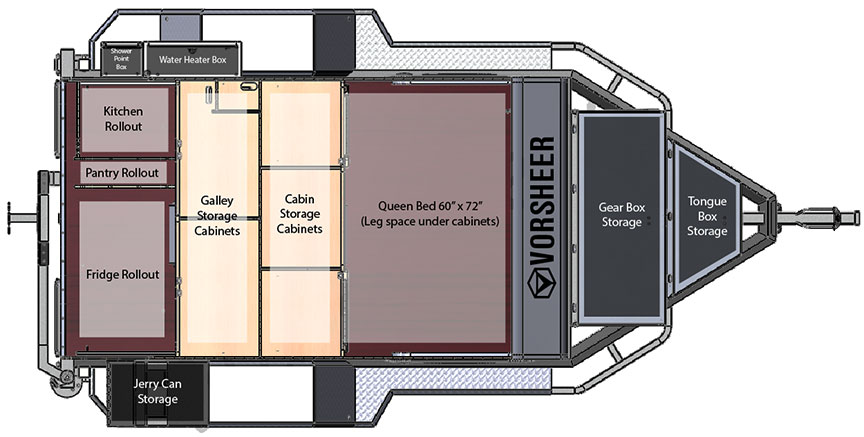 ---
A respected automotive and RV journalist and longtime Trailer Life contributor, Bruce W. Smith has held numerous editorial titles at automotive and boating magazines, and authored more than 1,000 articles, from tech to trailering. He considers his home state of Oregon a paradise for RVing and outdoor adventure.
---
---