Innovative and angular, the Polydrop breaks with traditional teardrop design
Polydrops Inc.'s CEO Kyung-Hyun Lew not only studied to become an architectural designer, he actually built his own towable "study space" while getting his master's degree. That 680-pound rolling cabin was the impetus for the Polydrop, a futuristic-looking polygonal aluminum-and-wood version of a teardrop trailer, weighing in at a trim 760 pounds (dry) and measuring 12 feet, 5 inches long. If the Polydrop had any bearing on Lew's GPA, he probably graduated with honors.
Living Area
Flip up the Polydrop's strut-assisted gull-wing-style doors, and you are greeted by insulated, light-colored pine walls and a bright interior occupied entirely by a thick 48-by-75-inch foam mattress. A trio of LED-lit storage cubbies occupies the space above the leather-padded headboard, which also contains the control panel for the lights, heater, stereo, 12-volt DC power and USB ports.
The door windows and translucent roof vent provide ambient lighting, while a 100-watt flex-type solar panel on the roof supplies charging power for the LED lights that run off the trailer's 12-volt battery system. It's a cozy living space that the company's website refers to as an "escape capsule from daily life."
Kitchen and Storage
The Polydrop's compact size and shape preclude it from having the more traditional built-in stove and storage space found in most conventional teardrop's external rear galleys. But Lew still designed in a comfortable working area to place a camp stove, and the space has two polygon-shaped drawers underneath the shelf for storing basic cooking essentials. Food, water, coolers and other gear will need to be stored in the tow vehicle.
Special Features
The Polydrop is an all-season tiny trailer, with 8-inch-thick rigid foam walls, an insulated roof and a heater. What makes it special is its angular design and ultralight weight. Hitch weight is just 80 pounds, so it can be maneuvered with ease at the campsite, and it can be towed by most properly equipped vehicles.
The first 20 Polygon trailers being manufactured are Limited Edition models selling for $9,000. When production ramps up in 2020, the price jumps to $13,000.
---
Manufacturer's Specifications
2019 Polydrop Limited Edition
Exterior Length: 12' 5"
Exterior Width: 5' 6"
Exterior Height: 5' 4"
Freshwater Cap.: N/A
Black-/Gray-Water Cap.: N/A
LP-Gas Cap.: N/A
UVW: 760 lbs.
Hitch Weight: 80 lbs.
Axle Weight: 1,200 lbs.
GVWR: 1,200 lbs.
MSRP, Base: $9,000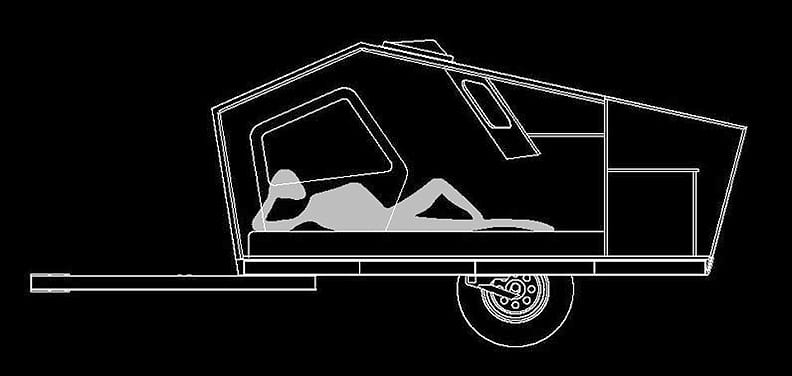 ---
A respected automotive and RV journalist and longtime Trailer Life contributor, Bruce W. Smith has held numerous editorial titles at automotive and boating magazines, and authored more than 1,000 articles, from tech to trailering. He considers his home state of Oregon a paradise for RVing and outdoor adventure.
---