Compact and smartly designed, Forest River's NoBo 10.6 is an ideal mini toy hauler for making the most of the great outdoors.
Forest River's No Boundaries brochure sums up the attributes of the company's 2019 NoBo 10.6 almost perfectly: "Load. Lounge. Dine. Relax. Rest. Repeat." The only things avid outdoor lovers need to add to this tiny-trailer-turned-toy-hauler are provisions for the weekend and their favorite toys, be they canoes, kayaks, mountain bikes, dirt bikes or an OHV. Adding to its appeal, the versatile 13-foot, 9-inch aluminum-and-fiberglass trailer has a gross vehicle weight rating just shy of 3,600 pounds, which means it can be towed by most crossovers, SUVs and small pickups.
Living Area
The NoBo 10.6 is essentially a teardrop-size trailer with a sleeping area that doubles as a toy garage. Interior height is less than 5 feet, which is along the lines of most teardrops and tiny trailers.
The two sofa chairs can be extended to the rear door, which serves as a loading ramp for whatever is transported in the garage. The floor is covered with a thick rubber mat. Tie-downs at each corner anchor the toys, and an in-floor compartment is ideal for storing tools.
There's a small fold-down table on each side wall for eating, a JBL Flip 4 Bluetooth speaker built in to the bulkhead, a convenient USB charging station, LED lighting inside and out, and blackout shades for added privacy. A 13,500-Btu low-profile air conditioner, 5,000-Btu heat strip and 28-inch flat-screen TV are just a few of many options. Additional sleeping quarters can be handled with an optional roof-top tent system.
Kitchen and Storage
The NoBo 10.6 has an outdoor kitchen located on the street-side slideout rack below the forward cargo compartment. It holds a two-burner camp stove and cooler. Just forward of the kitchen is a pantry-like side compartment to hold the basic cooking seasonings and a small assortment of canned goods and other provisions. The NoBo 10.6 also has a 30-gallon freshwater tank onboard, which aids dry camping.
The garage is just big enough (60 inches wide by 82 inches long by 55 inches high) to accommodate a full-size ATV, and there's more storage space up front in the open area above the kitchen compartment.
Special Features
The NoBo 10.6 is all about transporting outdoor toys, on top and inside, while being flexible for changing interests and seasons. That's why Forest River offers several option packages and an array of external carriers (for bikes, snowboards, kayaks/canoes, etc.), a bat-wing awning, a mesh rear-door screen, and the previously mentioned roof-top tent system, for the user to mix and match.
---
FIRST TAKE >>

 Forest River's No Boundaries 10.6 is a compact, smartly designed mini toy hauler for those who like to be as mobile as possible while having a basecamp that's secure and comfortable. It has the ground clearance to handle off-pavement travel, and just enough interior room to rest easy after enjoying outdoor pursuits.
---
Manufacturer's Specifications
2019 Forest River No Boundaries 10.6
Exterior Length: 13' 9"
Exterior Width: 7' 4"
Exterior Height: 7' 5" (w/optional A/C)
Freshwater Cap.: 30 gal.
Black-Water Cap.: N/A
Gray-Water Cap.: N/A
LP-Gas Cap.: 5 gal.
UVW: 1,606 lbs.
Hitch Weight: 198 lbs.
Axle Weight: 3,500 lbs.
GVWR: 3,600 lbs.
MSRP, Base: $16,999
www.forestriverinc.com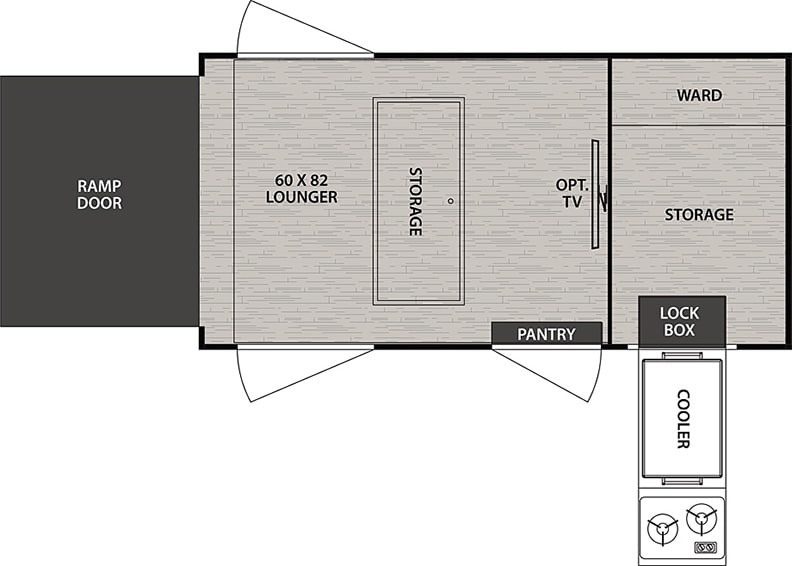 ---
A respected automotive and RV journalist and longtime Trailer Life contributor, Bruce W. Smith has held numerous editorial titles at automotive and boating magazines, and authored more than 1,000 articles, from tech to trailering. He considers his home state of Oregon a paradise for RVing and outdoor adventure.
---
---