This stylish teardrop reflects the quality of its bigger brethren, but it's built to fit the budget and needs of those who like to be fleet of foot.
At just 13 feet in length and a touch over 7 feet tall, the Jayco Hummingbird 10RK is the smallest in the company's line of ultralightweight travel trailers. But even though it's the baby bird of the 2019 models, the 10RK still retains the attractive style, functionality, comfort and quality construction found in bigger Hummingbirds that weigh almost twice as much. With a gross vehicle weight rating of 2,000 pounds, the 10RK is built for those who like to travel light and fast, sleep easy and eat well in the outdoors.
Living Area
Featuring vacuum-bonded and insulated floors and side walls, with a one-piece fiberglass roof, the 10RK is designed in the traditional "teardrop" manner with the sleeping area separated from the kitchen that's located in the rear third of the trailer and accessible from outdoors. A 54-by-74-inch Jayco-exclusive Teddy Bear mattress fills the interior, while wall-mounted mesh pouches and an overhead cabinet at each end provide additional storage and a convenient location for the sound system.
Along the interior's front wall is another built-in storage area flanked by USB ports to keep media and phones charged. There's also a small fold-down table on the rear wall, another USB charging station, and 120-volt AC and 12-volt DC plug-ins.
The 10RK has LED lighting inside an out, tinted windows with blackout shades, and a quiet power roof vent. If additional cooling is needed, Jayco offers an 8,000-Btu air conditioner that mounts on the curb side next to the window.
Kitchen and Storage
Where the 10RK shines as a teardrop is when you flip up the rear door that reveals the fully equipped outdoor kitchen. It's compact but well designed, holding a microwave, a 1.7-cubic-foot two-way refrigerator, a 24-inch two-way LED TV and a sink connected to a 25.6-gallon freshwater tank. Beneath the slide-out drawer is an open space to accommodate the optional propane grill.
The 10RK can be connected to the grid via 30-amp service, if needed, and the 20-pound (4.7-gallon) propane cylinder can be upgraded to a 30-pound version for extended outings. The trailer is prewired for rooftop solar panels. It also has a spacious exterior storage compartment that is ideal for keeping camping gear and bulky items safe and secure.
Special Features
The Jayco Hummingbird 10RK can be towed by most compact SUVs, crossover vehicles and cars with a 2,000-pound towing capacity and proper equipment. The 10RK comes with 15-inch Goodyear mud tires as part of the mandatory Customer Value Package. Combined with the Dexter rubber-torsion axle suspension system, the tall tires give the 10RK 5 inches more ground clearance than the standard tires found on bigger Hummingbirds.
Another aspect that makes Jayco's smallest Hummingbird special among tiny trailers is the quality of the woodwork and cabinetry done by Amish craftsmen.
Manufacturer's Specifications
2019 Jayco Hummingbird 10RK
Exterior Length: 13'
Exterior Width: 7' 4"
Exterior Height: 7'
Interior Height: 4' 5"
Freshwater Cap.: 25.6 gal.
Black-/Gray-Water Cap.: N/A
LP-Gas Cap.: 5 gal.
UVW: 1,545 lbs.
Hitch Weight: 180 lbs.
Axle Weight: 2,500 lbs.
GVWR: 2,000 lbs.
MSRP, Base: $17,425
www.jayco.com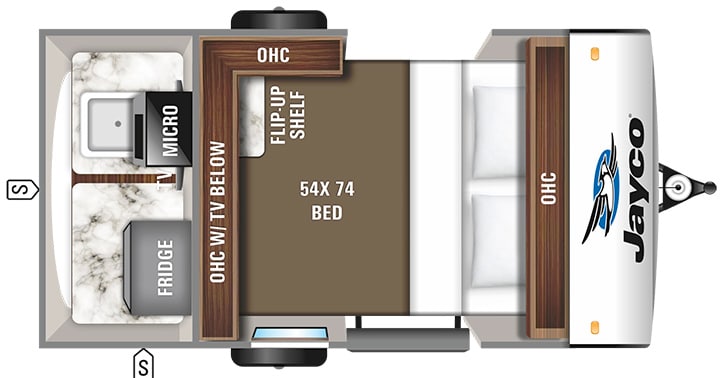 ---
A respected automotive and RV journalist and longtime Trailer Life contributor, Bruce W. Smith has held numerous editorial titles at automotive and boating magazines, and authored more than 1,000 articles, from tech to trailering. He considers his home state of Oregon a paradise for RVing and outdoor adventure.
---
---