This Forest River hybrid from Coachmen blends the best of a teardrop and pop-up tent trailer into a rugged little off-the-grid camper. 
Half pop-up tent trailer, half hard-sided, sharply angled teardrop, the 13-foot Coachmen Clipper Express 9.0TD from the Forest River family of RVs offers the best of both worlds. Closed for travel, the laminated-aluminum-skinned teardrop is sleek and light on its wheels, on road or off, while the pop-up rear entry provides added roominess when set up for camp.
Living and Sleeping
Inside the 9.0TD's hard-side walls and mesh-screened fabric extension is an elevated 54-by-74-inch thick-foam bed flanked by sliding windows and an overhead storage nook. Under the street-side built-in of the Deluxe version is the 20,000-Btu furnace, and a 5,000-Btu air conditioner is mounted under the opposing cabinet.
The 9.0TD shares the same tasteful laminate flooring as other Forest River RVs. Two side windows and the open-mesh pop-up provide a ton of ventilation and light for the interior. The V-Package includes a built-in sink, on-board water system, portable privy that slides under the bed and 15-inch off-road tires for additional ground clearance.
Kitchen and Storage
Storage is available under the bed, accessed from inside and out, and in the two counter cabinets flanking the sides. That leaves the two countertops open for prepping food. A 1.6-cubic-foot refrigerator is under the street-side counter, and a propane camp stove slips into an exterior mount on the side the trailer. A folding table and chairs are another standard feature.
The off-road V-Package, mentioned above, brings more amenities to a dry-camp setting with a 16-gallon freshwater tank, DSI water heater and outside shower. The package also includes a rooftop cargo rack to handle larger, bulkier items.
Special Features
The pop-up tent-style rear entry makes it easy to walk in and out of the camper, and the exterior cook stove maximizes interior space, making this little hybrid feel much bigger inside than it appears. Its lightweight design fits the towing ability of many crossovers, cars and small SUVs.
---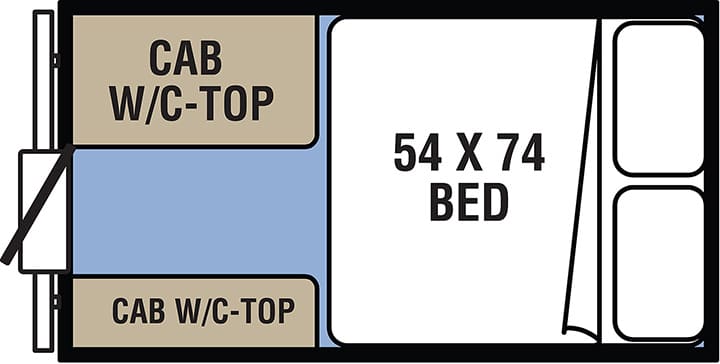 Manufacturer's Specifications
Coachmen Clipper Express 9.0TD
Exterior Length: 13″
Exterior Width: 6′ 7″
Interior Height: 3′ 9″
Exterior Height, Open: 7′
Exterior Height, Closed: 5′ 9″
Freshwater Cap.: 16 gal. (V-Package)
Black-Water Cap.: N/A
Gray-Water Cap.: N/A
LP-Gas Cap.: 5 gal.
UVW: 1,080 lbs.
Hitch Weight: 122 lbs.
GVWR: 2,122 lbs.
MSRP, Base: $5,655
---
FIRST TAKE >> 

The Coachmen Clipper Express 9.0TD is offered in three trim levels: Basic ($5,655), Deluxe ($6,888) and V-Package ($7,975). The latter two are set up with just the right features to appeal to those who like the freedom of tent camping but with many of the creature comforts found in more traditional travel trailers.
---
A respected automotive and RV journalist and longtime Trailer Life contributor, Bruce W. Smith has held numerous editorial titles at automotive and boating magazines, and authored more than 1,000 articles, from tech to trailering. He considers his home state of Oregon a paradise for RVing and outdoor adventure.
---
---