A simple, secure and inexpensive camping trailer for owners of midsize pickups, SUVs and crossovers
A lot of adventure-oriented RVers have noticed the small 10-foot enclosed aluminum cargo trailers and wondered what one would be like if converted into a basic camping trailer. Wonder no more.
Conroe, Texas-based Cargo Camp has done all the research and labor, and now offers 5-by-8-foot and 5-by-10-foot cargo trailers transformed into cozy, functional camping trailers that don't cost an arm and a leg. "To guarantee the lowest price, we cut out the distributors and dealers and sell factory-direct," says Cargo Camp's Sean Hoschett.
Living Area
The larger of the two models, the 5×10 has an entry door on the street side and an interior height just shy of 5 feet. Dry weight is 1,400 pounds, and gross vehicle weight rating is 2,990 pounds. The interior is polyurethane-finished ¾-inch birch veneer with insulated walls and ceiling.
Seven-foot-long bench seats and a convertible dinette serve well for eating and relaxing, and quickly convert to a 84-by-56-inch bed. LED fixtures and a screened side window provide lighting. Options are many, including a 200-watt solar package, a 9,200-Btu air conditioner with a 6,000-Btu heater.
The 5×10 is wired for 30-amp service and comes with a Progressive Industries surge protector and a 30-to-15-amp adapter. Electrical outlets and USB ports are conveniently located to handle power and connectivity.
Kitchen and Storage
The exterior galley hides behind the trailer's swing-out double doors in the back. It consists of a pair of big overhead storage cabinets and a large space underneath designed to carry a 145-quart cooler or 82-quart ARB fridge-freezer, both offered as options. A small curb-side storage compartment has a handy 120-volt AC outlet.
Special Features
To personalize its trailers, Cargo Camp offers four patterns for the bench/bed pads and three exterior colors: Polar White, Black and Metallic Charcoal. An optional rack on the tongue holds a portable generator, and an optional full-length awning and screened-in room expand the living area.
---
FIRST TAKE >>

Cargo Camp's design is simple yet functional. It's also stealthy. At first glance it's just another cargo trailer. But when the doors are opened, it's an inviting, cozy living space for one or two people and a dog.
---
Manufacturer's Specifications
Cargo Camp 5×10
Exterior Length: 13′ 10″
Exterior Width: 6′ 10″
Interior Height: 4′ 11″
Exterior Height: 6′ 7″ w/o A/C
Freshwater Cap.: N/A
Black-Water Cap.: N/A
Gray-Water Cap.: N/A
LP-Gas Cap.: N/A
UVW: 1,400 lbs.
Hitch Weight: 250 lbs.
Axle Weight: 3,000 lbs.
GVWR: 2,990 lbs.
MSRP, Base: $7,000
www.cargocamp.net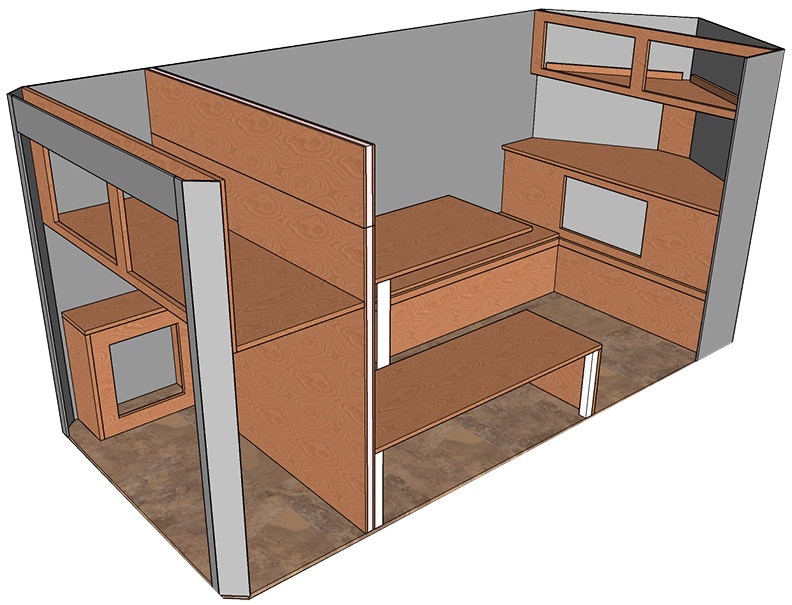 ---
A respected automotive and RV journalist and longtime Trailer Life contributor, Bruce W. Smith has held numerous editorial titles at automotive and boating magazines, and authored more than 1,000 articles, from tech to trailering. He considers his home state of Oregon a paradise for RVing and outdoor adventure.
---