When we first set out on our year-long quest to follow The Scenic Route, we loaded every tool we thought we might need—from an air compressor to a roll of Gorilla Tape—into the side compartments of our ARE DCU truck cap.
Recently though, it's a new digital tool we find ourselves reaching for most often. Namely, the Apple iPad Mini we've been testing in our RV travels.
Having the 64-gigabyte iPad Mini gives us plenty of digital storage for apps and music, plus the photos and video we've been shooting along the way with the built-in camera.  What makes it especially handy, however, is the fact that this particular model has the ability to get us online virtually anywhere via both wi-fi and cellular connections.
Of course, mobile devices like smart-phones and tablets are all about the apps and the iPad Mini is no exception.  With that in mind, here are a half-dozen of the apps we've found make the iPad Mini such a valuable part of our RVing toolkit: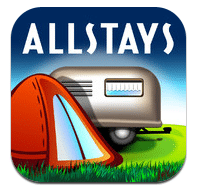 AllStays
In addition to its 24,000-plus RV park and campground listings, this app offers all kinds of other useful info including locations of truck stops, dump stations, Wal-Mart's that allow overnight parking, Camping World stores and more.
Road Ahead
This elegantly simple app will locate your rig and direction of travel on the map and then show you listings of the services—think gas stations, restaurants and grocery stores, to name just a few—you'll find waiting for you at upcoming highway exits.
Gas Buddy
Fuel costs are by by far our biggest expense, which is where this handy little app comes in.  With its listings of fuel prices at nearby stations (or near a selected destination), it saves us money every time we fill up.
Google Maps
When we're planning the next day's travels and need a quick look at routes, distances and travel times, this is our go-to source. Google Earth's satellite images are equally handy when we want a sneak peek at roads, scenery and attractions along the way.
Weather.com
From current conditions and forecasts to weather radar and severe weather alerts, we find ourselves turning to this app several times a day.  Given how weather-dependent RV travel can be, this is a must-have as far as we're concerned.
Trailer Life
When it's time to kick back and relax, this app let's us catch up on our reading with the latest issue of our favorite RV magazine.
If you don't find your favorite RV-oriented app listed above, please take a minute to tell us about it in the comments section below.  And watch this space as we clue you in to more iPad Mini apps and accessories including navigation apps, mounting hardware and more in the weeks to come.