The Rally 2011, presented by DISH Network, was one of the best rallies to date. Nearly 3,000 RVs of all sizes were parked on the grounds of the Deschutes County Fair and Expo Center in Redmond, Oregon, which was home to 6,500 rally-goers from July 14 to 17. First-time guests as well as the many veteran rally-goers smiled as they walked their way through the many events, seminars and displays at the show. Row after row of new RV products lined nearly 400 booths in the exhibit halls, and more than 600 new-model RVs were on display on the fairgrounds.
Trailer Life, MotorHome and Camping Life magazines, along with Woodall's publications and Trailer Life Directory, hosted RV Publications Day at this grand event, and we'd like to announce a special "Thank You" to all of our supporters! The Pub Day raffles would not have been possible without the kind and generous support of the following companies:
Thank you to Our Pub Day Sponsors
Thetford — www.thetford.com
Magellan GPS — www.magellangps.com
Good Sam RV Tours — www.goodsamclub.com
Ready America Inc. — www.readyamerica.com
Relief Mart — www.reliefmart.com
Protect All Inc. — www.protectall.com
Good Sam Club — www.goodsamclub.com
Otter Products, LLC — www.otterbox.com
Buffalo Games — www.buffalogames.com
Strongback Chair — www.strongbackchair.com
Trailer Life Directory — www.trailerlifedirectory.com
ADCO Products — www.adcoprod.com
ThermaCELL — www.thermacell.com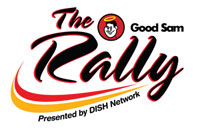 Daddy-O Productions Games — www.daddyogames.com
TengoInternet Inc. — www.tengointernet.com
TrailerLife magazine — www.trailerlife.com
MotorHome magazine — www.motorhomemagazine.com
Maxborgesagency — www.maxborgesagency.com
Woodall's — www.woodalls.com
Camping World — www.campingworld.com
Xantrex — www.xantrex.com
Microsoft — www.microsoft.com
Maranda Enterprises — www.marandaenterprises.com
Cgear Sand-Free — www.cgear-sandfree.com
Green Earth Technologies — www.getg.com

Thank You to Our 2011 Rally Sponsors
Presenting Sponsor
DISH Network — www.dishnetwork.com
Official Sponsors
Good Sam VIP — www.GoodSamRVInsurance.com
Dodge RAM — www.ramtrucks.com
GEICO — www.geico.com
Pilot Flying J — www.pilottravelcenters.com
Magellan — www.magellangps.com
The Good Sam Rally is expanding to three great venues in 2012. It will take place in Phoenix Arizona, March 22–25; Louisville Kentucky, June 21–24; and Daytona Florida, November 1–4. Call (877) 749-7122 or visit www.therally.com to reservation your spot!