New Horizons' luxury fifth-wheel has all the features you could ever imagine — and some you probably couldn't
 Be it ever so humble, there's no place like home.
Home is where you hang your hat.
Home is where the heart is.
A number of expressions attempt to describe the feeling we get when we find the right home and the comfort we rely upon every time we return to it. But as we search for the perfect fifth-wheel for our mobile lifestyle, the feeling that we've found "the one" is something that often eludes us. For all of the conveniences and amenities available in today's products, we're still keenly aware that we're spending our time in a trailer, not a residence. It's not necessarily a matter of size, or even how the unit is equipped. You can run your finger down the options list and check off the necessary boxes, but no one makes that certain something that transcends the tangible and resides somewhere in the soul. It's either there or it isn't.

New Horizons RV of Junction City, Kansas, is masterful at capturing the "it" in its Majestic line of built-to-order fifth-wheels. Perhaps that's because company President and CEO Phil Brokenicky and his wife, Karen, have built a number of custom homes in their lives together, and they know what constitutes a home. Or, it could be that they value and consider the opinions of the many buyers that file through their show unit each season and constantly update the company's offerings to reflect what consumers want. "We've had people walk through our demo units and say, 'You guys have thought of everything,'" said Brokenicky. "But we didn't think of it all — hundreds of people did." Indeed, Brokenicky said that if as few as three people make the same request or suggestion, his company will seriously consider accommodating it.
The Majestic is what you might call "semi-custom" — that is, New Horizons offers several different floorplans with standard equipment, and customers choose from dozens of options to outfit the trailer exactly the way they want. "The customer gives us a down payment, and then the rest is due once the unit is painted," Brokenicky explained. "At the time of their order, we give them an order sheet to review, and we go through it with them line by line to make sure they understand what is standard and what is optional. We'll spec it out together, and if it breaks the bank, we'll go through the list and prioritize the customer's options. But even without adding a single thing to the standard features list, the Majestic is full-time ready, designed for 365-day use in weather that ranges from sub-zero to 100-plus degrees."

Every good home begins with a strong foundation, so New Horizons starts from the ground up with a chassis they build in-house. This not only assures a solid structure but gives New Horizons ultimate control over the build without any concessions toward another manufacturer's chassis. For example, where many trailers use a six-point leveling system to prevent chassis flex during leveling, New Horizon's robust chassis allows the use of a four-point Bigfoot hydraulic system without any concerns for structural integrity. And it gives designers the freedom to equip each unit exactly the way they want with standard features that make the end user's life on the road easier.

"Our trailers look like resort models, but we design them to go down the road and be set up or taken down every night in about 20 minutes," Brokenicky said. "The 50-amp power cord and freshwater hoses are on reels, so you just pull these out, connect them, and you're done. When you leave, you just disconnect and retract the reels. We tell our customers this trailer has all the features of a $700,000 motorhome and more." In fact, Brokenicky fondly refers to the Majestic as "the Prevost [high-end bus conversion] of the fifth-wheel industry — at one-tenth the cost."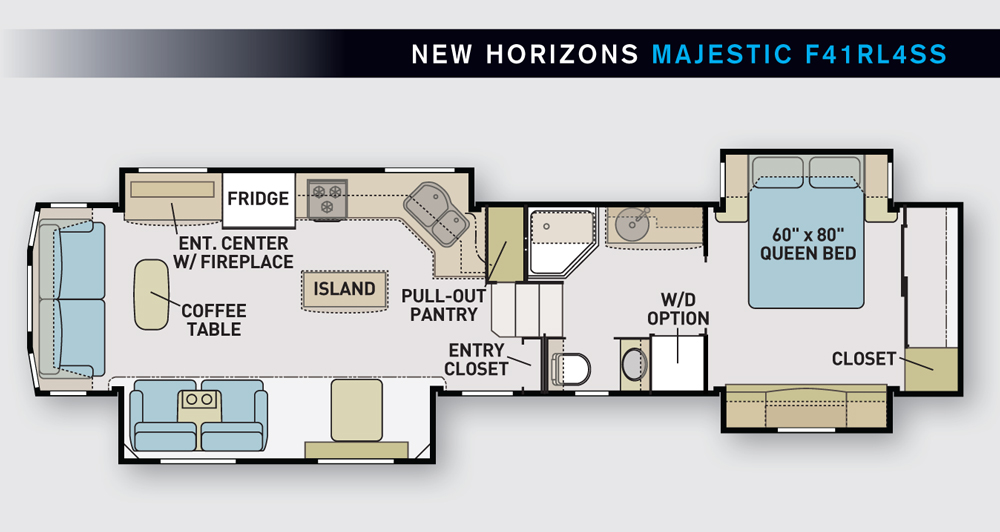 While this last point is debatable, depending on how each unit is equipped, there's no denying the price disparity. Consider the Majestic F41RL4SS shown here, which accounts for 40 percent of New Horizons sales, has a base price of $190,718 and maxes out at roughly $275,000 when loaded with all the options. Throw in a properly equipped tow rig at $60,000 to $80,000, and the grand total comes to about $350,000. Compare that to nearly $2 million for a luxury motorhome from the custom-coach elite, and you'd be hard-pressed to find many features or amenities in the coach that the Majestic doesn't have, including the test unit's onboard generator, heated floor in the bed and bath areas, available hydronic heating and much more.

Truly, the Majestic is aptly named. Though this isn't the first time we've tested one of these fifth-wheels, we were still taken aback by its size and stature. The custom-paint scheme, which consists of four coats of paint and three clear coats, sparkles in the late afternoon sun of Palm Springs, California. The two power awnings, one over the patio and one over the living-room slideout, provide welcome shade, as does a third manual awning over the rear bay window. The two roof air conditioners (15,000-Btu in the living area and bedroom) purr their welcome in the 95-degree heat.
As we step inside, the first thing that strikes us is that everything that looks real is real. In an industry where what appears to be high-end features are often clever fakes designed to save weight, money or both, everything in the Majestic is 100 percent authentic. Fixtures carry household names like Kohler and Moen. Cabinets are what New Horizons calls Rustic Cherry — they're made of solid wood and proudly display all of nature's perfect imperfections. And the floors are solid hand-scraped hickory that practically glow with warmth.
When the owners of a company actually live the full-time lifestyle in their product while on the RV-show circuit, it really shows. This is a beautiful fifth-wheel, of course, but beyond gratuitous attempts at impressing with high-end materials, this unit exudes comfort on so many levels. The leather power-reclining residential theater seats are soft, roomy and luxurious. We recommend you don't sit in these if you have anything else to do, because you probably won't get up again. And as if to reinforce lazy behavior, they're situated opposite a 40-inch Samsung flat-screen television that rises silently from the counter above an electric fireplace. The area also houses an excellent home-theater system in the cabinets above, with small speakers discreetly placed throughout the living area. The TV can also be viewed from the matching sofa on the rear wall, which is pillowy plush and converts into a bed for guests.



We found the interior design of the Majestic to be particularly gratifying. The test coach featured tasteful splashes of French country décor, with an antique-white finish on the entertainment center and kitchen island providing playful visual contrast to the elegant wood cabinetry used elsewhere. Moreover, the country theme is tastefully juxtaposed with the trailer's ultra­modern features: hardwood against stainless steel, tumbled marble tile against gleaming granite.

And yet, nowhere is form sacrificed for function. The kitchen features all residential appliances, including a 21-cubic-foot KitchenAid refrigerator, GE convection microwave and Fisher & Paykel drawer dishwasher. We particularly appreciated the three-burner Whale Princess cooktop with electronic ignition and the unique Blanco double-bowl sink in a composite material called Silgranit II. This is very hard and scratch-resistant, and its Cinder color looked great against the granite's warm earth tones. The extendable dinette table looks and feels like a piece from someone's home and has plenty of room for two diners, even with the adjacent large theater seats.

It could be argued that convenience is also a comfort, and the Majestic has plenty of that as well. The lighting is controlled by multiplex panels intuitively placed in all the areas you might need lighting. The lights require just a touch to activate and are color-coded — blue is on, white is off. There's also a master panel that controls the lighting and the power MCD shades, allowing you, for example, to turn off all the lights and lower the shades at night from one place rather than walking around and shutting them off individually.

Just inside the entry door on the test unit is an Apple iPad Mini on a magnetic charging base that can be used to control almost every feature in the trailer, including the shades and lighting (on/off and dimming). You can also monitor tank levels from here, battery state of charge and more. At the base of this same cabinet is an intake for the central vacuum "dust pan." Just push it with the tip of your foot, and the panel opens; the vacuum turns on automatically, and you just sweep dirt into the opening. Other vacuum ports are located elsewhere, and the unit's motor is tucked away in basement storage.

There are just so many small, thoughtful details that make a big difference in the livability of this trailer. All of the drawers use dovetail joints — the mark of an experienced cabinetmaker — and open and close softly. Floor registers are all tucked away in corners or under cabinets. And the intake for the bedroom air conditioner is located over the bath area, not in the bedroom, because many RVers commented that they can't sleep with the drone of an air conditioner above them.

The forward bath area is reminiscent of an upscale resort, with more solid wood cabinetry, granite countertops and a beautiful glass-vessel sink. The last New Horizons unit we tested had a fiberglass shower enclosure, but the shower in the latest test unit is made entirely of a solid-surface material because, in Brokenicky's words, "The fiberglass shower just felt chintzy." This one definitely does not — it is roomy, has residential fixtures and is surrounded by real glass. It's nicer than what you'll find in most homes, and the 12-gallon water heater made it possible to linger in the shower and really enjoy it, rather than just cleaning up.
Across from the shower is a vented laundry cabinet with a washer/dryer stack and a separate toilet room with its own lav, which we appreciated. It's the only area in this trailer where space is at a premium, but it should be enough for most people, and the area is beautifully equipped with residential fixtures and a SeaLand Concerto ceramic toilet with power flush. There's another multiplex lighting panel within easy reach of the toilet, and two switches allow you to operate the overhead Fan-Tastic Vent — vent only, or vent and fan. The bath area can be left completely open or segregated from both the living and bed areas with solid wood pocket doors, should your partner want to sleep in.

The test unit featured a large forward bedroom with a queen bed and plenty of walk-around space. A king bed is offered, but unlike some manufacturers that cram a bigger bed into the same slideout, New Horizons adds 2 feet to the bedroom length when a king is specified, so there's still plenty of room. The bed is comfortable enough, but again, what we appreciated most in this area is the attention to detail. Beneath the overhead cabinets are reading lights, of course, but also another multiplex panel that allows you to control all lighting in the room. You can even turn off the panel illumination when you go to sleep so it's not shining in your eyes.

Opposite the bed is a wardrobe in a small slideout, which really adds to the spaciousness of the room. It has plenty of drawer space, a pull-out laundry hamper and a 26-inch television that folds down from the overhead cabinet. The forward closet has adequate room for most full-timers and is cedar-lined to keep the critters out.

Because the test unit was brought to the resort for us, we didn't have to pack it before our trip, but we can tell you that the forward compartment is cavernous and quite tall at 44 inches. It is nicely finished, well lit and heated. And like the high-end motorhomes with which it competes, all of the Majestic's maintenance items like plumbing and electrical are easily accessible for troubleshooting, maintenance and repair.
Last time out, we didn't have the opportunity to tow the trailer to see how it handled, as it had been delivered to the site, and there was no tow vehicle available. This time, however, our test schedule coincided with the Brokenickys' departure — so we had the opportunity to find out if this fifth-wheel tows as nicely as it lives. It definitely does.

Not that we were surprised, but this is not just a big trailer, it's a heavy one with a claimed weight of 21,800 pounds and a gvwr of 26,250 pounds. That obviously necessitates a one-ton or better dually, and Brokenicky's rig of choice is a Ford F-550, custom-painted to match the trailer and fitted with a Utility Bodywerks towing bed complete with a 32,000-pound-rated hitch and Kelderman air-ride suspension. New Horizons can even set you up with a similar tow vehicle, if you like.

As Brokenicky mentioned earlier, the Majestic is built to travel every day, so it comes equipped with triple axles, independent suspension, H-rated tires and something you won't ordinarily find on a trailer: available electric-over-hydraulic disc brakes with 13.5-inch rotors on each wheel and optional ABS. Traveling downhill on a two-lane highway near Desert Hot Springs, the traffic light began to change, and we were a little uneasy about bringing so much mass to a safe stop. But the braking was completely proportional to the tow vehicle and so powerful that we actually had to release the brake pedal midway down the hill to prevent stopping too soon. Without a doubt, this is one of the most stable, easy-to-tow trailers we've tested, despite its impressive size.

You could summarize the Majestic by saying it's the kind of fifth-wheel you would build for yourself if you could, but the reality is, it's better than that.
With years of craftsmanship and customer feedback under its collective belt, New Horizons has created a product that most of us couldn't even imagine when we dream of the ultimate fifth-wheel. And the best part is, it really feels like home.
New Horizons RV | 800-235-3140 | www.horizonsrv.com
---