Ansel Adams once said, "Sometimes I do get to places just when God's ready to have somebody click the shutter." That's how I felt when we arrived in the Hill Country region of Central Texas at the peak of the best wildflower season in decades.
With camera in hand, I wanted to make the most of our two weeks in the Hill Country. I referred to my well-used copy of "1,000 Places to See in the USA & Canada Before You Die" by Patricia Schultz. I also collected brochures at several Texas visitor centers and asked friends and strangers to recommend their favorite attractions. Bluebonnets, bats and barbecue topped my must-see list. I left our agenda open to check out anything else that looked interesting.
When we arrived at Buckhorn Lake Resort in Kerrville, conversations buzzed with a common theme: where to find the most abundant wildflowers. According to Gary Regner's online Texas Wildflower Report, parts of western Llano and eastern Mason counties experienced what was likely the best bloom in more than 50 years in mid-April 2010.
As soon as we unhooked our dinghy, we ventured out in search of the famed flora. We drove the loop north of Fredericksburg, starting on State Highway 16 and returning on Ranch Road 965 past Enchanted Rock State Natural Area. Bluebonnets were in full bloom along the roads, in fields and nestled among rocks. The sight alone was reason enough to tour these and other backroads in the Hill Country, and the fragrance of these flowers was further reward. It was heavenly. I clicked the shutter.
Our enchantment with the area continued when we stopped at Enchanted Rock State Natural Area. The rock is a huge pink granite dome that rises 425 feet above ground. We followed the short, steep Summit Trail to the top of the rock. One of the largest batholiths (an underground rock formation uncovered by erosion) in the United States, it is surrounded by oak woodlands as far as the eye can see.
This is a good place to stretch your legs and get the lay of the land. RV parking is not allowed.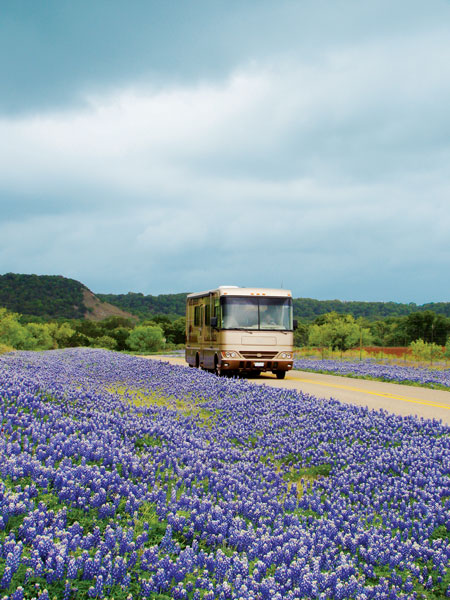 Even in the Hill Country's pastoral setting, it was an unexpected delight to see cows with black bodies and white faces starkly contrasted in fields of colorful bluebonnets. Still more surprising were the random mixes of unusual animals, such as  zebras and greater kudus. Exotic animals from Africa, Asia and Europe were introduced to the Texas Hill Country more than 60 years ago. According to the Exotic Wildlife Association, this area is now home to more than 100,000 exotic animals. Some of these animals are endangered or even extinct in their country of origin. To see them in abundance, you can go to the Exotic Resort Zoo in Johnson City and take a guided safari tour. More than 500 animals from 80 species live on 137 wooded acres containing small lakes and streams.
No. 1 on the "Twenty Things to Do in the Texas Hill Country Region" travel guide published by GO TEXAN is to "See the bats." Since bat watching isn't a usual tourist attraction in my part of the country, I was intrigued.
Millions of Mexican free-tailed bats make their homes in caves and tunnels and under bridges. The Congress Avenue Bridge in Austin is home to the world's largest urban colony of bats, making Austin the unofficial "Bat Capital of the World." The estimated 1.5 million bats perform a valuable service for the city by eating 10,000 to 30,000 pounds of insects each night. Just before sunset, spectators gather on the lawn near the bridge, at the viewing area atop the bridge or on boats on Lady Bird Lake to witness nature's spectacle. While waiting for the show to start I read the information about bats on a kiosk. Here's a fascinating fact: About 750,000 pregnant female bats migrate from Mexico to the bridge each spring. Each one gives birth to one bat pup. This made me wonder why the males stayed behind in bachelor colonies, but that's a story for another time.
The stories of Lyndon and Lady Bird Johnson are well told at LBJ Library and Museum, Lady Bird Johnson Wildflower Center and LBJ Ranch. I'd never been to a presidential library, but based on the enthusiastic recommendation of a stranger at an RV park, we decided to go. We may remember the '60s as the good old days, but a walk through LBJ Library reminds us of the troubles and triumphs of the period. The exhibits educate visitors about the "greatest outpouring of legislation in America's his­tory" that occurred during the LBJ administration. Laws were passed to end discrimination, fight poverty, provide medical care, protect the consumer, care for the environment and promote the arts.
Displays include many of the gifts given by visiting heads of state and accepted by President Johnson on behalf of the American people, including ceremonial swords from Morocco and Saudi Arabia and Chinese tomb sculptures from the T'ang Dynasty. A seven-eighths-scale reproduction of the Oval Office looks exactly as it did during Johnson's presidency.
Our time at LBJ Library made me want to explore the 12 other presidential libraries on future travels. This is the only one that doesn't charge admission, so I'll have my wallet ready for the others.
The First Lady's Gallery at the library chronicled Lady Bird's many achievements. In one video, LBJ told his Cabinet, "You know I love that woman and she wants the Highway Beautification Act, and by God we're going to get it for her." Lady Bird was well-known for her dedication to making the United States a more beautiful place. The first first lady to plant cherry trees in the Tidal Basin area of Washington, D.C., was Helen Taft, in 1912. She planted two. During 1965's National Cherry Blossom Festival, Lady Bird accepted 3,800 more cherry trees from Japan.
We learned more about this famous first lady's passion for beauty at the Lady Bird Johnson Wildflower Center. Established in 1982, its mission is to "increase the sustainable use and conservation of native wildflowers, plants and landscapes." A giant dragonfly sculpture on the side of a limestone cistern greeted us, giving a hint of things to come. The 279-acre wildflower center has fanciful outdoor art nestled among the 16 unique native gardens.
Zilker Botanical Gardens and Wildseed Farms are two must-sees for flower lovers. Admission is free for both. Set on 30 acres, Zilker Botanical Gardens has been called "the jewel in the heart of Austin." When we were there, the azaleas were in full bloom. A visit to the Japanese garden caused me to lament the limitations of photographic technology. I got a nice shot of a Japanese pittosporum, also called "mock orange," but unfortunately I couldn't capture its magnificent fragrance.
Wildseed Farms near Fredericksburg is the largest working wildflower farm in the U.S. Children and adults alike wandered the gardens, clicking their shutters and inhaling the fragrance. A field of brilliant red poppies was all the invitation we needed to stop and explore.
With its rich German-Texan heritage and charming shops, Fredericksburg is a town worth exploring. The Marktplatz in the center of town commemorates the peace treaty between the German settlers and Comanche Nation. This treaty is thought to be the only one with Native Americans never broken. Shopping in the Historic Shopping District on Main Street offers art galleries, restaurants and unique boutiques. We bought Buddy Biscuits for our favorite pooch at Dogologie, where dogs are welcomed with a cool drink and a treat.
While staying in Kerrville, we played golf at Hidden Springs Golf Course near Harper. The rolling hills, towering trees and bubbling brooks provided a challenging course in a picturesque setting. Several features make this course unique, including three cannons mounted atop a hill overlooking a creek, exotic animals fenced on the far side of the 13th fairway, and a Stonehenge-like gathering of large white rocks.
Texans must have a strong affinity for the mysterious stones of England. Fifteen miles west of Kerrville, Stonehenge II in Hunt is about half as tall and nearly as wide as the prehistoric original that sits on the Salisbury Plain in England. In 1989 landowner Al Shepperd cleverly constructed these stones with steel, metal mesh, plaster and concrete. He added two 13-foot Easter Island heads after visiting the Chilean isle.
After all that nature and history, we worked up quite an appetite. The description of Central Texas barbecue in "1,000 Places to See" made our mouths water. Not only was Cooper's Old Time Pit Bar-B-Que in Llano a favorite of President George W. Bush, it was also in the heart of bluebonnet country. The line to get in the restaurant stretched to the parking lot when we arrived, but it moved quickly. We selected our smoked meats from the large pit out front, added potato salad, cole slaw and beans to our trays, then joined other diners at long picnic tables. The praise Cooper's receives from its devotees is well-deserved.
Barbecue joints are plentiful in Texas, and everyone has his or her favorite. I asked five people and got five different recommendations. Just about every one of them added, "And you must go to the Bluebonnet Café in Marble Falls for pie." Depending on where you are, that could be a long drive for dessert. Since we'd heard the wildflowers were good along the way, we made the trip. The cherry and apple pies looked good, but I chose a sinfully delicious slice of peanut butter pie.
After picking up several brochures on Texas Wine Trails, we decided to visit one of the 28 vineyards in the Hill Country. We'd never tasted Texas wine, and Gary Gilstrap explained why. Gilstrap, winemaker and owner of Texas Hills Vineyards, said "Even though we make a lot of wine in the Hill Country, we don't export wine. We import drinkers." It would appear that this strategy is working. In 2007 Orbitz named the Texas Hill Country the second fastest-growing wine destination in the nation. Many special events throughout the year, including a wildflower festival in April and the harvest in August, continue to draw satisfied crowds.
Texas Hill Country in the spring is the right place at the right time. It's when the bluebonnets bloom and the bats return. Since the weather is perfect for a picnic, pick up barbecue and head for the park.
Remember to bring your camera. Click.
For More Information:
Austin Lone Star RV Resort
512-444-6322, www.austinlonestar.com
Buckhorn Lake Resort
800-568-6458, www.buckhornlake.com
Fredericksburg Convention & Visitor Bureau
888-997-6523, www.visitfredericksburgtx.org