As the New RV models roll onto dealers' lots, look for crowd-pleasing concepts — from vintage-style trailers and tiny toy haulers to luxury fifth-wheels with picture windows and motorhome pedigrees
When designers for Keystone RV's Montana fifth-wheel brand came up with the concept of installing a windshield in the front cap of the venerable RV line, they weren't exactly reinventing the wheel. Unlike travel trailers, which can be crafted in a myriad of shapes from tiny teardrops to 34-foot-long towables with five slideouts, the fifth-wheel profile hasn't changed tremendously since the essential design was established by the Aerocar Company of America in 1929.
In general, a window in the front of an RV is nothing new, and it has been a standard feature of many trailers since trailers were invented. Floorplan and body features can come and go with buying trends, so it's natural that some manufacturers bring back certain features now and then when the time is right.
What they accomplished, though, was to create a totally different environment inside the trailer. Spanning nearly the entire width of the front cap, the windshield created a spacious "picture window" effect for the front cabin.
Recognizing a hot commodity, the Goshen, Indiana, manufacturer wisely created a number of different floorplans for the windshield-equipped Montana, including two configurations introduced last year — one with a front lounge and the other with the entire galley moved to the upper level, a layout that garnered accolades as the 2016 RVBusiness RV of the Year and graced the August 2016 cover of Trailer Life.
For 2017 it's been changed again. It's now a front-bathroom unit. That's right: You can cover yourself in soap bubbles while soaking in a tub and enjoying the scenery behind the expansive glass — which, due both to the elevation of the front deck and the darkly tinted glass, doesn't reveal anything from the outside. Of course, there's also an automatic privacy shade.
"When we first went to big fiberglass showers, we had a tub in the base, and we found there were a lot of people who liked that," said Montana Product Manager Mark Krol. "Montana introduced the whole front-bath-and-a-half concept about four years ago, and it seemed to us a natural evolution … to set it up more like a master bathroom in a luxury home. Every high-end home has a separate shower and tub, and we wanted to bring that into RVs."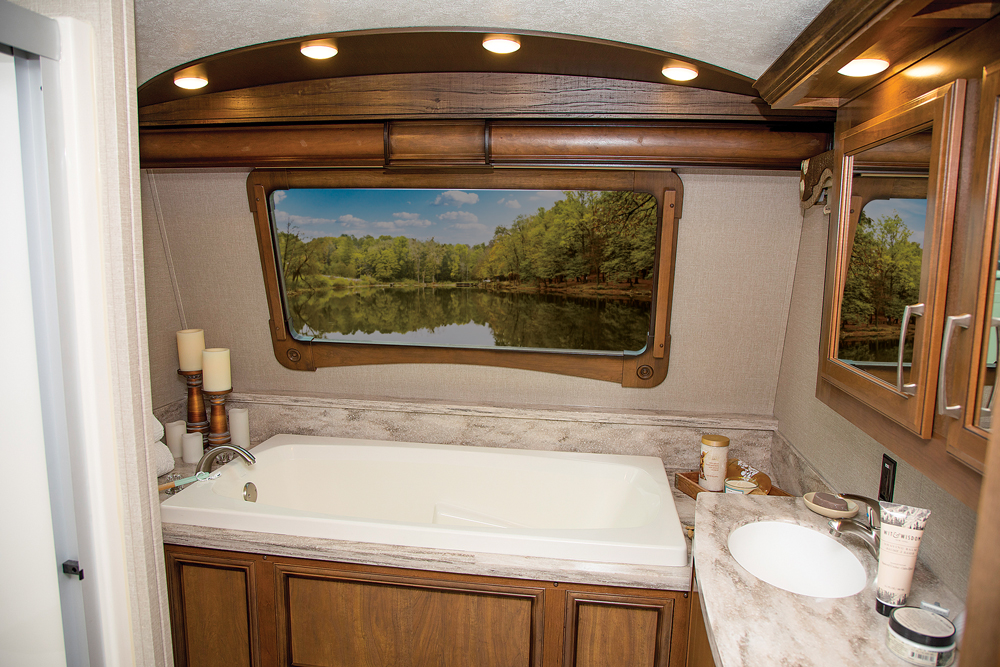 According to Krol, the 41-foot 4-inch Montana 3921 uses a full-size residential soaker tub. "The challenge with putting a tub of that size in a coach is, obviously, filling it with hot water," he said. "That's why we're using a Suburban on-demand water heater.
We were able to fill it up with 115-degree water. It took less than 20 minutes and burned less than a pound of propane."
The front-bath layout hasn't adversely affected the weight distribution of the $85,000 (MSRP) fifth-wheel. "The hitch-weight difference between our 3911, which is a front bath with front closet and washer/dryer, and the 3921 is 148 pounds," said Krol. With a 16,930-pound gross vehicle weight rating (gvwr), the 3921 also features a rear living room with theater seating, opposing slideouts in the mid-galley area and a kitchen island.
Of course, the front-bath Montana isn't the only notable towable making its introduction in the 2017 model year. For that matter, it isn't even the only one with a windshield. As RV dealers found out while attending September's trade-only Elkhart RV Open House in Elkhart, Indiana, where most RV manufacturers debut their 2017 lineups, Keystone shared the technology with its Outback travel trailer division.

Meanwhile, several of Forest River's travel trailer brands also sport front glass for 2017. "Basically, we're putting in a windshield everywhere that we can," said John Stringer, who oversees the Elkhart-based company's Rockwood and Flagstaff lines. In fact, 21 of the 22 Flagstaff and Rockwood models on display at the event had a laminated windshield by Guardian Automotive Products, the same company that supplies windshields for the new Keystone Montana 3921.
"The benefit of the windshield is two-sided," Stringer added. "One is the outside appearance and the fact that it's an automotive windshield, just like what you have on a truck or a car. You don't need to protect it. And the other side of it is, when you're on the inside, it offers such a splendid panoramic view."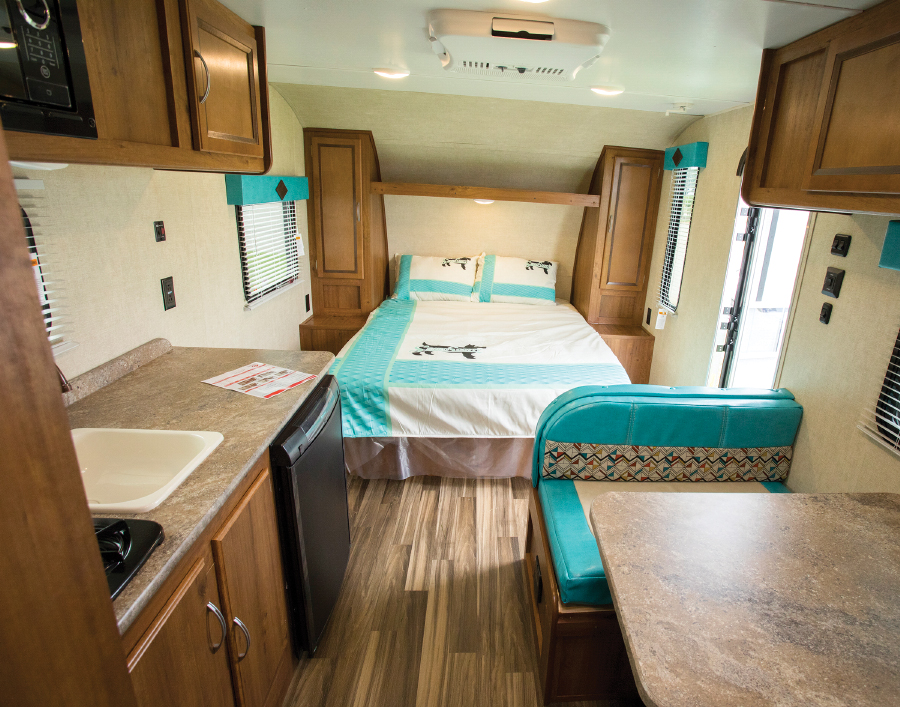 The folks at Little Guy Worldwide have hooked up with the Scotty family to bring back one of the most recognizable names from the 1940s and '50s, the Serro Scotty travel trailer. "We're going to have a couple evolutions of Scottys," said Chris Baum, the company's chief marketing officer. "There is a stick-and-tin model that's going to be affordable for any family. The next evolution, which we hope to have probably by January, is going to be a more upscale bunkhouse." Baum added that future iterations will carry venerable Serro Scotty model names such as HiLander and Sportsman.
The vintage-style Serro Scotty is initially available in five floorplans, from 17 feet 2 inches to 22 feet 7 inches, with retail prices beginning at around $14,500. While maintaining its retro feel, the contemporary Serro Scotty features all-LED lighting, hardwood cabinetry, a full-size awning and a dry bath. With dry weights ranging from 2,230 to 3,927 pounds and hitch weights maxing out at 350 pounds, the trailer can be towed by just about anything.
Boost is the newest addition to Forest River's XLR toy-hauler division. While the name was introduced last year at the Louisville trade show, the line has grown to include four travel trailers and two fifth-wheels. The Boost 36DSX13 fifth-wheel was the newest introduction on display at the Elkhart RV Open House. The Boost lineup has a broad-market price point yet still offers all the key features of a toy hauler, said Jan Frank, XLR's regional sales manager.
The 36DSX13 offers a bath-and-a-half floorplan with a king bed and a 13-foot garage. The 38-foot toy hauler has a gvwr of 14,300 pounds and an MSRP of $43,000. "It's a whole lot of trailer for the money," Frank said.
Among the fifth-wheels on display from Forest River's Palomino division was the new 40-foot couple's fifth-wheel, the Columbus 366RLC. "We see a large demographic of couples whose kids have left home, and that's who we're targeting," said Colin Dechant, division general manager.
"This really has a lot of features that appeal to the HGTV crowd," Dechant said. In addition to the outside kitchen, right inside the door is a prep sink. An 84-inch island with another sink is in the middle of the kitchen, providing an amount of counter space that's hard to find in other fifth-wheels.
The door side features a 143-inch slide, and the opposite side has a 160-inch super-slide plus a front-bedroom slide. There's a wine chiller in the kitchen, along with a large refrigerator. The fifth-wheel also has dual awnings to provide protection across nearly its full length. Fully loaded, the Columbus 366RLC has a gvwr of 15,100 pounds and an MSRP of $67,700.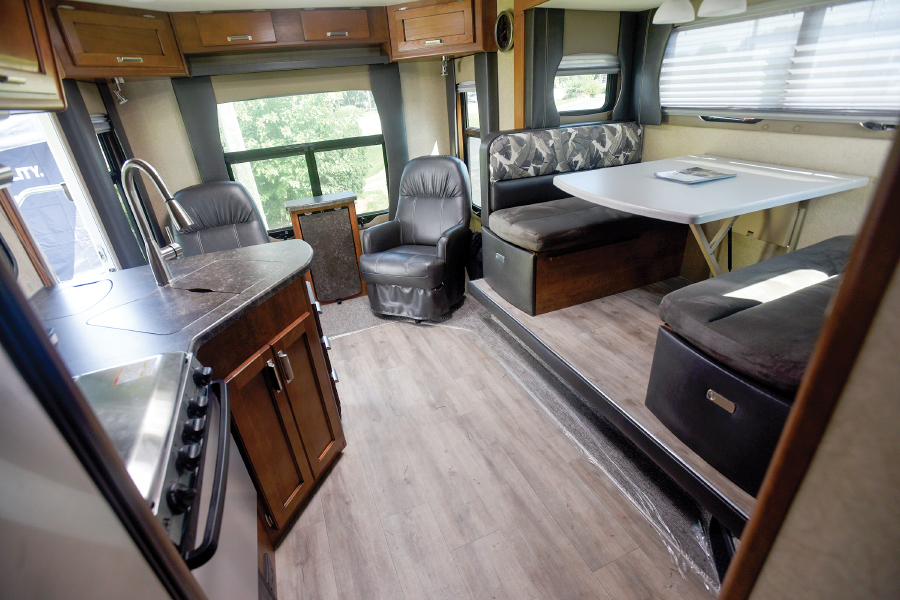 According to Gary Conley, national sales manager for Lancaster, California-based Lance Camper, initial response to the new Lance 2375, a rear-lounge travel trailer, "has been good for a lightweight, shorter, composite-built trailer."
Although only 27 feet from rear bumper to coupler, the 2375 includes plenty of amenities, from the dual rocking chairs in the lounge to a 36-inch shower and porcelain toilet. "We put a lot of linen and towel storage in the bathroom, which a lot of units are lacking," Conley said, adding that the 2375 has a 6,200-pound gvwr. "For a rear-living-style trailer, you don't have to have a big SUV for towing."
Outside, a Carefree of Colorado awning runs nearly the full length of the trailer and features LED lighting and a wind sensor. In addition, the 2375 utilizes three 5-gallon LP-gas cylinders, making it easy for owners to switch out cylinders when refills aren't an option, and all batteries are in locking compartments, a feature across the Lance line.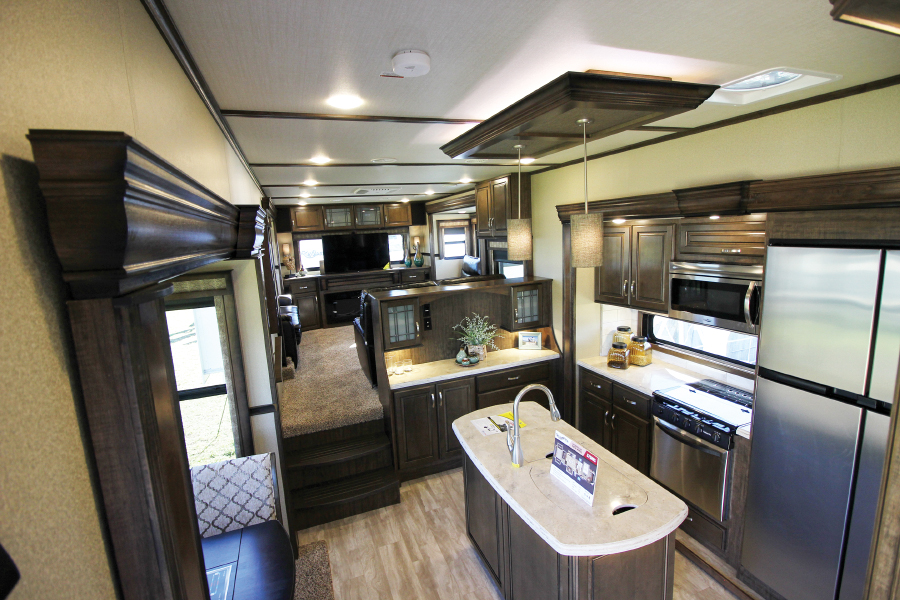 When Grand Design RV in Middlebury, Indiana, was founded in 2012, one of its original brands was the Solitude line of extended-stay fifth-wheels. For 2017, the Solitude got a complete makeover, both inside and out.
"We've pretty much done a total bumper-to-bumper overhaul," said Product Manager Rob Groover. "We have all-new exteriors, all-new graphics packages and a really innovative brand- new front cap with a windshield that's going into two of our new floorplans."
Among the interior changes are higher-end hardwood window treatments and upgraded furniture that includes power retracting/extending theater seats with built-in massage. There's a significant increase of LED interior accent lighting, plus a unique wall-mounted dinette table that forgoes the knee-knocking pedestal base.
The Solitude has eight floorplans, six of which are either modified or brand new, including the 375RES, a 41-foot 4-inch fifth-wheel with a 16,000-pound gvwr and $90,713 MSRP. What's unique about the 375RES is underneath the rear living area. It's a massive storage compartment accessible on three sides, with the rear access including a sliding cargo tray. How big is it? There's room for two 14-foot kayaks, cleverly suspended from the rear of the cargo space, with space left over for all the outdoor gear that goes with them.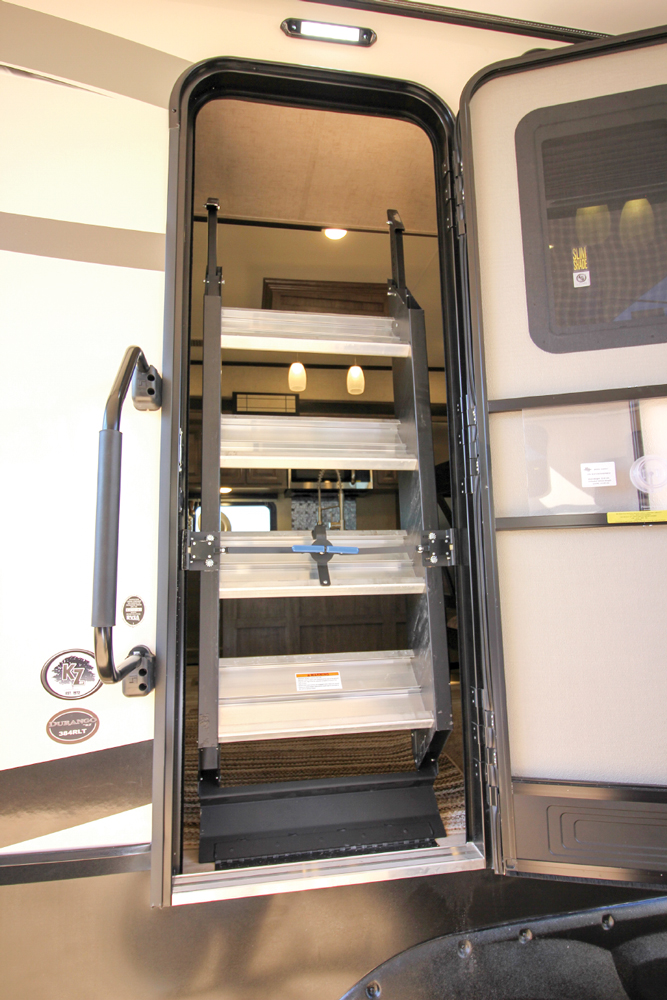 One of the innovations seen at the Elkhart RV Open House was the new StepAbove entry step developed by MORryde, an Elkhart-based supplier that provides a variety of engineered products for the RV industry.
The StepAbove features stability, as the 500-pound-capacity steps are mounted inside the trailer. When deployed, they go all the way to the ground. Adjustable ends compensate for uneven terrain to create a solid foundation. When the RV is in transit, the lightweight aluminum steps rotate up and into the RV and are stored securely inside the door.
K-Z RV in Shipshewana, Indiana, found a unique use for the StepAbove in the all-new Durango Gold 384RLT. Typically, designers have located the door before or after a slideout and wheels, but the StepAbove allowed the 384RLT's main entry to be positioned in a 16-foot curbside slideout.
"We now have the largest living room of any fifth-wheel in the marketplace," said Charles Wade, K-Z's district sales manager and fifth-wheel specialist, taking into account the 384RLT's 102-inch width and the 16-foot slideout on the street side. Both slides are 71⁄2 feet tall and 34 inches deep.
"Having the door in the slideout allows the slideout to be longer, and it allows us to fit a stackable washer and dryer on the downstairs level instead of stuffing it into the bedroom," Wade added. "For that same reason, we have a really big pantry and a kitchen area with huge counter space because we don't have to stick a pantry into the slideout."
The 384RLT comes in at 39 feet long, weighs 12,500 pounds (dry), and has an MSRP around $75,000. Features include an 18-cubic-foot refrigerator, six-point hydraulic leveling system, two 15,000-Btu air conditioners with Quiet Cool, a 50-inch TV and a 7-foot-wide exterior front storage compartment.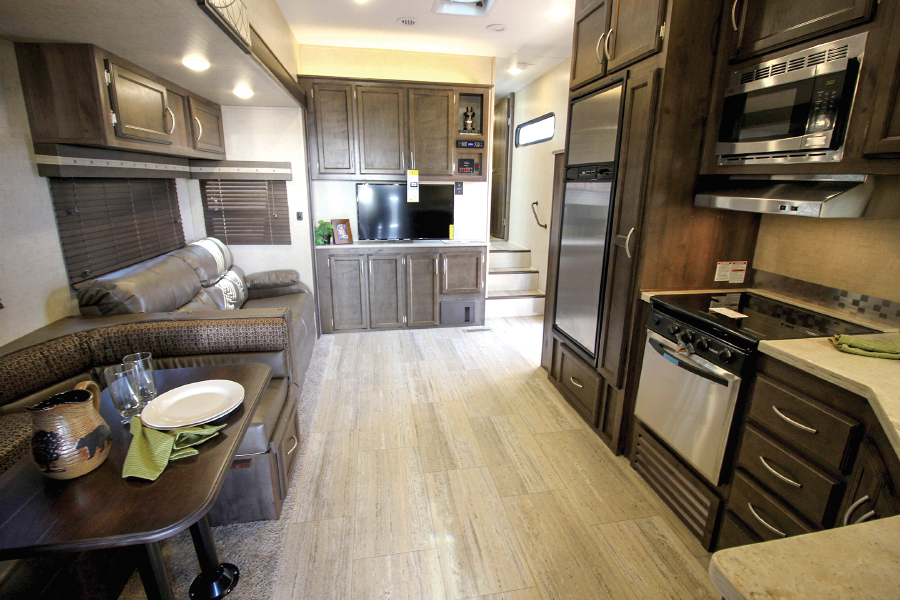 Sidewinder is a new, moderately priced fifth-wheel toy hauler in the K-Z lineup. It retails in the $60,000s yet has all the content and components toy-hauler customers want, according to Wade.
"There's a lot of expensive $80,000 to $90,000 toy haulers out in the market, and a lot of people are asking for less-expensive ones, but they still want all the content features including auto-leveling, 160-watt solar panel, 1,000-watt power inverter, full-size ramp door and patio system, and a fuel station, which we've done with the Sidewinder," he added.
The Sidewinder debuted with three floorplans ranging from 34 to 39 feet and between 10,500 and 12,000 pounds (dry weight). Wade singled out the 11,000-pound (dry weight) 3610DK in particular. The two-slide model registers just shy of 39 feet yet offers an outdoor kitchen, 10-foot garage with two electric beds, and myRV control system, among other items.
"It's a little bit of an anomaly," Wade added. "Typically a toy hauler is not this big in the living room. We have a booth dinette, a sofa and a full-size kitchen, where most of the time a toy hauler will be limited to just a sofa and a table in front of it."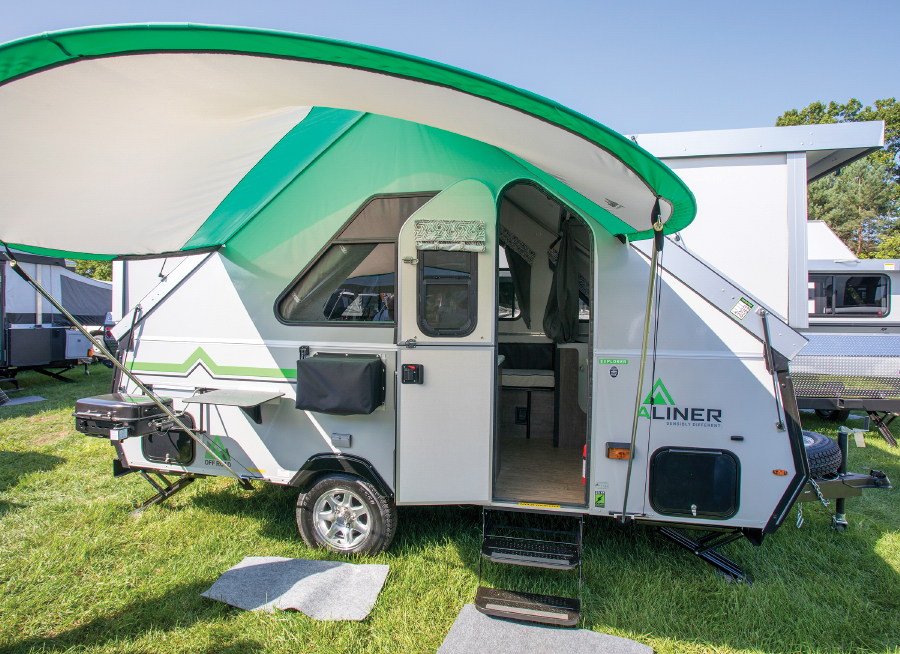 Not only did Somerset, Pennsylvania-based Aliner and Somerset Camping Trailers refresh its Aliner brand with all new interiors, but the company keeps pushing what can be offered in an entry-level popup trailer. For 2017, the company offers a brand-new Explorer A-frame towable with hard dormers. It's also the first to abandon the cassette toilet in favor of a porcelain commode. There's also a bathroom curtain for privacy, and up front the Explorer features new cabinets with real wood doors in the 15-foot living space. Just 18 feet from tail to coupler, the Explorer has a gvwr of 2,500 pounds and an MSRP, fully loaded, of $20,000.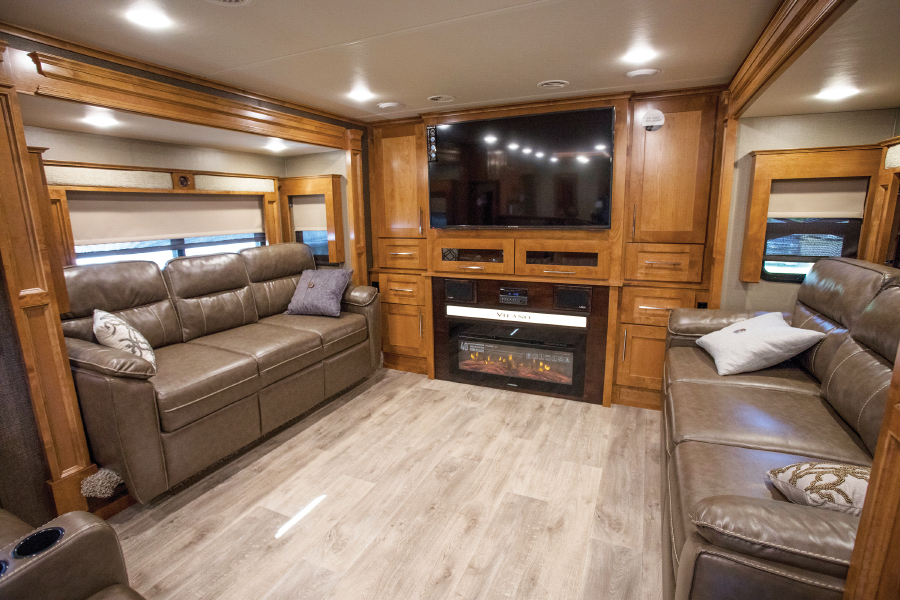 Vanleigh RV, owned by the Tiffin family — and soon to be branded more closely with the Tiffin name, according to Regional Sales Manager Don Krzyzanowski — is injecting its fifth-wheel lines with more than the family's reputation for high-quality motorhome manufacturing. Among its new front-slideout floorplans, the Vilano 375FL stands out because its back third is identical to the Tiffin Allegro Bus 371. To drive the point home, an interior placard proclaims "Motorhome DNA" for the model.
"It's as close as you can get to a motorhome without the motor," Krzyzanowski said of the full-profile unit. It features the soft-touch ceiling of the Tiffin motorhome line, 103-inch interior height from the kitchen rearward, three air conditioners, a front living room with a fireplace, solid wood cabinets and the company's Spider multiplex control system — a simplified system that allows for easy diagnosis and repair in the event of a problem, according to Krzyzanowsi. The 401⁄2-foot fiver carries a 14,500-pound gvwr and an MSRP of $99,000.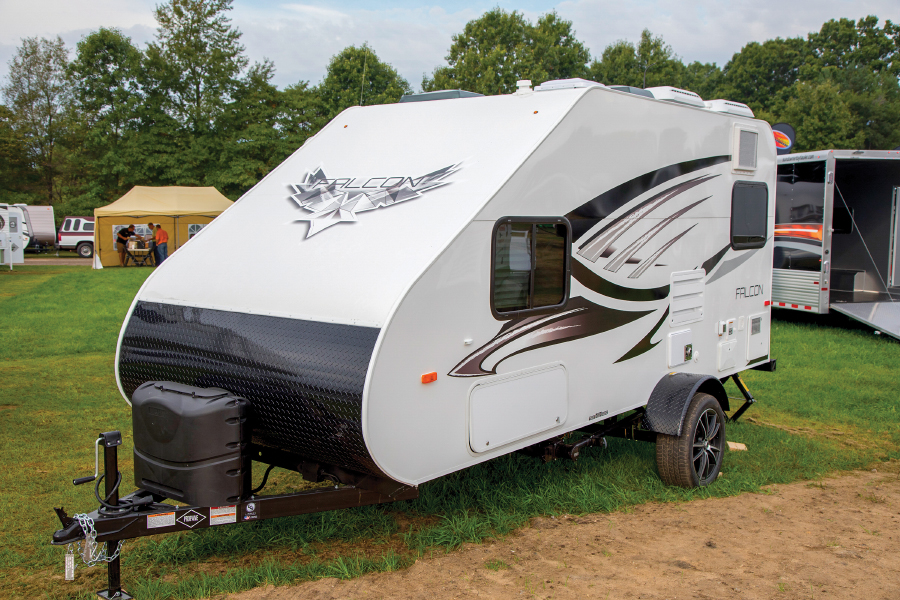 While Travel Lite continues to see growth in its truck camper line, according to Sales Manager Jay Handy, the New Paris, Indiana, company hasn't forgotten its travel trailer production. The 2017 lineup includes a new aerodynamic Falcon.
The 2,480-pound, 20-foot Falcon features an all-aluminum exterior and black diamond-plate lower front, complemented by the Falcon graphic. The trailer also offers pass-through storage, and inside there's a one-piece Granicote kitchen counter, an oversized faucet, aluminum-framed cabinet doors with smoked glass and a 5-cubic-foot Dometic refrigerator, compared to standard 3-cubic-foot fridges found on similarly sized RVs. The Falcon rides on 18-inch Michelin automotive tires and has a $14,860 MSRP.
As mentioned previously, dealerships will soon be displaying many more towable RVs with an automotive-style front windshield. As a prime example, Forest Rivers' John Stringer pointed to the Rockwood Signature Ultra Lite 8324BS, a 35-foot 5-inch unit with an 8,827-pound unloaded vehicle weight (uvw). The four-slide, rear-bedroom 8324BS, which retails for $42,950, features a living room up front that makes use of the windshield in a clever manner. Opposing slideouts house sofas, and a third seating arrangement faces the front of the RV where a fireplace and cabinetry surround the windshield. But hidden behind the fireplace is a big-screen TV on a "televator" lift, which raises the television in front of the windshield when it's time to watch TV.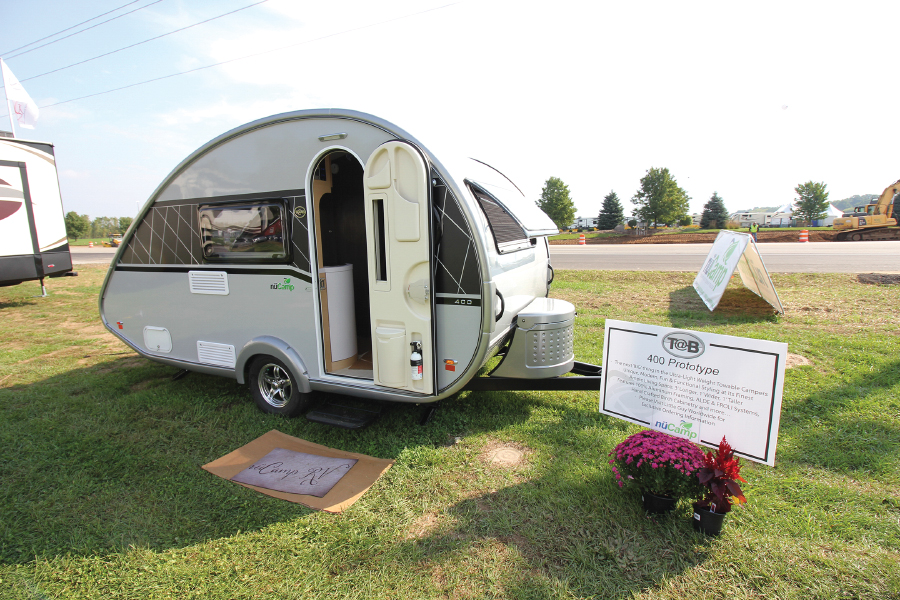 While you may know its products, you probably aren't familiar with the name nüCamp RV. It's the monicker for Pleasant Valley Teardrop Trailers, based in Sugarcreek, Ohio, which has been the manufacturing partner for Little Guy Worldwide. In April, the two companies will separate, and Pleasant Valley will begin marketing the Cirrus truck camper, as well as its [email protected] and [email protected] teardrop trailers under nüCamp.
The [email protected] 400 is basically a larger version of the [email protected] in both capacities and interior dimensions — 31⁄2 feet longer, 1 foot wider and about 1 foot taller. The 400, which nüCamp President Scott Hubble predicts will retail in the mid to high $20,000s, also features a European entry door with an integrated wastebasket and storage compartments, as well as a trim package that's not quite as pronounced as its [email protected] little brother.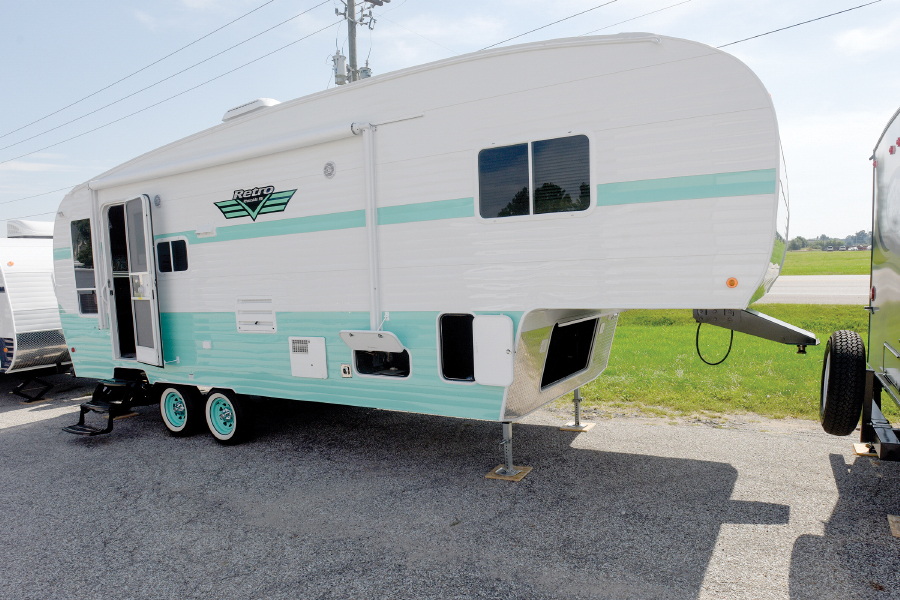 Riverside RV keeps expanding its Retro travel trailers and toy haulers, adding a new fifth-wheel to the line of vintage-inspired lightweight towables in the LaGrange, Indiana, company's stable.
"Customers have been looking for something lightweight that's half-ton towable," explained Riverside's sales manager, Bob Taulbee. That's one reason the company introduced the 526RL Retro, a 27-foot fiver with a rear living room.
Riverside started offering the 6,480-pound (dry), $35,000 (MSRP) 526RL to dealers for orders last May, but the first unit came off the line in September. The company plans to introduce two more Retro floorplans, one with a rear kitchen and a bunkhouse.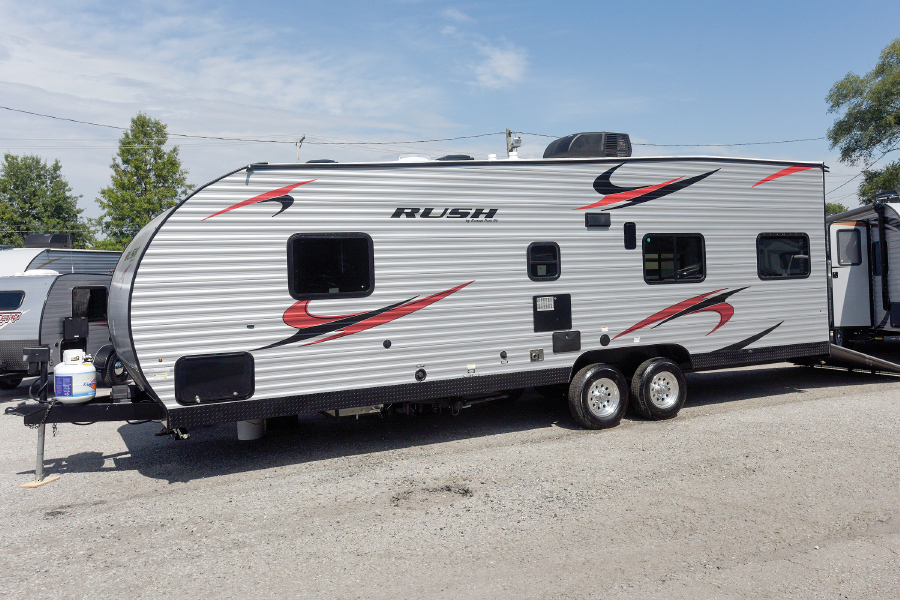 Sunset Park brought a wide selection of RVs from its Shipshewana, Indiana, factory to its Open House display, but the largest was still relatively small: the 30-foot 2-inch Rush 30QB toy hauler. The trailer has a 9,995-pound gvwr and a relatively small $23,900 MSRP.
The WQB designation is for walk- around queen bed, the key living feature, according to Roger West, part owner and head of sales and design. The trailer has a 90-inch ceiling in the cargo area and a 78-inch ceiling in the front. Options include an outside shower and an extra 40-gallon freshwater tank.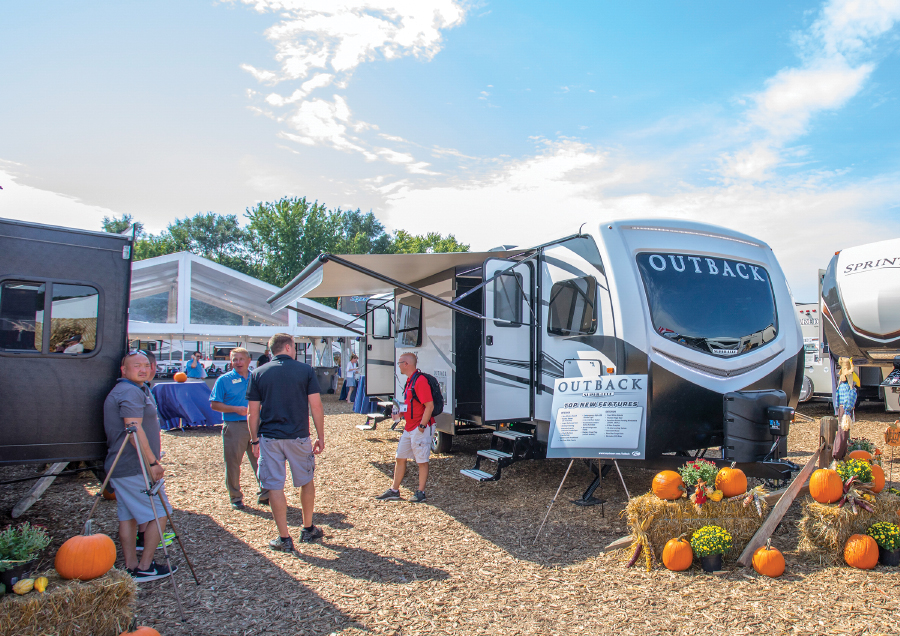 According to Tim Domiano, product manager for Keystone RV's Outback division, the company has produced more than 72,000 Outbacks since inception, and as the line celebrates its 15th anniversary in 2017, he wanted to do "something different." He didn't have to look further than Keystone's Montana for inspiration.
"When I saw the front windshield used on the Montana, it was my goal to have something with that windshield in it. We were due for a redesign of our front cap anyway," Domiano added.
For 2017, the Outback is offered in two lines: Ultra Lite, a smaller line that runs from 21 feet to 31 feet and weighs in at 4,500 to 5,500 pounds fully equipped, and the Super Lite. "Those products are typically in the 7,500- to 8,500-pound range and run from 33 to 36 feet with triple slides, king beds and washer-dryer cabinets," Domiano said.
The 33-foot Super Lite 333FE, with an MSRP of about $42,000, is a front-entertainment floorplan with dual opposing slideouts and a 50-inch TV behind the fireplace, which is tucked below the front windshield. "It also has a great kitchen, walk-through bath, dual pantry in the kitchen area, and in the back it has a full king-bed slide," Domiano said.
Outback has also partnered with Norco Industries this year, Domiano noted, and the line now offers the BAL NXG Frame with a seven-point automatic leveling system. The chassis incorporates a fold-down rack in the back for a portable generator or toys. The Super Lite series also gets the second-generation version of the iN-Command system that Keystone developed last year with ASA Electronics.
The Basecamp trailer from Airstream, the Jackson Center, Ohio-based subsidiary of Thor Industries, is actually a new and improved version of the Basecamp that had a short 2006 to 2007 lifespan. After extensive feedback from dealers, as well as previous and potential Basecamp owners, this reincarnation is designed to be a "small, lightweight, fully functional travel trailer," said Airstream CEO and President Bob Wheeler.
At just 16 feet long, a base weight of 2,585 pounds (uvw) and maximum trailer capacity (gvwr) of 3,500 pounds, the $34,900 (starting MSRP) Basecamp is towable by a variety of small and midsize SUVs and crossover vehicles.
With its large rear cargo hatch and flexible interior use of space, in which the convertible rear space is designed to easily adapt for eating, sleeping, lounging or storage, the Basecamp has room for outdoor gear such as bicycles and kayaks. Features include a kitchen with a cooktop, a stainless-steel sink and refrigerator, and a wireless Bose Bluetooth SoundLink Color speaker. Options include an enclosed patio and rear tent that seamlessly attach to the Basecamp roof track, allowing for extra outside storage.
"The Basecamp is a fully loaded adventure waiting to happen," said Wheeler, adding that the Basecamp
is poised to capture younger outdoor enthusiasts.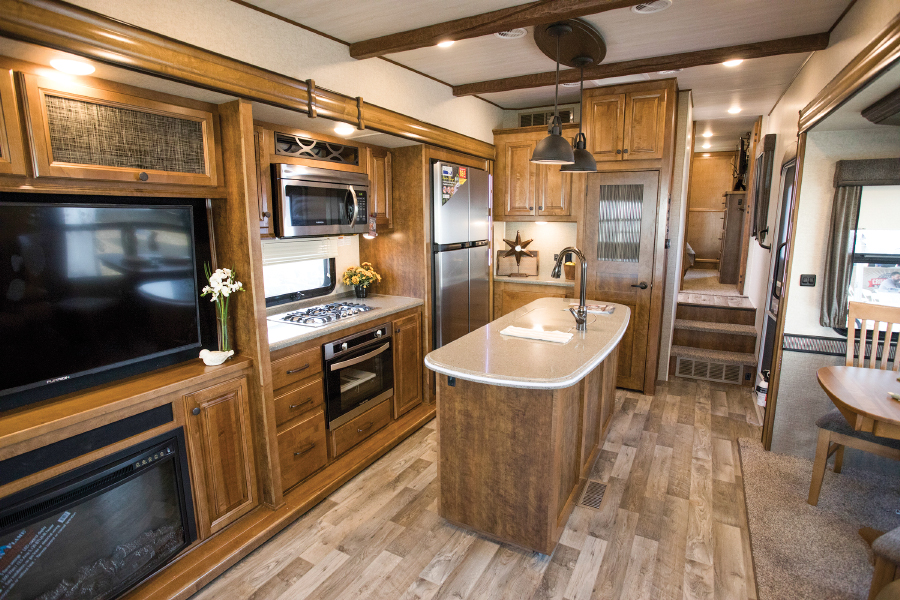 Cruiser RV, a division of Heartland, has always been a solid player in the travel trailer market, but for 2017 the company decided to test the waters in the fifth-wheel segment in a big way. "We wanted to be a little more competitive with some of the bigger players out there," said Shawn James, East Coast sales manager.
What the company came up with was a series of larger fifth-wheels, from 34 to 38 feet, the first of which is the 34-foot South Fork Cameron.
"We wanted to be a little different on the inside from what's in the market," said James. "There's only so much you can do with a fifth-wheel outside, so we wanted a different look inside. We went with a Western look, a distressed-wood look with barn-type doors and hardware."
The 18,000-pound (dry) Cameron retails "right around $75,000," James said. "Even with the bigger unit, you'll only be pushing $80,000, so we're giving the customers great value."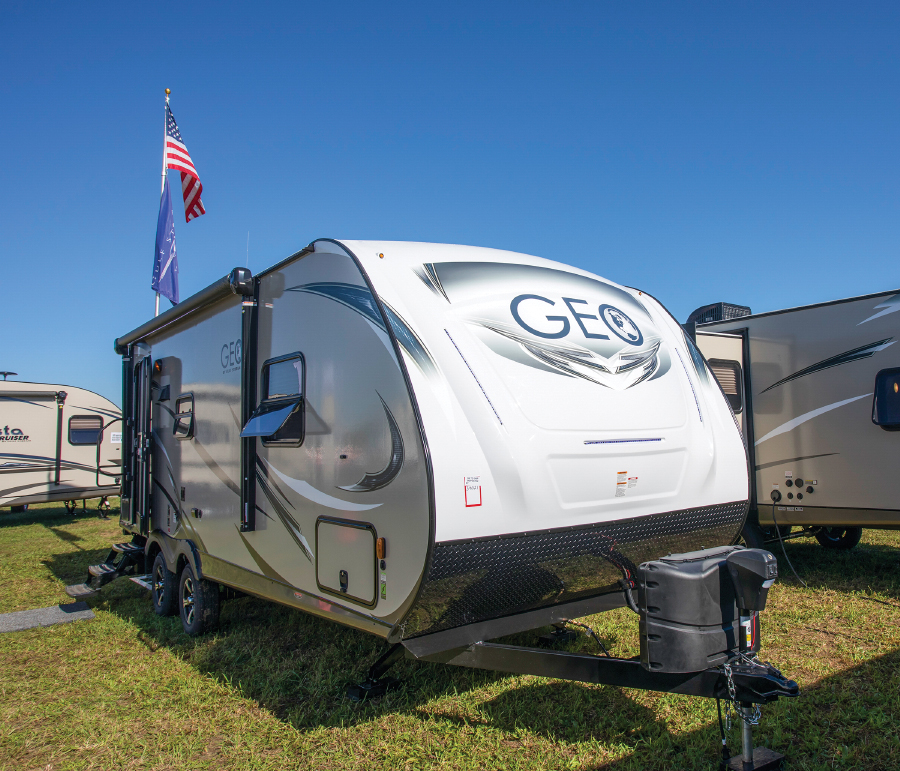 Gulf Stream Coach of Nappanee, Indiana, introduced the Geo, a laminated travel trailer that's initially available in two floorplans, the 23-foot, 5,220-pound 235RB ($23,093 base MSRP) and the 28-foot, 7,200-pound 280TB ($25,193 base MSRP), with additional configurations in the works.
With vacuum-bonded laminated walls featuring a fiberglass exterior skin and composite interior skin sandwiching rigid foam insulation, the Geo has a welded-aluminum frame, fiberglass front cap and interior styling reminiscent of a "country club or upscale resort," according to the company.
"What we're seeing is more first-time buyers entering the marketplace, especially young families, millennials and middle-age couples who are empty-nesters," said Paul Campbell, director of marketing at Gulf Stream. "They're buying their first RV, but they have high expectations as far as fit and finish, amenities, creature comforts and styling. They're demanding something that looks great with advance construction, but with the amenities they're used to at nicer hotels and resorts," Campbell added. "The Geo delivers on all that."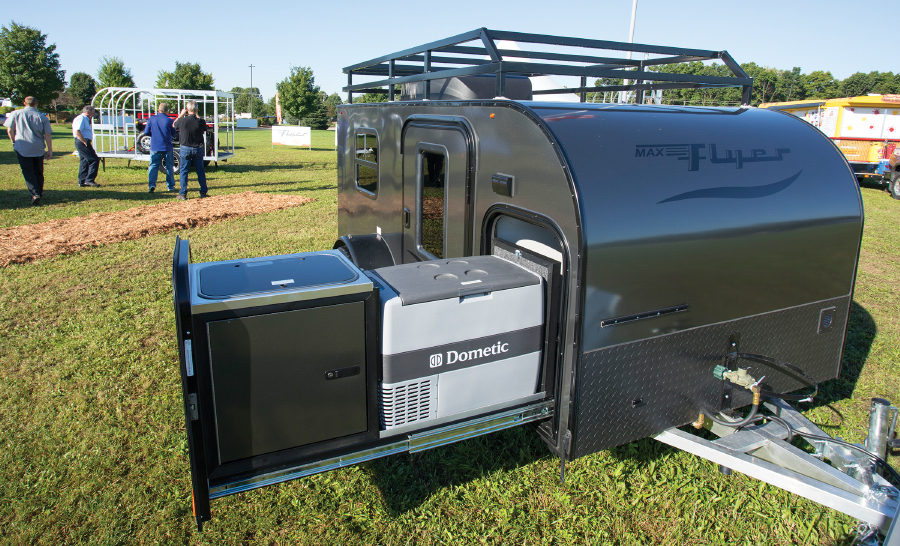 Building all-aluminum trailers isn't a new exercise for inTech RV. The company has been crafting aluminum car haulers under its inTech Trailers name for six years. The company expanded into the RV market last year with a pair of modified teardrop trailers, the XLT Flyer and Max Flyer, and in September introduced microlight toy hauler versions of each, capable of handling a couple of motorcycles or a full-size ATV.
All offer a fully welded cage, one-piece aluminum roof and one-piece aluminum skin. "That helps us maintain a lightweight product," said Rich Schippel, director of sales and marketing. "They also are seamless. There are no screws or fasteners."
The difference between the two models (four, counting the toy haulers) comes down to equipment. The slightly longer and wider Max Flyer, at 13 feet 5 inches, as opposed to the XLT's 12-foot 4-inch dimensions, is essentially dedicated to a curbside slideout kitchenette that includes a two-burner propane stove, 12-volt DC Dometic refrigerator and an exterior countertop. It also includes a 12-volt deep-cycle battery and AM/FM/Bluetooth stereo system. Fully optioned out with an upgraded 12-volt DC/120-volt AC refrigerator, LP-gas cylinder, off-road tires, 9,200-Btu roof air conditioner and two mattresses, the Max Flyer weighs just 1,500 pounds.
The inTech Max Flyer has a starting price of $9,443, and the XLT Flyer starts at $6,750.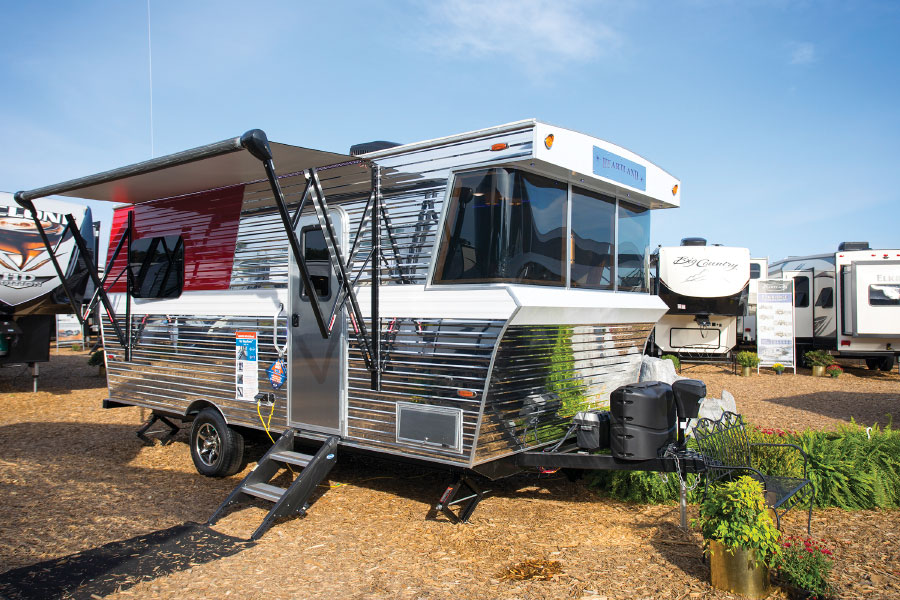 One of the biggest draws at the Elkhart RV Open House last fall wasn't a production-based RV but rather a prototype that Heartland showcased to get dealer feedback, and based on what company executives heard, the as-yet-unnamed retro-style towable will soon become Heartland's newest travel trailer.
"We priced it, showcased it and wrote a bunch of orders as well," said Coley Brady, vice president of sales for the Elkhart manufacturer. "Now we're in the process of developing it and getting ready to run some pilot units with the goal of being in production right after the first of the year."
According to Coley, the trailer was built by Darryl Byers, who works at Elkhart RV supplier MORryde, and a friend of his. "Obviously, we liked what we saw, so we'll be in production on something that looks very close to what was on display at Open House, to make it our own without losing the essential features of the product."
Highlighted by its polished aluminum exterior paneling, the trailer will feature an array of modern conveniences inside. Initially, it will be built in one 21-foot floorplan, according to Coley, with a long-term goal to add two others. The gvwr has yet to be determined for the single-axle trailer, but Coley believes it will retail for right around $20,000.
---