Going the distance on the 165-mile Tahoe Rim Trail, one of the world's most beautiful long-distance footpaths
It was 9:30 a.m. by the time we polished off a second helping of bacon and eggs and hot buttermilk pancakes at the fabulous breakfast buffet at Granlibakken Lodge in Tahoe City, California. We shouldered our packs and headed up the Tahoe Rim Trail (TRT), which conveniently starts just behind the lodge. For most of the people we passed that morning, it was just a day hike to the next pickup point. For us, it was the beginning of a 25-day march.
Our goal was to through-hike the entire TRT, all 165 miles of it. A major complication was the California drought, which had left many of the small streams dry. Water would be critical. We had to carry enough for two or even three days in places, raising the weight of our packs to more than 55 pounds.
Obviously, we were not in a hurry. Perhaps more obvious, we were not part of the new ultralight backpacking crowd. Based on the notion that it's not the destination but the journey that counts, we have always been slow hikers, stopping early to find that perfect campsite. We get up with the sun to enjoy a fresh cup of coffee or two, savor the mountain air, and pack up and hit the trail at about 9 a.m.
We stop frequently to take pictures, talk with people and enjoy the country around us.
Few will argue that Lake Tahoe, framed by a ring of snowcapped peaks and lush forests, is one of the most beautiful places on this planet. Never mind the golf, water sports, fishing, world-class skiing and snowboarding, and 24-hour excitement at the Las Vegas-style clubs. If you're looking for fresh air and adventure, hundreds of miles of hiking and biking trails have always laced the surrounding national forests and wilderness areas. It was not until the 1970s that Glen Hampton, a recreation officer for the U.S. Forest Service, had a dream of creating an environmentally sensitive trail circling the entire lake on the ridgetops, offering a challenging hike with breathtaking views of the endless mountains, lakes and forests.
In cooperation with the Forest Service, Nevada State Parks and the then-newly created nonprofit volunteer organization called the Tahoe Rim Trail Fund, thousands of volunteers were organized. After more than 200,000 hours of work by more than 10,000 volunteers, Hampton's dream manifested into the TRT, taking its place alongside the Appalachian, Pacific Crest and John Muir trails as an American treasure.
It was afternoon on the third day when we crossed California Route 267 and thankfully found the pair of 2½-gallon jugs of water we had stashed several days before. There
was no place to camp, so we trudged on another couple of miles to an open spot for the night.
Certainly, one of the joys of backpacking is that wherever you stop, you're home. After setting up our two-man tent and arranging a backcountry kitchen, it was time for a bowl of hot soup and the main one-pot course. Given the length and difficulty of a long hike like this, it was important to eat well. Most of our freeze-dried or dehydrated meals were prepared from products you can buy in any grocery store. This lengthy hike requires some preplanning.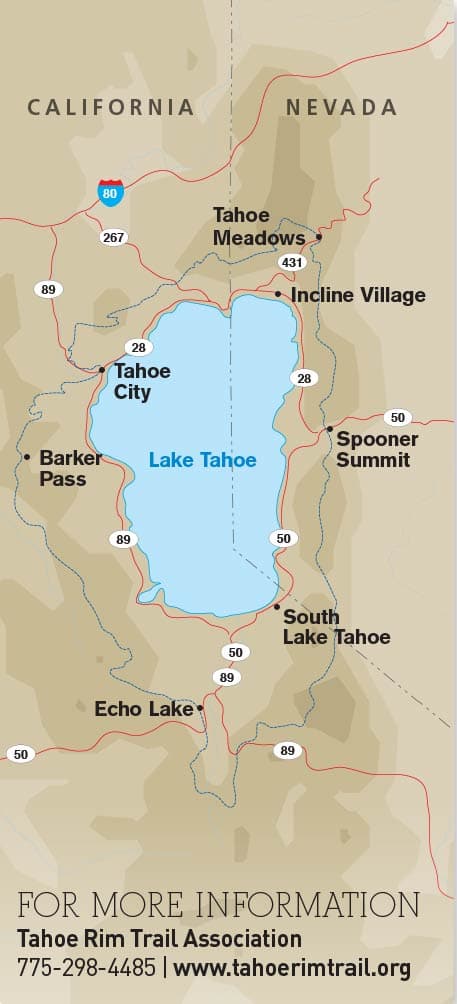 Finding a running creek at Gray Lake was a nice surprise, and it was a beautiful overnight spot, but we had to keep moving. Our next food drop wasn't until we would cross Nevada Route 431 near the Mount Rose summit. During an earlier scouting trip, we discovered that the friendly people at Flume Trail Bikes and Tunnel Creek Café in Incline Village would be happy to bring our prepackaged box of food for a small fee during one of their normal mountain-bike shuttle runs.
Most of the TRT is open to mountain bikes and equestrians. Although we saw very few horses during our hike, there were plenty of mountain bikes, and much of the trail is ideal for that use. While there are difficult sections that some may walk their bikes through, there's no question that you can cover 20 or 30 miles on an easy day's ride. The TRT does pass through three wilderness areas where bikes are not permitted. Only Desolation Wilderness requires a special permit for hikers.
Despite the drought, the alpine display of wildflowers was spectacular with more than two dozen easily identifiable varieties, including favorites like Indian paintbrush and lupine. Surprisingly, we saw very few animals other than deer and the ever-present chipmunks. Although all our food was safely packed in lightweight carbon-fiber Bearikade, animal-proof containers that are required in Desolation Wilderness, we saw no signs of bears. They probably found better pickings from garbage cans down by the lake.
By Day 4 we had gotten our hiking legs back, but the weight of our packs was something we would never adjust to, and we started to wonder what we could eliminate for our next trip. Our lightweight two-man tent, three-quarter-length Therm-a-Rest sleeping pads, 20-degree-Fahrenheit down mummy bags, rain gear, super-light pots and stove never made the list to leave behind. Being on the trail for a week or more, if you can't get a good night's sleep and eat healthy meals, you've lost the game. The best meal on our trip was rehydrated spaghetti with freeze-dried garden vegetables, dried cheddar cheese, powdered milk and bacon bits.
As we hiked above 9,000 feet, we had great views of Lake Tahoe, Castle Peak, Donner Lake and the town of Truckee. Still heading up, we reached Relay Peak at 10,338 feet, the highest point on the trail. At some point I wondered, since we started at lake level (6,229 feet) and would finish at lake level, with a total elevation gain and loss of 27,484 feet, how could more than two-thirds of it be uphill?
At length we reached the Mount Rose Summit Trailhead where it crosses Route 431. We had only a short wait until the van from Flume Trail and Tunnel Creek delivered our first food drop at Tahoe Meadows. With a quick stop at Ophir Creek to fill our 3-liter Big Zip Platypus water bags, we headed south. It would be 23 hard miles to our next resupply at Spooner Summit, but there was a hand-pump well at Marlette Campground about 14 miles away. While a good rider on a mountain bike could make that distance in an hour or so, it would take us a long day.
One nice thing about the TRT is that, while only a few hikers tackle the complete trail, many sections are ideal for shorter hikes. We saw several couples with young children, some carrying their own little packs and others being carried. Either way, they were in the outdoors, maybe even sleeping under the stars for a night instead of being glued to a video game. The TRT is the perfect introduction to the beauty and adventure of hiking for kids of all ages, even if it's only a short-day walkabout. We also met a lot of retirees enjoying day hikes.
The views of Lake Tahoe, Emerald Bay and the massive Crystal Range behind the much-anticipated Desolation Wilderness were inspiring. It was getting dark by the time we picked up our third food drop and filled our water at the little Tramway Market convenience store at the top of Kingsbury Grade where the trail crosses California Route 207. We treated ourselves to a steak dinner at the Fox and Hound Smokehouse, pitched our tent in the parking lot next to the trailhead and headed for Star Lake in the cool of the morning.
On a two-day overnighter, everything can wait till you get home. On an extended hike like the John Muir Trail or the TRT, life goes on. Day stops to wash a few clothes, take a bucket-bath and just relax become part of the enjoyment of the adventure. After a day-and-a-half layover at beautiful Star Lake, we left refreshed and feeling that we were getting close to home — only 90 miles to go! Much of the trail would be above 9,000 feet, but by now we were well acclimated.
In another day and a half, we crossed California Route 89 and made it all the way to Dardanelles Lake, one of my favorites when I lived in South Lake Tahoe. Our packs were lighter now with the abundance of water from spring-fed creeks. Dardanelles, a short detour off the main trail, was too nice not to stay an extra day, and we had plenty of food to reach our final supply box that we had mailed to the store at Echo Chalet in Echo Lake.
After passing Round Lake, the TRT joins the Pacific Crest Trail that spans more than 2,650 miles from Mexico to Canada. On this section that it shares with the TRT, it wanders through lush meadows of wildflowers on the way to Showers Lake.
Wanting to reach Echo Chalet early to pack our food and fishing gear, we camped in a meadow just a couple of miles short of U.S. Route 50. By 10 the next morning, we had stuffed nine days of food into our Bearikade barrels and hopped onto the Echo Lake water taxi that would drop us at the far end of Upper Echo Lake, saving us a 3-mile slog over a very rocky trail. Call it cheating if you want, but we knew what that section was like. By evening we had found a pleasant camp with other hikers at Lake of the Woods. We were now in Desolation Wilderness.
The next 33 miles were the frosting on the cake. The amazing glacial-polished rock landscape of Desolation Wilderness encompasses three mountain ranges and about 130 lakes backed by several rocky peaks pushing 10,000 feet. The TRT wanders by a dozen or more sapphire-blue lakes, some surrounded by forests of western white pine, hemlock and weathered junipers, while others seemed to be placed only to catch a reflected image of the mountains that nurture them.
Lake Aloha is a spectacular sight, dotted with little islands and backed by the sheer glaciated granite cliffs of 9,983 -foot Pyramid Peak. The glaciers that carved out Desolation Valley, a 5-square-mile granite bowl, disappeared 10,000 years ago, but there is still a feeling that the Ice Age ended last week.
It's a short day hike from Echo Chalet, especially if you take the water taxi to Upper Echo. We hurried to escape the day-trippers and camped at Susie Lake, knowing we had 9,380-foot Dicks Pass just ahead. Susie, Dicks and Middle Velma lakes are part of what Desolation is all about, with Gilmore, Fontanillis and Lower Velma lakes tempting us along the way.
We took time to soak in the incredible scenery and do a little fishing.
Unfortunately for angling hikers like us, many of the lakes have been "restored" as a result of the Sierra Nevada Yellow-Legged Frog Habitat Restoration Project that began in 2008. The once-abundant population of rainbow, brown, brook and golden trout, and even mackinaw have been gill-netted and removed. Combine that with Desolation Wilderness being the most heavily used wilderness area per acre in the United States, and the fishing
was not what we could recall from 30 years ago, but the serenity will always be there.
As we reluctantly hiked out of Desolation, we made a comfortable camp at Richardson Lake, a popular spot for off-highway vehicles. We were pleased that the four-wheel-drive crowd had left neat, clean campsites. Now with only Barker Pass (7,650 feet) in our way, we soon turned off the Pacific Crest Trail and headed east over the Sierra Crest with amazing views of Lake Tahoe and Desolation.
Our final campsite at the edge of a meadow just 5 miles from Tahoe City was the perfect end to an amazing journey. We left the rain-fly off our tent to enjoy the star-filled night and slept in until the sun on our faces woke us. A hot shower and a sauna at Granlibakken Lodge where our car had been safely parked in a guarded lot awaited us just a few hours away.
Glad to have made it back safely and sad that it was over so soon, we celebrated with a welcome-home steak dinner and wine at Jake's on the Lake, with a view of the lake we had just walked around, the tangerine blush of a Sierra Nevada afterglow highlighting the mountains across the cobalt water.
The Tahoe Rim Trail is an American treasure that we'll treasure for the rest of our lives.
---