Q: My 2009 Toyota Tundra has the 5.7L V-8 and a six-speed automatic with the towing package. I am going to have the automatic transmission and differentials fluids changed. Do you have any feedback pros or cons on using Royal Purple or Amsoil synthetic lubricants instead of the Toyota factory lubricants? The mileage on the truck is almost right at 51,000 miles and I tow a 2012 Keystone Outback that weighs about 8,350 pounds loaded.
– Bob Landry | Via e-mail
A: Synthetic lubricants are far past the experimental stage, and some manufacturers require them for use in special high-performance engines. Both Royal Purple and Amsoil have long track records with consumer vehicles. As long as you use lubricants that meet or exceed your Toyota requirements per its API ratings, available in your owners' manual, your Tundra should be in good hands.
– Jeff Johnston
---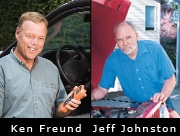 To send your questions to RV Clinic, write to 2575 Vista Del Mar, Ventura, Calif., 93001; or email [email protected]. Also, check out TrailerLife.TV for our expert RV how-to videos.