Fifty-two years after getting its start, the Good Sam Club swells to 2 million members.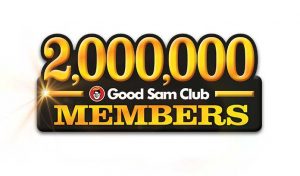 The club is celebrating its record-breaking 2-million-member milestone September 24-30, 2018, at all Camping World, Gander Outdoors and Overton's retail locations. Members can enjoy special treats including free popcorn, free coloring books and crayons, a Spin-to-Win prize wheel, free lunch and door prizes. Club members can also take advantage of some of the best prices of the year on a huge selection of RV, camping, towing, boating, hunting, shooting sports and adventure gear at all locations during the weeklong celebration.
Marcus Lemonis, chairman of Camping World Holdings, said, "The month of September is all about celebrating the 2 million member milestone. Throughout the month we are celebrating Good Sam Club members, different chapters and different employees who really stand for what the Good Sam Club is all about."
Founded in 1966 on the principle of the biblical Good Samaritan, the Good Sam Club has been providing support and assistance as well as opportunities for fun, fellowship and volunteering among camping and RVing families nationwide for more than 50 years. Good Sam Club, Camping World, Gander Outdoors and Overton's staff also volunteer thousands of hours of their time each year to help make their communities better places to live.
"Being Good Samaritans doesn't stop with our members; it includes all of us," stated Lemonis.
"The most emotional part of my journey in the RV business," Lemonis said, "has been meeting Good Sam Club members and hearing their stories. Whether it was the first person who ever joined the Good Sam Club or someone who joined yesterday, I have come to really understand that yes, they join the Good Sam Club for discounts at campgrounds and the discounts at our outdoor retailers, but more importantly, they join us to be part of a bigger community – something that really stands for something. The Good Sam Club provides that opportunity."
"From the bottom of my heart, and from the rest of our 17,000 employees, I want to say thank you to all of our Good Sam Club members," said Lemonis. "Your membership means the world to us, and to all the people to whom you donate your time and hospitality."
---