There are more than a half-million reasons why the RV industry could have spent the 2018 model year doing nothing more than playing catch-up. Half a million is a big number in anyone's book, and the most recent estimate by Recreation Vehicle Industry Association (RVIA) prognosticator Richard Curtin pegged final 2017 wholesale RV shipments at 505,600 units, the most since the association began recording them in 1978. What that means, aside from continuing the industry's nine-year run, is that manufacturers are pretty busy filling orders.
But as attendees discovered at last fall's trade shows — where new models and floorplans are often first shown to North American RV dealers — the manufacturers haven't chosen to rest on their reputations. While the ongoing popularity of RVs has been influenced by tax reform, better finances and more available credit, it has more to do with a manufacturing base that continues to design and engineer innovative new RVs across the entire price spectrum.
Those accolades, though, aren't limited just to RV manufacturers. Perhaps in no other year has the technology developed by, or in conjunction with, builders' supplier partners wielded greater influence than on many of 2018's new designs. Keystone's new two-patio, bath-and-a-half Fuzion 424 toy hauler is a case in point.
"One of the biggest complaints we hear from customers is, 'Hey, my unit won't cool down,'" said Jeremiah Dumka, product manager for Keystone's Fuzion and Impact brands. "Builders have been putting three air conditioners on big units for a long time, but they've been on an energy-management system where one shuts down and another starts up.
"We have developed a system in conjunction with Dometic that allows owners to run all three A/C units at once off 50-amp service," Dumka explained, referring to the Fuzion's Omni-Chill system. "And if you're at a campground that has only 30-amp power available, you can run two air conditioners."
The 43½-foot, three-slideout floorplan also incorporates a peninsula dining table with integrated swing-out barstool seating, an innovation Keystone debuted last year. Other interesting functions include storage for the loft ladder and a huge hidden pantry behind a swing-out panel that houses the entertainment system.
With a starting price of $112,000, the toy hauler includes a rear half bath that's accessible from the garage but actually occupies real estate in the kitchen area, freeing up the entire 12½-foot garage, which, by the way, carries a whopping 5,000-pound capacity. The 424 also has auto-start capability for its onboard generator, a feature that can be programmed into its iN-Command control system.
The Fuzion 424 isn't the only new model with unique features. The 2018 towables on the following pages, along with those showcased in the January issue, underscore why RVIA's Curtin expects wholesale shipments in the coming year to surpass 520,000 RVs, more than 85 percent of which will be hooked up behind the family car, SUV or truck.
Airstream
Airstream, a subsidiary of Thor Indus­tries, introduced the 28-foot Globetrotter 27FB as the first model in a sleek new line of travel trailers. If the Globetrotter name sounds familiar, it's because Airstream has used it in the past. According to Justin Humphreys, vice president of sales and marketing, resurrecting the name made sense after the company went overseas to work on the interior with British design firm Astheimer.
"Since the Airstream shell doesn't change a whole lot, we try to have a new set of eyes look at a space that we've been designing in for years," Humphreys said. Astheimer's design cue was for a layout that flows. "The furniture all wraps around each end — around the bed, around the dinettes, even in the cabinetry you'll see a lot of flow to the design. It's very simple and very modern," he explained.
With a base price of $99,900, the upscale 27FB features a north-south queen bed up front (a twin-bed model is also available). The streetside bench of the rear dinette extends along the wall for a 63-inch lounge/bed that abuts a 6.7-cubic-foot refrigerator, a wardrobe and a shower. Along the curbside wall, the toilet and sink are opposite the shower, and a well-appointed galley is just off the entry door.
Cherokee
Forest River's Cherokee division debuted the Alpha Wolf line. "The all-new Alpha Wolf brand is part of our next step in the laminated series of Cherokee products," said John Quake, Cherokee's general manager. "Every wall in this trailer — including the slide room — is fully laminated, making it a lighter-weight coach designed specifically for lighter-weight trucks or SUVs."
With a base MSRP of $23,900, a dry weight of 5,500 pounds and a gross vehicle weight rating (gvwr) of 7,200 pounds, the Alpha Wolf 26DBH-L features a large flush-floor slide, an 8-cubic-foot refrigerator, a walk-in pantry and plush mattresses on the rear bunks. The front master suite has a queen bed and lockable doors.
"The front cap is part of our Limited package, along with an oversize 20-foot awning, exterior camp kitchen, full pass-through storage and MORryde double entry steps," Quake added. The Alpha Wolf is initially offered in two floorplans, including the rear-kitchen 27RK-L, which features a large living-room slide. Two additional floorplans are in the works.
CrossRoads
When CrossRoads RV, a subsidiary of Thor, redesigned its line of Cameo fifth-wheels, it did so with the theme of "twice is nice," according to Regional Sales Manager Nino Porpiglia.
"What we mean by that is that there are two of all of the large features," he explained. "For example, there are two fireplaces, two televisions, two power vent fans." Add to that a pair of awnings, along with a 2-inch receiver and an upgraded suspension, pinbox and exterior high-gloss finish, all standard.
By putting the new models on a straight frame-rail chassis, versus a drop chassis, CrossRoads was able to reposition the price category, Porpiglia said. Base price is $63,000, and lengths range from 35 feet, 2 inches to 42½ feet.
Grand Design
A division of Winnebago Industries, Grand Design launched its new line of Transcend travel trailers. Priced between $20,000 and $30,000, the eight trailers vary in length from
25 to 36 feet and have dry weights in the high-5,000-pound to mid-6,000-pound range.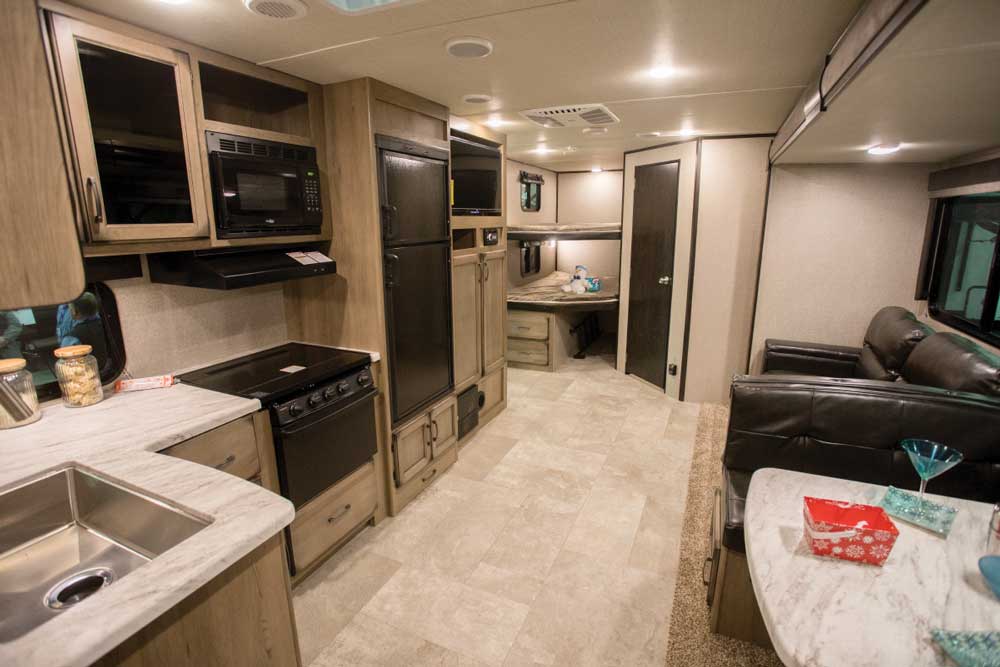 While the non-laminated Transcend can be described as a "stick-and-tin" trailer, Grand Design officials shy away from the entry-level association attached to that label. "We focused on quality," said Product Manager Peter Kinden.
The initial floorplan, the 32-foot Transcend 27BHS bunkhouse, sleeps 10 and weighs about 6,400 pounds dry. Features include a power A-frame jack, a power awning, aluminum entry steps and an upgraded insulation package.
Heartland
The 41-foot, 5-inch Gateway 3700RD has what A.J. Jones, senior general manager of Thor subsidiary Heartland RV, said is "the biggest kitchen I know of that's been put into a fifth-wheel." Situated amidships, just inside and forward of the entry door, the U-shaped kitchen has ample counter space and a raised bar facing the rear living area. A large refrigerator and sizable pantry sit in their own streetside slideout.
Putting the spacious den in the rear, the layout features opposing slides with a love seat, a sofa sleeper and theater seating facing the rear-wall entertainment center. The front master suite has a standard queen bed in a slideout and a large front-wall closet with washer-and-dryer prep. The exterior also has a substantial amount of front-end storage and a full outdoor kitchen under the awning.
Heartland's new fiver has a 15,500-pound gvwr and a starting price of $68,097.
Keystone
Another division of Thor Industries, Keystone RV debuted the Cougar 32BHS, one of three new floorplans in the nine-model fifth-wheel line. With two separate bathrooms, the 36-foot triple-slide bunkhouse will appeal to families, said Product Manager Matt Christensen.
"That's the big catch on this floorplan," Christensen said. "Plus, it has a big outside kitchen with the Capital Grill cooktop that we introduced for 2018. We're putting it in all of those models."
The 32BHS has a dry weight of 9,200 pounds and a $45,277 MSRP.
Lance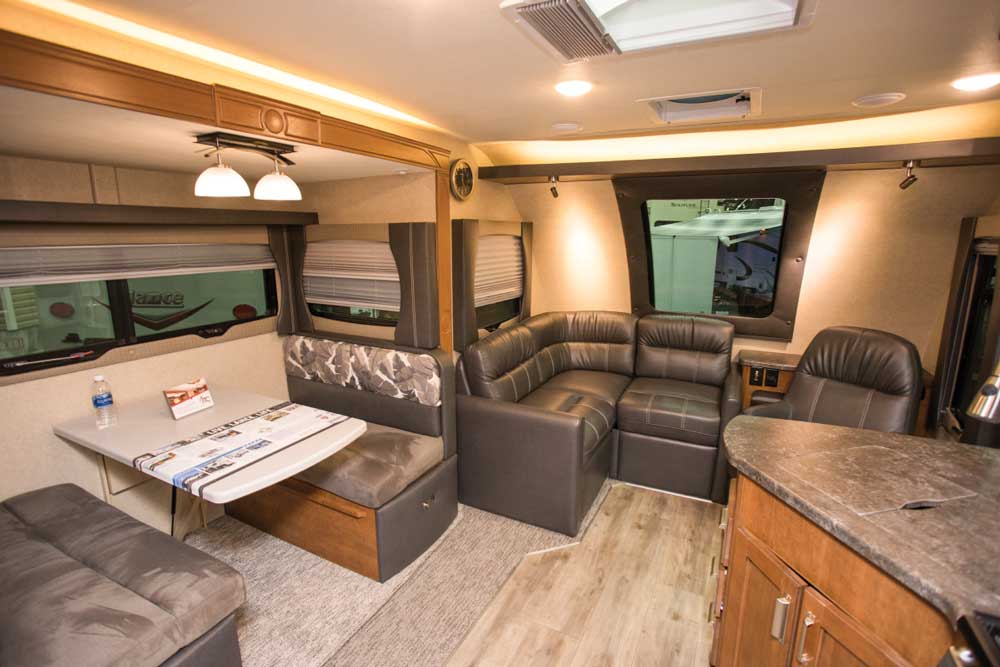 With the 24-foot 2465, Lance has released its longest ultralight travel trailer to date. Director of Marketing Bob Rogers said the 5,500-pound (dry) double-slide trailer's other unique feature is the king bed in the rear.
"I think that's a first in an ultralight travel trailer," Rogers said. The 2465 comes with a pair of 40-inch LED TVs, including one in the master suite that disappears into a cabinet. Other highlights are a roof rack, a J-lounge sofa with an optional recliner in the front living area, and an optional fireplace, disc brakes and third LP-gas cylinder. Pricing was undetermined at press time.
Liberty Outdoors
Lightweight travel trailer manufacturer Liberty Outdoors displayed a prototype of its new retro-inspired Serro Scotty Sportsman, a 14-foot, 1,700-pound (dry) trailer that will retail in the high teens, according to Dylan DeHoff, Liberty's chief operating officer.
The focus on capturing the brand's vintage appeal is by design, DeHoff said. "We've tried to keep the outside as retro as possible. It's true to the old Sportsman — windows in the same exact spot, same metal.
Everything's the exact same, but we built it with modern construction."
nüCamp
Following the success of its Cirrus 820 truck camper, designed for shortbed pickups, nüCamp has introduced a model for longbed owners, the Cirrus 920, with a 2,905-pound dry weight and a $39,429 starting price.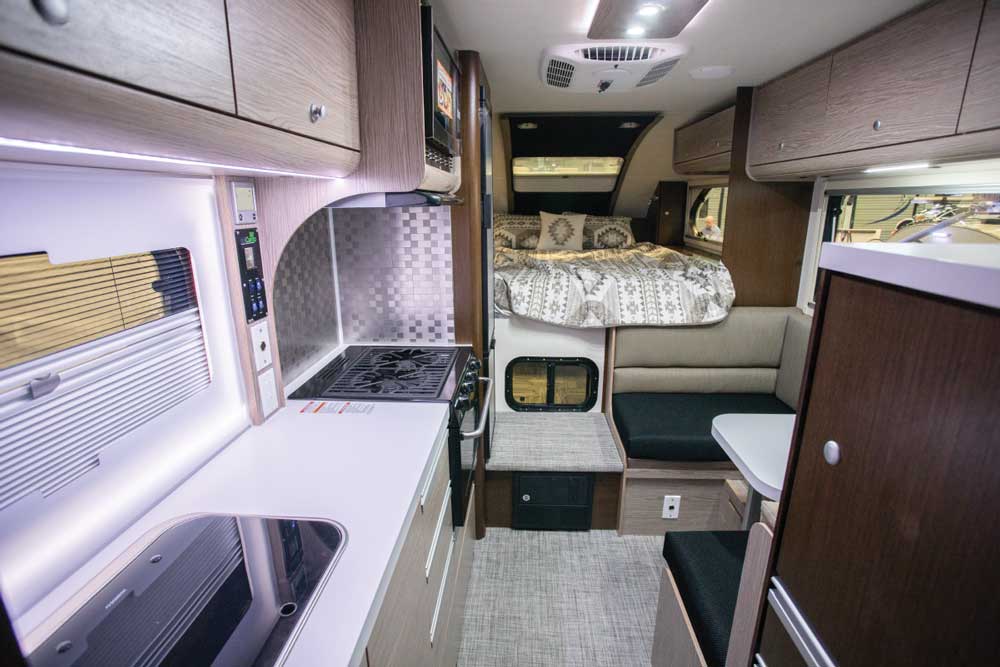 "We've kept all the great things of the 820 and brought them to the 920," nüCamp President Scott Hubble said, "but now with the extra 18 to 20 inches, we've been able to put in some new features." Those features include a convection microwave oven, a slim-line refrigerator, a pullout pantry, additional kitchen storage, a 27-inch TV in the living area and a 19-inch TV in the cabover bed.
The 920 has two 6-volt, 220-amp AGM batteries on board and two 5-gallon LP-gas cylinders. "Between the double LP, the AGM batteries with more than a couple hundred
amp hours and a couple hundred watts of solar, you've got a variety of power options to choose from," Hubble said.
Riverside RV
Towable manufacturer Riverside RV made a splash at the Louisville show with 19 units on display from its revamped Mount McKinley and its 12-model Retro lines.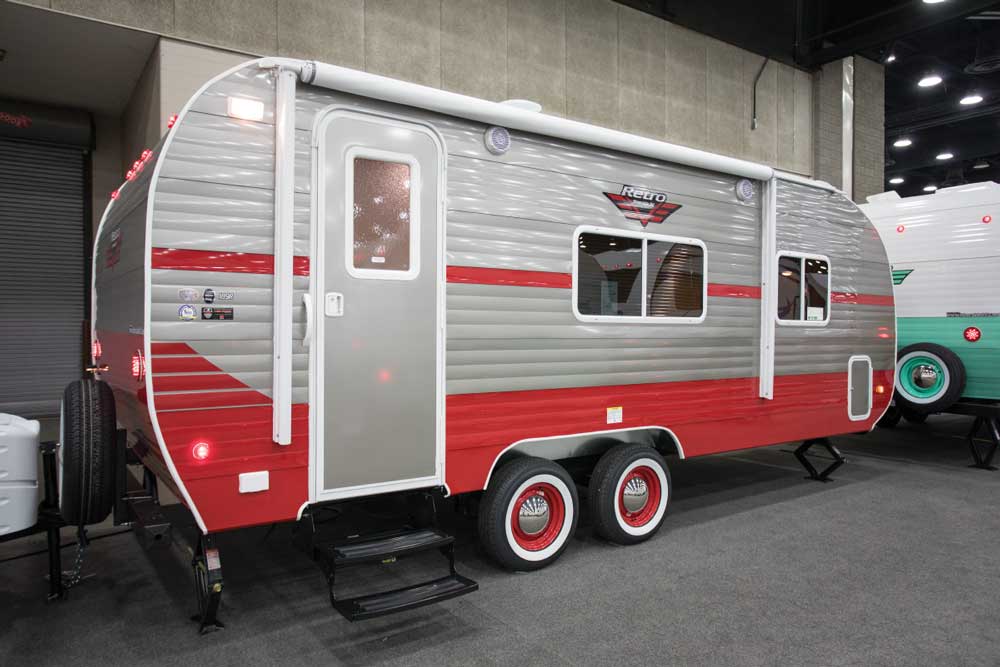 "As far as the Retro, the biggest thing about what we're doing is, obviously, the old-school vintage trailer but with modern amenities," said Regional Sales Manager Chris Daniels, while seated inside the Retro 189R, a 23-foot, 9-inch couple's trailer that weighs 3,760 pounds unloaded.
The Retro features aluminum construction with 30-gauge aluminum siding. "Compared to the rest of the industry, it's almost double the gauge of aluminum, so it almost feels like siding on a house," Daniels said. Other features include a walk-around queen bed up front and a dry bath at the rear.
Taxa Outdoors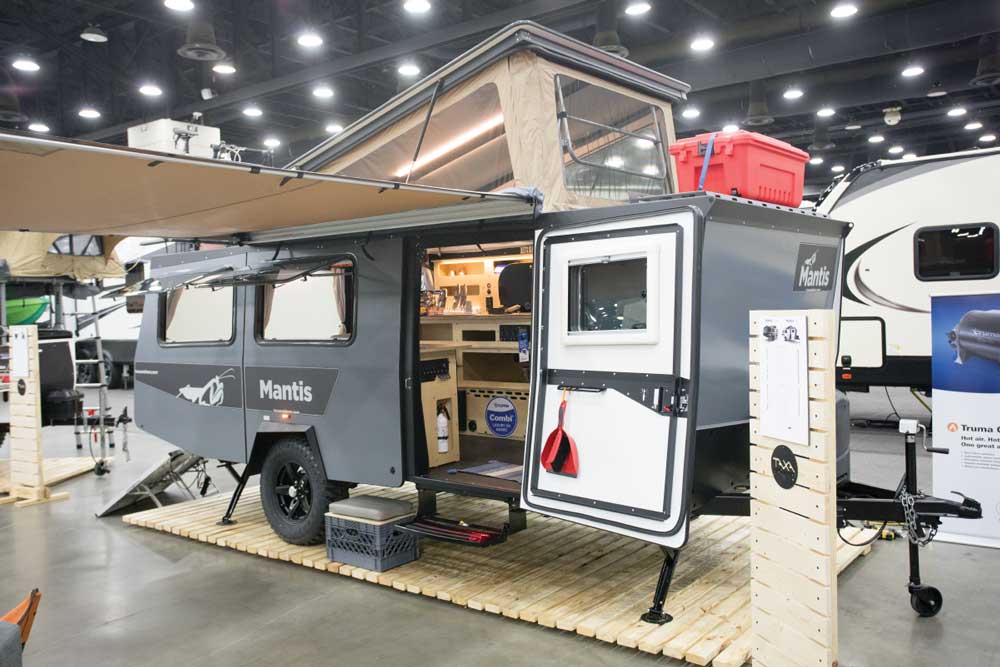 Trailers designed for off-pavement pursuits continue to surge in popularity, and the 18-foot Mantis from Taxa Outdoors garnered plenty of attention at the Louisville show. "When designing the Mantis, we had to have room for four kayaks and four bikes, along with all the gear a person would take," said Garrett Finney, Taxa founder, CEO and lead designer.
"All our products excel at being off the grid or boondocking," Finney said. Beyond 14 inches of ground clearance, the Mantis has impressive headroom with its pop-up roof and dual-purpose appointments that include a couch that converts to a full-size bed. The trailer sleeps four and has a shower and a cassette toilet. The 6-foot, 9-inch travel height, sub-2,800-pound dry weight and aerodynamic shape make the Mantis easy to tow. "We tried to design the tow vehicle purchase out of the equation," said Finney. The trailer retails for around $33,000 and fits in a standard garage.
Vanleigh
Vanleigh RV, the towable division of Tiffin Motorhomes, introduced its new Beacon luxury fifth-wheel. Targeting full-time RVers, the Beacon comes equipped with a roster of standard features including full-body paint and a high-gloss, ultra-sheen wood finish on solid hardwood cabinetry.
The Beacon debuts with three models, the 38RLB, 39FBB and 39GBB. All are 38 feet, 11 inches with opposing slides in the rear living area and a bed slide in the upper level. The mid-bath 38RLB has an unloaded weight of 13,500 pounds, and the bath-and-a-half 39FBB and wine-bar-equipped 39GBB weigh in at 14,500 pounds dry. The latter two configurations offer spacious bedroom suites in the upper level with large master baths and roomy front wardrobes.
With a base MSRP around $120,000, the Beacon is equipped with a 7-inch Spyder Controls multiplex system with a color screen, an 18-cubic-foot Whirlpool refrigerator and
a second patio awning.
Venture
Venture RV, a division of Thor subsidiary KZ, brought a prototype of the Sport Trek Touring Edition 302 to the Louisville show. Dave Boggs, KZ's general manager overseeing Venture and Livin' Lite, said the 33-foot travel trailer is notable for its front-bedroom, rear-bath floorplan. "There are a lot of rear baths out there, but we've separated ours with a king-bed slide up front with a double-door entry to the bedroom area," Boggs said.
Unlike other rear-bath configurations, Boggs pointed out that the 302 features a living area designed so the seating area is directly across from the entertainment center. "The other thing that separates us is we have a large walk-in closet on this floorplan, with
a dresser and a mirror," Boggs added.
The trailer has a 7,100-pound dry weight and a $37,500 base price.
Winnebago
"One of the nice things about this new floorplan is that it has two entry doors," said Winnebago Towables' Director of Marketing Mark Gerber of the new Winnebago Minnie 2606RL. "One enters into a nice living room with an oversize dinette, a big 68-inch sofa in the rear and great viewing for the TV from the whole area. The other door enters into the corner of the front bedroom with easy access to the mid-bath."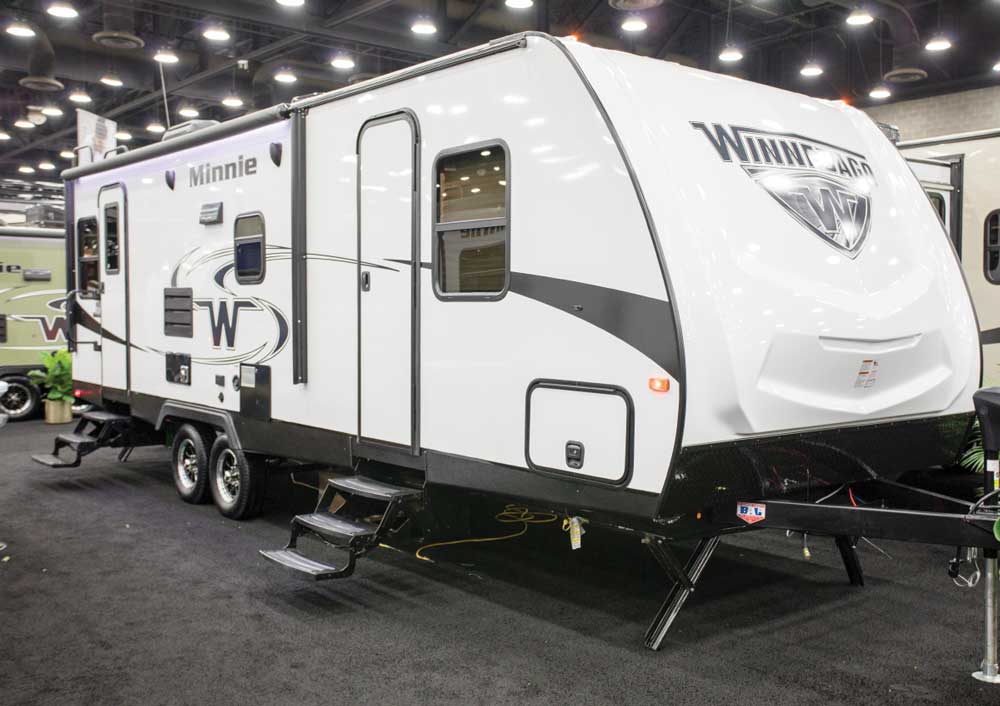 The bathroom has a roomy shower with a large wardrobe next to the sink and vanity, and the bedroom features a full-size king bed. Gerber also noted that there's no carpet throughout the entire 28-foot, 10-inch unit; Winnebago opted instead for vinyl floor for easy cleaning.
"This 8-foot-wide box is the most populated segment of the business," said Gerber. "We thought this segment from other manufacturers looked the same, so we created a new interior look." Like all of the Minnie trailers, exteriors are available in eight distinctive colors.
With a 7,000-pound gvwr and an MSRP around $28,000, the 2606RL sleeps five adults with a sofa bed aft and a streetside dinette handling three guests.
---