Bahia Honda Key and National Key Deer Refuge: Fun in the sun and water
Walk on Florida's wild side by taking a trip to the Lower Keys, located at the southern portion of the fabled chain of islands that divide the Atlantic Ocean and the Gulf of Mexico. Basking in cool breezes and warm sunshine, these gems on the Florida Straits entice visitors to cut loose on uncrowded beaches, lush forests and crystal-clear ocean waters.
Choose from several campgrounds on these islands, and then explore pristine environments, from forested habitats teeming with small deer to rugged reefs off the coast. Catch your dinner on a charter boat or snorkel the day away in clear waters.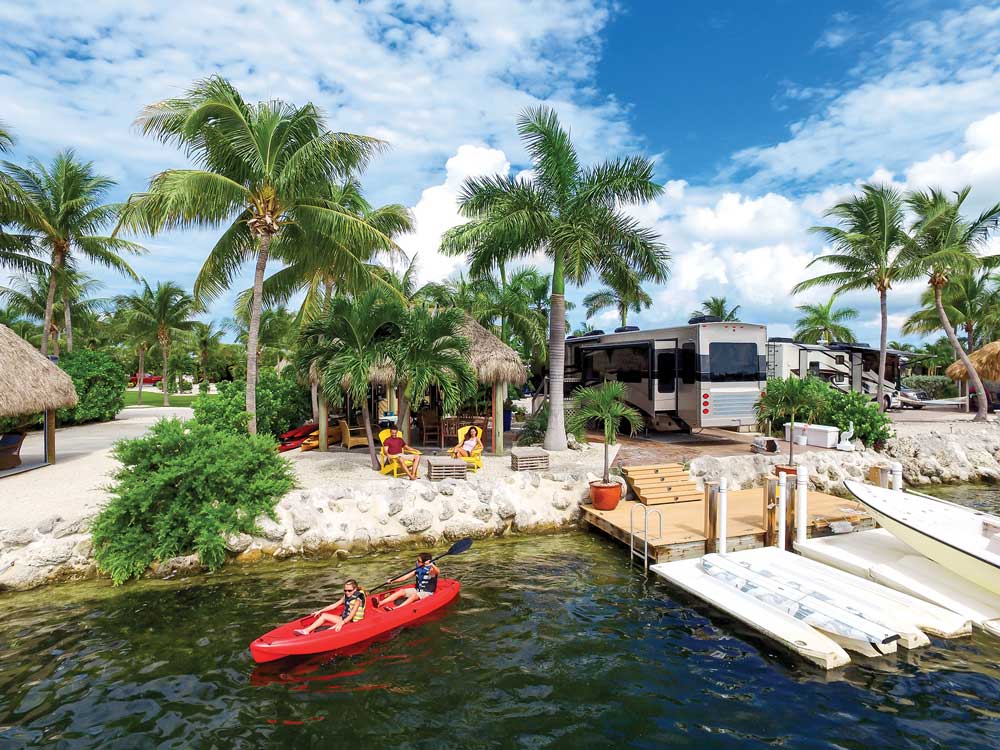 Bahia Honda – Choose Your Adventure on Land and Sea
Located on Mile Marker 37 on the Overseas Highway, this 500-plus-acre gem contains a world of recreational possibilities. Three campgrounds on Bahia Honda State Park offer a total of 80 sites for RVers and tenters. After setting up the RV's awning and relaxing in a deck chair, visitors can inhale the fresh air scented with the sea breezes.
Bicycle enthusiasts can set out on the 3.5 miles of hard-surface road that cuts through the terrain of Bahia Honda. Ride to historic Bahia Honda bridge, a 5,055-foot railroad span that connects Bahia Honda with Spanish Harbor Key to the west. Although the span is now derelict, the elegant steel-truss structure serves as a stunning backdrop for photos.
After a great ride on the level terrain, cool down by going swimming in the warm waters of the Atlantic Ocean or Florida Bay. The island's unspoiled, white-sand, beaches have garnered rave reviews from travel publications.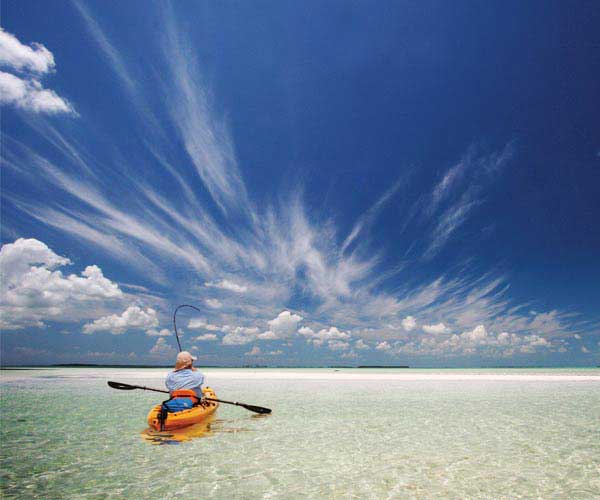 Paddling, Fishing and Snorkeling at Bahia Honda State Park
Stay above the water by renting a stable, sit-on-top Ocean Kayak. Paddlers can burn off calories and enjoy stunning views while navigating the waters off the island.
Let someone else do the driving by taking a boat tour off the coast. Bring your snorkeling equipment for a ride out to Looe Key, located 12 miles offshore from Bahia Honda State Park Marina. Water depths here range between 5 to 15 feet, and the clear water affords stunning views of the coral reef along with the sea life that inhabits the area. Catch sightings of sea turtles and nurse sharks through your mask as you swim.
Snorkel equipment rentals are available, and the crew conducts a "how to snorkel" class for beginners. When the water dips below 78 degrees, wetsuits are recommended (these are available for rent as well).
Charter boats and guides provide access to tarpon fishing, which is rated as some of the best in the state. Florida fishing licenses are required, and there are regulations regarding weight and number of fish that can be caught. Visitors can rent their own boats; if you bring a boat, you can rent a slip in the marina.
Programs and Amenities at Bahia Honda State Park
Programs are offered to park visitors on a wide range of natural and cultural history subjects. Guided tours are offered seasonally or upon request by individuals and groups. Visitors are allowed to bring pets in, but they are barred from boats, beaches and other areas.
Located in the island's main concession building, the snack bar serves deli sandwiches, salads, ice cream and more. Also located in the concession building is a gift shop, which sells snorkeling equipment, t-shirts and sportswear. Buy a souvenir that will help you remember your stay.

Endangered Deer and Other Delights
Drive four miles west across the Overseas Highway to Big Pine Key, home to a laidback community of about 5,000 residents. More than half the island's 9.9-square-mile surface comprises National Key Deer Refuge, home to the Key deer, an endangered subspecies of white-tailed deer that is the smallest deer in North America. Catch glimpses of these graceful creatures as you tour the refuge's forests and wetlands.
Several nature trails provide access into the verdant landscape, and visitors will also get a chance to observe the other endangered that inhabit the refuge, from the Lower Keys marsh rabbit to the white ibis. Keep an eye out for the Bartram's Hairstreak butterfly, as well as the reef gecko.
Bring your camera to the Blue Hole Observation Platform, located just a few miles north of the visitor center on Key Deer Boulevard. Originally a limestone quarry, the area is now overgrown with native plants, and fresh water has filled part of the area where the rock was mined. Observe the American alligator, osprey, green herons and wading birds.
Bicycle rentals are available on the island, and several trails snake through town as well as through the refuge.
Travelers can choose from several campgrounds on Big Pine Key, including Big Pine Key Fishing Lodge, Breezy Pines RV Estates, Girl Scout Camp Wesumkee, Sea Camp Association, Royal Palm RV Park and Old Wooden Bridge Guest Cottages & Marina. In town, several stores help visitors stock up on supplies, and restaurants are available close to the stretch of Overseas Highway that runs through the island.
 http://www.fla-keys.com/lowerkeys
---