Q: I have a 2004 Forest River SV233T Surveyor expandable with a sofa bed. I bought it used in October this year. When I store the bed it does not retract fully. The left side is the problem while the right side tries to retract. It has one electric motor and a piston shaft connected to a pillow block (my description) that's fastened to two hex bolts. One is screwed down completely to a nut, while the other side is partly fastened but not fully. The left side is, from what I can tell, not fully engaged, but the other side is down beyond the threads. The pillow block does not have threads. What can I do to correct the bed so I don't need to hand move the left-side bed to complete the retracting of the sofa?
Frank Zalar, via email
A: This type of mechanical problem is tough to diagnose, Frank, since we don't know the make and model of the sofa bed, we don't have a blueprint or owner's manual for the bed, we haven't seen it in person and your description leaves us a bit puzzled. It seems like the drive mechanism works on the right side and not on the left. First, I'd remove all cushions and obstructions that limit access to the mechanism. Run it out to its full extension – from your note I'm deducing that it extends fine, it just won't retract – and watch the moving parts and how they work relative to each other.
When you try and retract the unit, keep an eye on the left-side moving parts and look for something that twists, lifts, drops or otherwise doesn't do what it should under pressure. There could be a missing bolt that allows movement where there shouldn't be any, or a bolt or screw adjustment that's too far one way or the other.
It's possible the drive mechanism is OK but there may be some kind of bind on the left side. One of the hinges or sliding rail points could be too tight due to a poorly installed fastener. Check for proper lubrication of the parts, too. With a close enough inspection I think you can analyze and hopefully repair what's wrong with your sofa bed. Otherwise, a trip to your local dealer repair facility will be in order.
– Jeff Johnston
---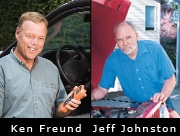 To send your questions to RV Clinic, write to 2575 Vista Del Mar, Ventura, Calif., 93001; or email [email protected]. Also, check out TrailerLife.TV for our expert RV how-to videos.