From super-rugged backcountry models to cozy but well-appointed tiny homes, the 2019 crop of compact camping trailers covers all the bases.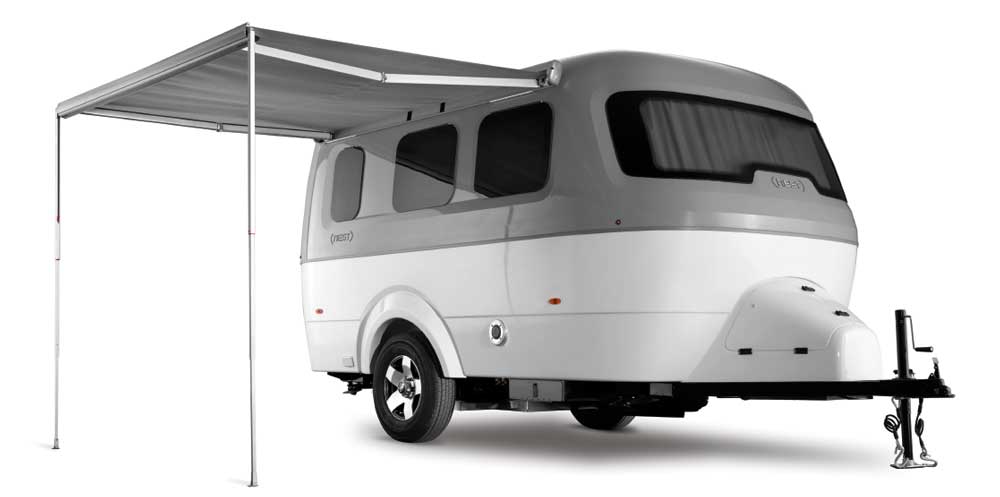 The Airstream brand has long been known for the quality and refinement of design in its characteristic monocoque aluminum travel trailers. But among buyers looking to own an Airstream, some wanted a more modern look and feel in a lighter package. Airstream's new fiberglass Nest meets both objectives. Buyers "are pulling them with BMWs (and) Mercedes-Benz vehicles," said Airstream President Bob Wheeler.
The Nest line, which features two 16-foot, 7-inch floorplans, has a full-fiberglass clamshell design with a unique rear-wall entry. While the interior is compact and efficient, it still offers the sort of high-end appeal common to Airstream's aluminum-clad trailers.
Other than the floorplan and two choices of decor, everything in the Nest comes standard, including Italian Lite-Ply laminated cabinetry, soft-touch panels and accent walls, Bluetooth-controlled LED lights, USB ports and 120-volt AC outlets, two-burner cooktop, two-way refrigerator and powered patio awning.
The 16U model has a front convertible U-shaped dinette, a mid-galley, and a small wet bath and wardrobe at the rear by the door. The 16FB features a full bed in the front in lieu of the dinette and has a single-bench dinette mid-trailer. Base MSRP is $45,900, and gvwr is 4,000 pounds.
---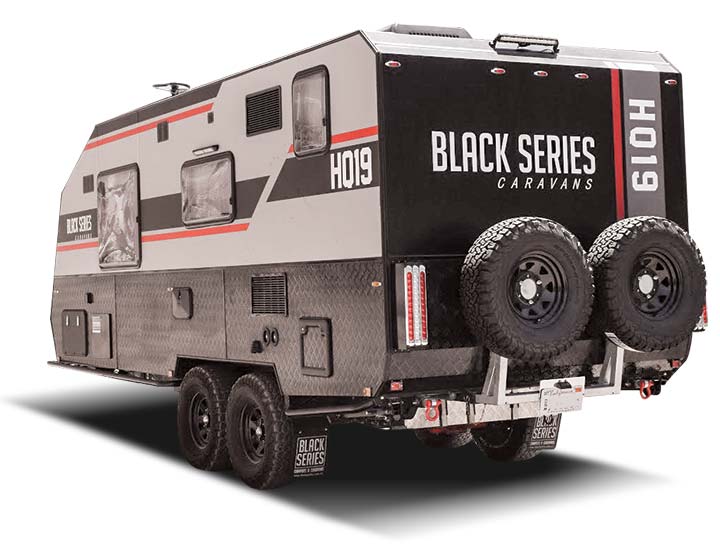 There are trailers made for off-roading, and then there is the Black Series. Founded 12 years ago to survive Australia's infamous backcountry terrain, the company established a beachhead in California about two years ago and has been making the seemingly bulletproof trailers for North American off-roaders.
"They're a heavier-duty unit with high-clearance independent suspension, a dipped galvanized aluminum frame and aluminum-composite body," said Sales Representative Jeff Willard. "Everything's welded — there are no rivets or bolts on the body and frame. That's why we can offer a five-year warranty."
The flagship HQ19, stretching just short of 30 feet, is outfitted like all other Black Series trailers (with the exception of the Dominator pop-up) with wood-finished cabinets, a TV, microwave, three-burner outside kitchen, refrigerator, porcelain toilet and even a small washing machine in the bathroom. It also has twin 150-watt solar panels and two deep-cell, 100-amp 12-volt batteries, an inverter, Dometic roll-out awning, dual LP-gas cylinders, a 16-gallon filtered tank for drinking water and a 50-gallon potable-water tank for supplying all other uses.
Like its brethren, the 6,300-pound (dry), $59,900 (MSRP) HQ19 features a fully articulated hitch that spins in three directions. "Black Series is designed for getting out there and functioning in the rough," Willard said.
---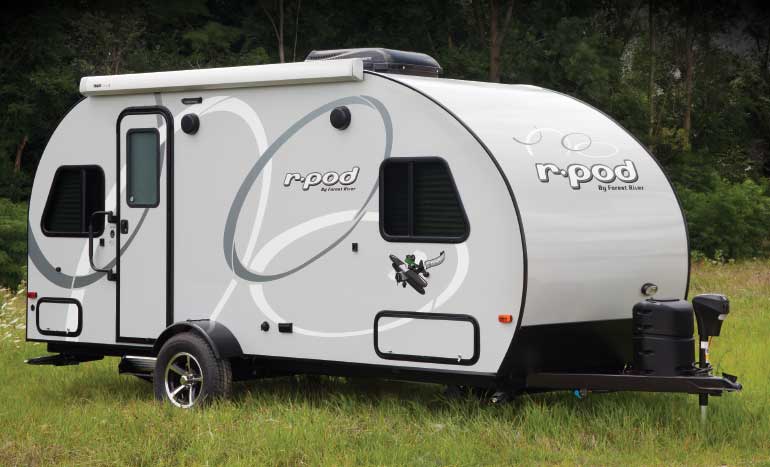 Forest River's compact R-Pod has developed somewhat of a cult following, and for good reason. The trailers come with most of the comforts afforded to larger RVs but in a compact package. For the R-Pod's 10th anniversary, the company has introduced the 191 with a mixed retro and modern graphics package.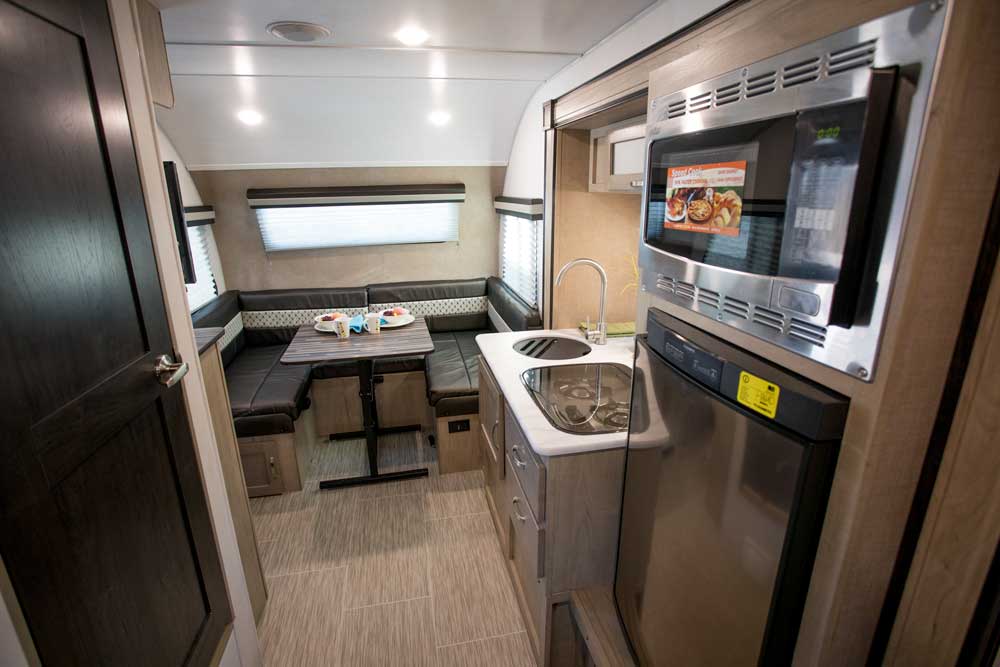 The 20-foot, 4-inch 191 is not only a new floorplan but also includes some substantial upgrades for 2019, said Chris Eppers, sales manager for R-Pod. The most notable is the dual-twin front beds, a first for a trailer in this class, he added. Between the twin beds and the rear U-shaped dinette, the 191 will sleep four, complete with a separate bathroom.
"The R-Pod has always been designed for those that want to camp and enjoy themselves in national parks, but it's also designed to go off-road," Eppers said. For power savings, the R-Pod is now completely LED lit on the exterior and interior, including an LED strip under the awning.
The new exterior kitchen is a first for the R-Pod. Made of galvanized steel, it includes a dry sink with a water port and a two-burner cooktop. The unit is removable if the owner wishes to regain storage space. The 10th-anniversary trailer with the new graphics package retails in the low- to mid-$20,000 range.
---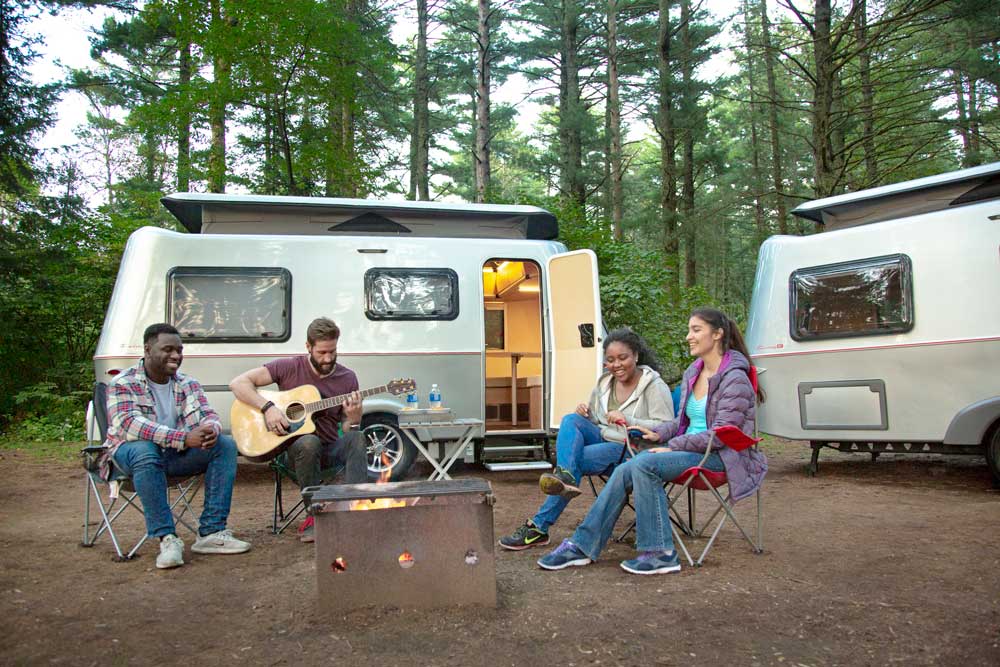 The first Hymer travel trailer produced in North America by Erwin Hymer, the Touring GT is now rolling off the production line. The 18-foot, 11-inch trailer has a 3,200-pound gvwr, making it comfortable for towing behind a wide range of SUVs, vans and pickups.
In keeping with Hymer's German roots, the Touring GT has a sleek European-influenced design. Warm colors and cream Ultraleather seating brighten the interior, and clear-coat paint gives the molded-fiberglass shell a stainless-steel look. "These trailers are unique to the market, as they are being built in North America, but all the design elements are straight from Europe," said Karyn Torcoletti, director of marketing for Hymer's North American division.
Despite its compact size, the trailer sleeps up to four people with a king-size bed in back and a convertible L-shaped dinette up front. Overhead cabinets provide ample storage, and the bed platform lifts to reveal another storage space. For added headroom, the pop-top roof extends for 6 feet, 5 inches of interior height.
The midship kitchen comes with an under-counter two-way refrigerator, a two-burner propane stove and a single-basin sink (a microwave is optional), and the wet bathroom has a cassette toilet. A propane-powered Truma Combi Eco system supplies heating and hot water, while eight dual-pane windows help keep the cold out. MSRP starts at $26,460.
---
It's not often that a relatively new RV manufacturer wields influence over industry-wide design, but that's what happened last year when inTech RV debuted its "forward-leaning" Luna modified-teardrop trailer. This year the company applied a similar design to its new Sol, but dismissing the company's first travel trailer as nothing but an enlarged Luna would be a mistake.
Like the Luna, the Sol features front-wraparound, three-ply tempered glass, akin to an automotive windshield. Inside, however, is 6½ feet of headroom, along with Infinity flooring, a stainless-steel farmhouse sink, a stove with cast-iron grates, a 4.3-cubic-foot refrigerator and a microwave.
Up front, the Euro-style Sol features a wraparound dinette booth that provides optimum viewing through the windshield, while the rear is home to a queen-size bed with storage beneath. The Sol also offers a wet bath "that's larger than anything you'll find in this size unit," according to inTech Director of RV Operations Rich Schnippel. "It feels more like a dry bath," he said.
Thanks to its forward-leaning configuration, the Sol, which stretches about 20 feet from bumper to hitch, offers about 16 feet of interior space, well beyond its 13-foot floor footprint. Built on a full-perimeter frame with inTech's aluminum cage, the 3,200-pound (dry) trailer is expected to carry a base MSRP of less than $30,000 and, added Schnippel, will eventually be offered in premium and off-road versions.
---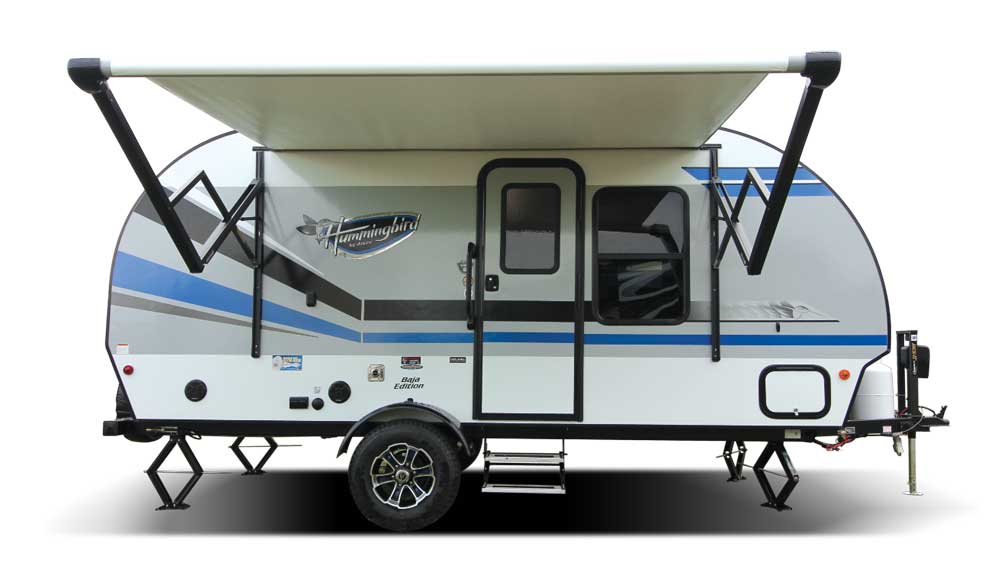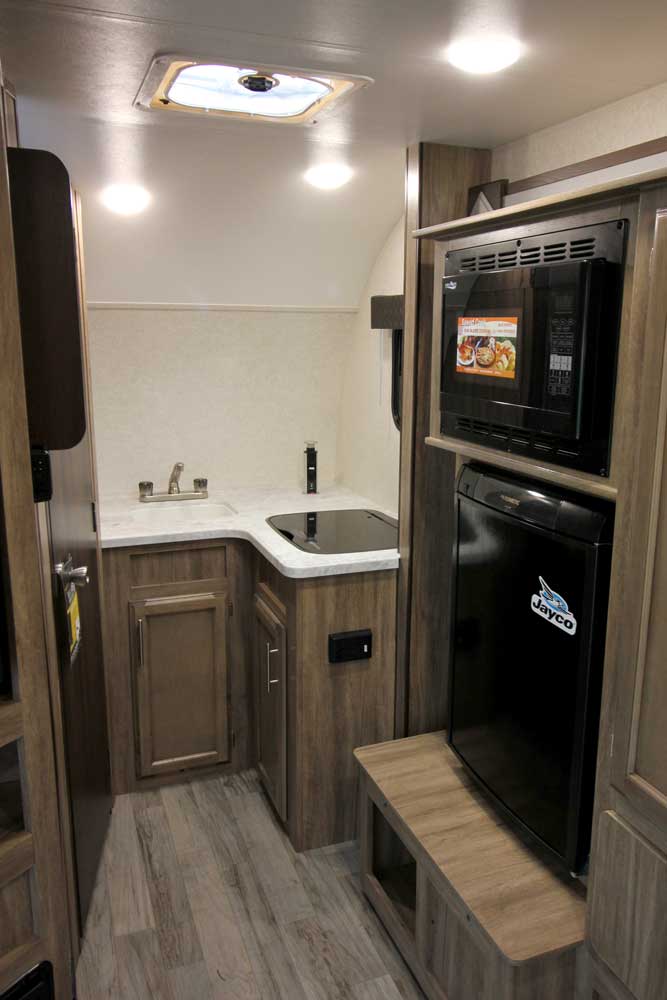 For 2019 Jayco added a single-slide model with a Murphy bed to its line of diminutive Hummingbird travel trailers. The 17MBS checks in at 19 feet, 10 inches and 2,990 pounds (dry), but the north-south Murphy bed atop a sofa up front and the streetside slideout make the small space seem larger and more functional.
"It's the best of our 17RV and our 17RK, which are our top two sellers," said Senior Product Director John Fisher. "You still have the dry bath that the 17RV people like, but you've got a spacious kitchen with a ton of storage that the 17RK people like," he said. Fisher added that, while Jayco has kept Goodyear Endurance tires and a Norco chassis frame on the Hummingbird, it has gone to American-made Dexter axles, and added an enclosed underbelly and linear-style exterior graphics.
A three-piece bath and corner kitchen along with a 32-inch TV complete the 17MBS, which Fisher said should retail for about $25,000. "We now have three Hummingbird models that offer a dry bath, so you've got your separate shower and toilet, and some really good storage with a linen closet," he said.
---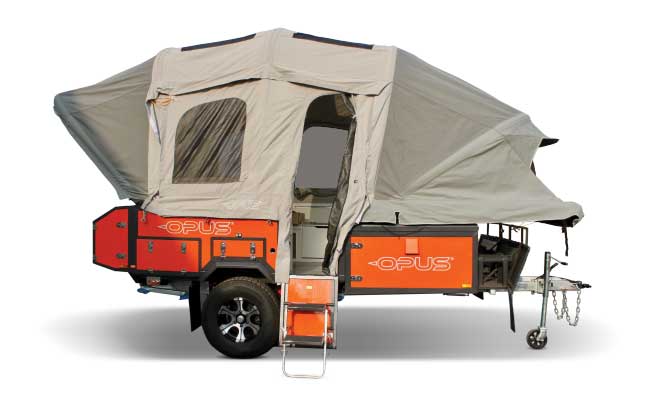 Opus, a brand developed in the United Kingdom by Purple Line, introduced its Off-Road 4-Sleeper last year. The compact tent trailer earned its name with rugged features like a galvanized-steel chassis, independent coil suspension and 12.4 inches of ground clearance. For 2019 Opus launched the Off-Road 2-Sleeper, which contains many of the same features but is geared for two occupants.
"The Off-Road 2-Sleeper offers no-compromise camping for couples," said Payam Asem, marketing manager for Opus Camper USA. The trailer comes with a king bed and a dedicated shower extension, as well as a considerable amount of storage space for its size. Extending 16 feet, 2 inches when closed for travel, with a ride height just over 5 feet, the 2-Sleeper has a gvwr of 3,970 pounds and an MSRP of $24,499.
For easy setup of the tent canopy, the Air Opus option replaces the standard aluminum poles with air tubes that are connected to an onboard air compressor. Once the compressor starts pumping air into the poles, it takes just a few minutes for the tent to self-inflate.
Exterior trailer colors are bright orange, blue, matte black or metallic gray. The gray tent fabric is waterproof and mildew-resistant.
---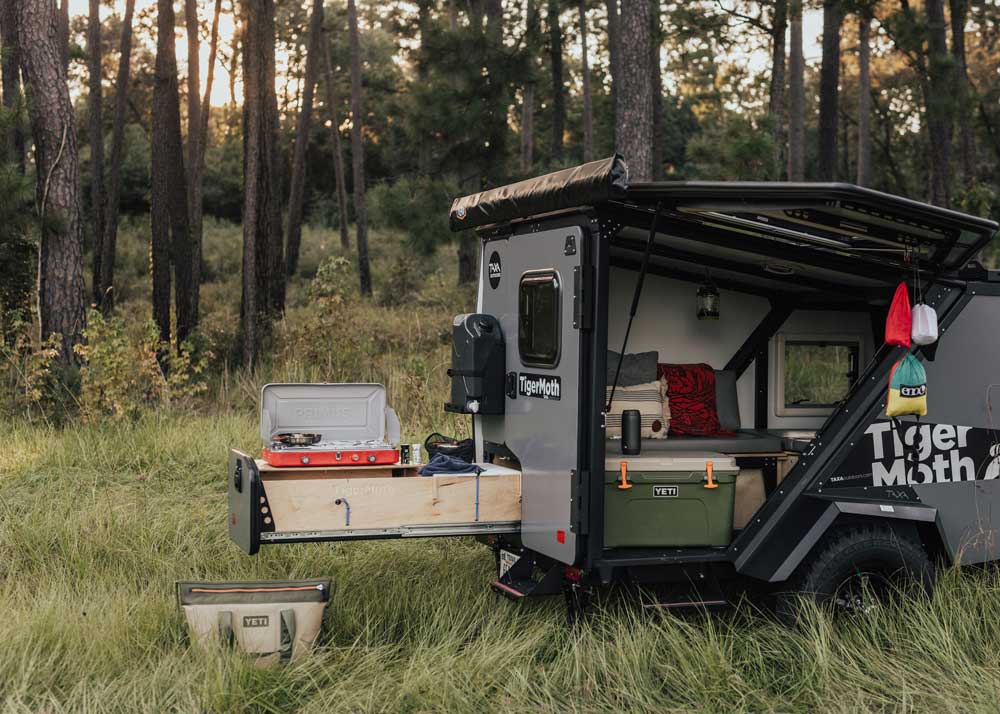 Taxa Outdoors made a name for itself in 2012 with its unusually shaped Cricket adventure-style trailer. Since then, the 15-foot Cricket has been joined by three equally adventurous trailers: the larger Mantis, the expedition-style Woolly Bear and the smaller Tigermoth.
With a pop-up roof that provides 6 feet, 7 inches of interior height, the 12-foot, 5-inch Tigermoth has sleeping space for two adults and one child. A slide-out drawer in the rear holds an optional camp kitchen, with a jerrican mounted above it for storing water. The trailer has no plumbing or holding tanks.
For 2019 the Tigermoth has traded its original steel skeleton for an aluminum frame, reducing dry weight to a nimble 1,215 pounds and gvwr to 2,000 pounds, and making the trailer towable by many four-cylinder vehicles. Base MSRP is just shy of $17,000.
"Our units are made to allow owners to go off the grid," said Henry Proeger, Taxa's director of marketing, adding that changes are also in store for the Cricket and Mantis, but not until 2020.
---