Q: Are compact pickups, for example 2000 and newer Dodge Dakotas, a good choice for towing travel trailers weighing less than 4,000 pounds? Should an equalizing hitch be installed?
Hugh Swan, New Braunfels, Texas
A: Small pickups make great tow vehicles, Hugh. They're made to haul loads and a suitably sized trailer is a fine payload. The main point is to pay attention to the manufacturer's tow rating. If you do that, and don't overload the truck or push it past what it's designed to do, it should work well for you.
Even for a compact truck and trailer combination an equalizing (weight-distributing) hitch is a good idea. Several companies make smaller, lower-rated weight-distributing hitches designed specifically for lighter-weight towing setups. Properly selected and adjusted, it can only make your towing safer and more fun.
— Jeff Johnston
---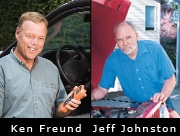 To send your questions to RV Clinic, write to 2575 Vista Del Mar, Ventura, Calif., 93001; or email [email protected]. Also, check out TrailerLife.TV for our expert RV how-to videos.