Q: We leave our fifth-wheel trailer at the campground for extended periods of time because we have a yearly camping spot. My question is, should I leave my slideout room extended, or retract it each time before we head home? There are times the camper sits empty for two weeks at a time. Some of our camping buddies leave their slide out and some bring them in. Value or brand of the camper does not matter. I am just looking for the correct answer.
Rick Schmidt, Cape Girardeau, Mo.
A: Slideout rooms have various seals and such that are designed to keep the weather (rain, snow, dust, etc.) out. When they are extended, more of these sealing areas are exposed. If any of the seals deteriorate or are otherwise damaged or compromised, water and dirt and perhaps insects, rodents and vermin are more likely to enter the trailer. Slideouts are designed to be extended for long periods of time, but if it is sagging or twisted, or the mechanism is defective, be sure to have the unit examined by a dealer for damage or wear and tear.
— Ken Freund
---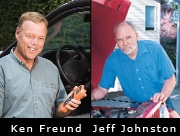 To send your questions to RV Clinic, write to 2575 Vista Del Mar, Ventura, Calif., 93001; or email [email protected]. Also, check out TrailerLife.TV for our expert RV how-to videos.