Loaded with the latest features, the new fleet of fifth-wheel trailers with rear garages takes the toys in style
For most buyers, choosing a fifth-wheel toy hauler starts with the garage and the recreational toys. After all, the requirements for hauling a dirt bike in the back are very different from traveling with a side-by-side UTV. Once the toys roll down the ramp, the garage can double as a workshop, studio, bedroom or living room, depending on the design of the trailer and the needs of the owner.
When shopping for a new toy hauler, the foundation is the most important consideration. A good-quality frame, axles, suspension and tires are essential. Weight and carrying capacity are other critical factors.
See Related Stories:
Gross vehicle weight rating (gvwr) and hitch weight are key because the tow limits of the truck and hitch must match or exceed the toy hauler's gvwr. For those who will be towing with a full freshwater tank, the gvwr minus the unloaded vehicle weight (uvw) must be more than the weight of the water (8.3 pounds per gallon), plus everything you'll carry, from food, tools and appliances to RV upgrades and toys in the garage.
Size also matters. Long fifth-wheels can't be accommodated at some campgrounds, and large truck-and-trailer combinations are difficult to maneuver in tight spaces, including many fuel stations.
Then there's the style of the garage to consider. An open-box trailer, which combines garage and living space, allows for a shorter overall length or a longer garage, while an enclosed garage helps keep dirt and fumes from entering the living area. A reliable ramp door and strong tie-downs for securing the toys are crucial, and an onboard fueling station can also be a plus.
Before buying any toy hauler, it is essential to check the length, width and height of the garage with a tape measure to make sure your toys will fit. Many toy-hauler garages are not a simple rectangle but have narrower and shorter areas due to a half bathroom, side-patio wall recess or items placed against the walls. On some models the garage floor is angled for about a foot inside the ramp door. Power sofas raised to their highest position may make the ceiling height too short for loading some toys, and three-season patio doors and railings can shorten the length by as much as 16 inches. You'll also want to confirm that there's room to exit any drivable toy after parking it in the garage.
With these considerations in mind, we profiled four of the latest toy-hauling fifth-wheels, and spotlighted a dozen more, ranging from just over 31 feet and $30,000 to longer than 47 feet with a price tag north of $180,000.
---
The Venom 3911TK combines comfortable living with a garage that is large enough for a wide trail-style side-by-side. The G-rated tires and three 7,000-pound-rated Dexter axles can support 21,000 pounds, although the gvwr is 19,000 pounds.
Built on a traditional fifth-wheel drop frame, the toy hauler has voluminous basement storage. Water is in good supply with a 112-gallon tank, and the sizable black and gray tanks will support many days between visits to the dump station.
The bedroom houses a king bed in a slideout and ample closet and drawer space. Windows face three directions, a nice feature for watching wildlife wander through the campsite before dawn. The bathroom has a shower with a sliding door and a linen closet.
The U-shaped kitchen offers plenty of counter space and shares a slideout with a convertible sofa. An opposing slideout holds the 18-cubic-foot refrigerator and wall-mounted dining table and freestanding chairs or optional theater seating. A loft bed above the walled-off garage opens into the living area, keeping it free from fumes.
Slideouts allow some access to the kitchen, bedroom and bathroom when retracted, which is important for quick stops. The fridge door opens just enough to grab a bite with the slides in travel mode. However, the hydraulic slideout mechanisms cannot be operated independently via wall-mounted switches and instead rely on an electronic touchpad or mobile-app interface coupled with slideout selector switches on the exterior of the trailer.

The easily lifted MORryde Zero-G ramp door converts to a patio with an optional railing and three-season door, extending the living space. A HappiJac package in the garage with a power bed, two sofas and a table is an appealing option. Three E-track tie-downs anchor the toys, while 30- and 40-gallon fuel tanks keep the onboard generator and toys gassed up.
Exterior Length 42′ 7″
Exterior Width 8′ 5″
Garage Length 11′
Exterior Height 13′ 4″
Interior Height 8′ 6″
Freshwater Cap. 112 gal.
Black-/Gray-Water Cap. 53 gal./93 gal.
LP-Gas Cap. 14 gal.
UVW, Base 14,050 lbs.
GVWR 19,000 lbs.
Hitch Weight 3,070 lbs.
MSRP, Base $94,533
---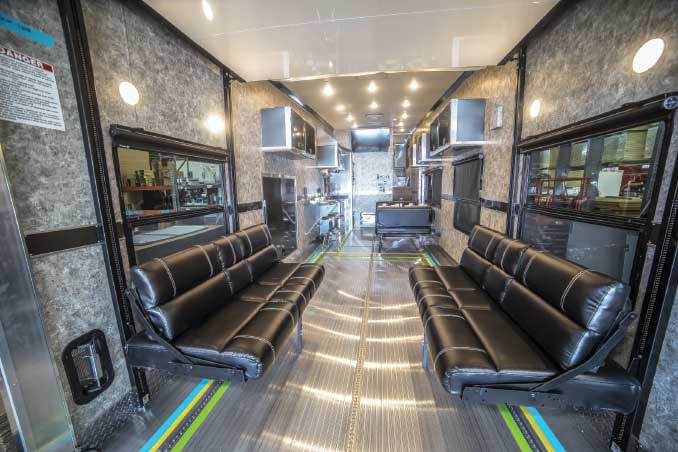 ATC earned its stripes building aluminum-sided trailers for hauling cars, motorcycles and snowmobiles. The company's fifth-wheel toy hauler offers a massive 9,700 pounds of cargo capacity and has a gvwr of 21,000 pounds, towable by most properly equipped late-model one-ton trucks. The 25-foot-plus open-box garage can handle a Jeep Rubicon, or a four-seat and two-seat UTV, as well as kayaks, bikes, folding boats or other toys. An optional wall encloses the garage.
ATC builds its own aluminum frames, cabinetry, and exterior, interior and ramp doors. Some modifications of the basic floorplan are possible, as well as interior and exterior color choices, and there's a wide array of options. Standard features include an 8-cubic-foot two-way refrigerator, a two-burner cooktop and a queen bed with a pillow-top mattress.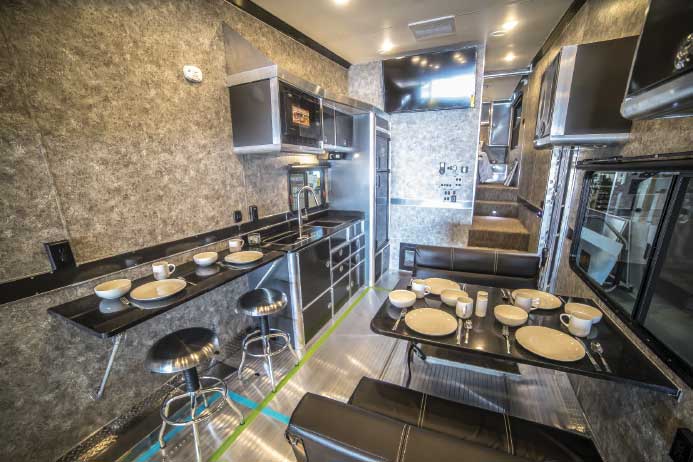 The ramp is rated for 4,000 pounds, and an optional all-weather ramp-door patio enclosure adds 64 square feet of living space. An optional "escape door" on one side makes it easy to exit the garage after loading a wide vehicle in the garage. Airline-track tie-downs recessed in the extruded floor ensure the toys are secure in transit.
Construction is all-aluminum, eliminating the risk of wood rot. Cabinetry and drawers are painted aluminum, and the entire floor can be power-washed, which comes in handy after a rainy weekend on muddy trails. The 200-gallon freshwater tank and optional outdoor shower make it possible to wash down the toys while dry camping, and the 36-gallon fuel tank keeps them on the go.
Although ATC's current fifth-wheel toy hauler has no slideouts, which makes for a lighter trailer, future models with slides are in the works.

Exterior Length 41′ 3″
Exterior Width 8′ 6″
Garage Length 25′ 5″
Exterior Height 13′
Interior Height 8′ 10″
Interior Bedroom Height 6′ 2″
Freshwater Cap. 200 gal.
Black-/Gray-Water Cap. 45 gal./45 gal.
LP-Gas Cap. 14 gal.
UVW, Base 11,300 lbs.
GVWR 21,000 lbs.
Hitch Weight 3,000 lbs.
MSRP, Base $93,940
---
Taking your favorite toys out camping doesn't mean you need a big diesel tow vehicle. With a gvwr of 11,615 pounds and no slideouts, the Cherokee 255RR can be towed by most three-quarter-ton pickups and a few half-tons. The aluminum-sided toy hauler accommodates a four-seat side-by-side in its 14-foot-plus garage and can carry up to 4,771 pounds, all for a modest base price around $30,000.

All the vital amenities found in larger, more expensive toy haulers are present in this more basic open-box model. Up front, generous closet space and overhead cabinets flank a walk-around queen bed, and two large windows make the bedroom light and airy. The bathroom features a radius-stall shower, and a skylight and roof vent with a large exhaust fan bring in plenty of natural light.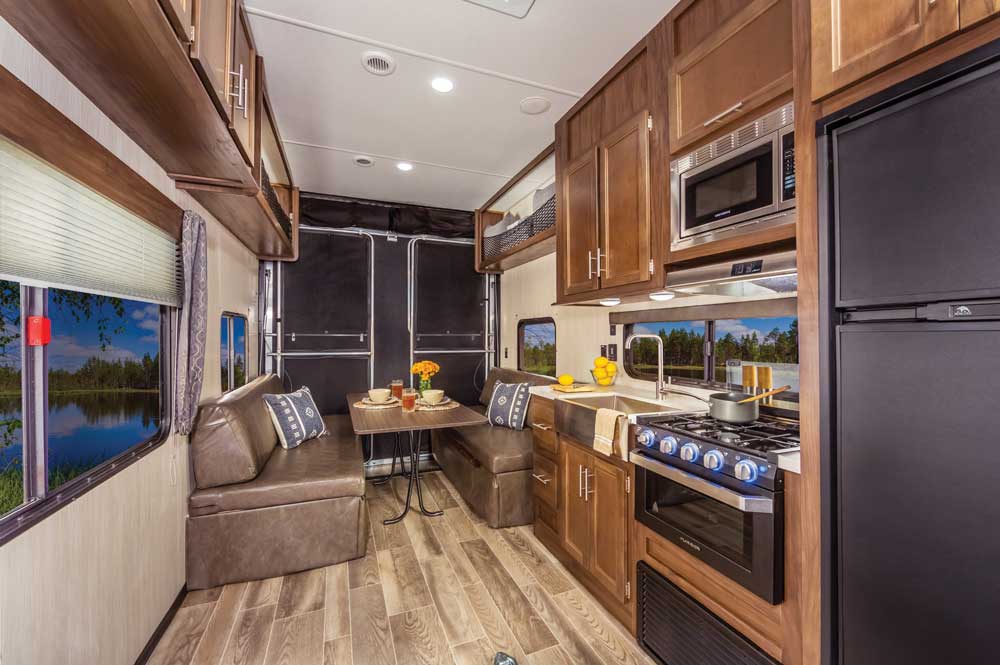 The kitchen has a surprisingly large walk-in pantry with floor-to-ceiling shelving. The two-way refrigerator supplies 6.3 cubic feet of chilled storage (an 8-cubic-foot upgrade is available) and is accompanied by a three-burner cooktop, a standard RV-size oven, a microwave and a range hood. A residential faucet with a spray nozzle tops the large single-bowl sink. Countertops are solid surface, and a folding table adds more dining and food-prep space once the toys roll down the ramp.
Twin opposing sofa seats fold down in the garage and are backed by good size windows with snap-on blackout covers. Modest freshwater-tank capacity is easily replenished from jerry jugs with a gravity-fill freshwater intake, and toys are held securely with welded D-rings screwed into the floor.
The ramp-door patio takes the fun outside.
Exterior Length 31′ 1″
Exterior Width 8′ 1″
Garage Length 14′ 3″
Exterior Height 13′ 5″
Interior Height 8′ 6″
Freshwater Cap. 46 gal.
Black-/Gray-Water Cap. 38 gal./38 gal.
LP-Gas Cap. 10 gal.
UVW, Base 6,844 lbs.
GVWR 11,615 lbs.
Hitch Weight 1,415 lbs.
MSRP, Base $30,253
---
A new model for 2019, the Raptor 427 features a substantial living space and a practical garage underneath the large 68-by-76-inch bed frame in the rear master bedroom. A wardrobe slideout opens up the bedroom, and the bed raises to provide ample headroom in the enclosed garage that fits a motorcycle, ATV, golf cart or bicycles.
For DIYers, the garage space could easily house a freestanding workbench with drawers for tools, a better solution than storing them in hard-to-reach places in the basement. D-ring tie-downs are rated for 1,500 pounds each, and two 30-gallon fuel tanks keep the generator and motorized toys running.
The inviting galley is situated upstairs in the fifth-wheel overhang. For those on kitchen duty, the front cap contains a picture window made of automotive glass that gives a bird's-eye view of the outdoors. Counter space is immense, ideal for cooking or entertaining. The elevated kitchen is open to the living room below, and a cleverly positioned dining counter overlooks the downstairs.

The comfortable living area has ample seating for three couples with convertible loveseats in opposing slideouts and a pair of recliners opposite the entertainment center.
Three Dexter 7,000-pound-rated axles and G-rated tires provide a solid foundation.
Exterior Length 43′ 11″
Exterior Width 8′ 4″
Garage Length 9′ 2″
Exterior Height 13′ 6″
Interior Height 8′ 7″
Freshwater Cap. 106 gal.
Black-/Gray-Water Cap. 38 gal./76 gal.
LP-Gas Cap. 14 gal.
UVW, Base 15,025 lbs.
GVWR 19,000 lbs.
Hitch Weight 3,725 lbs.
MSRP, Base $114,917
---
Fifth-Wheel Toyland
From production-line models to custom builds, the latest toy-hauling fivers offer more than a ramp door and a place to park recreational toys.
A triple-tube steel frame reinforces the fifth-wheel overhang joints on DRV's luxuriously appointed fifth-wheel. Safety and durability are enhanced with disc brakes, three Dexter 8,000-pound-rated axles, 17.5-inch wheels and MORryde's Zero-G ramp door.
Exterior Length 46′
Garage Length 10′
GVWR 24,000 lbs.
MSRP, Base $138,866
L-shaped seating and a TV that lowers to reveal the window behind it make the living area comfortable without sacrificing garage space. The kitchen sports a huge pantry, and the Zero-G ramp-door patio is a plus.
Exterior Length 44′ 5″
Garage Length 13′
GVWR 20,000 lbs.
MSRP, Base $90,461
With a short but spacious open-box layout, the wide-body 28CR offers two optional slideouts, a nearly 16-foot garage and a 100-gallon freshwater tank. At just 12 feet, 11 inches high, it is more streamlined than most toy-hauling fifth-wheels.
Exterior Length 31′ 6″
Garage Length 15′ 10″
GVWR 13,800 lbs.
MSRP, Base $53,396
A generous enclosed 14½-foot garage in just under 40 feet of overall length and a modest price tag are standout features for the 350G, one of two fifth-wheels in Grand Design's new lighter-weight Momentum G-Class lineup. A HappiJac power bed in the garage and a loft bed join the queen bed up front (a king is optional). Living space is traded for the convenience of a second bathroom.
Exterior Length 39′ 9″
Garage Length 14′ 6″
GVWR 16,995 lbs.
MSRP, Base $56,541
A long toy hauler with a 13-foot enclosed garage, the 4275 supports comfortable living with rear and side patios, and rides on Dexter 7,000-pound-rated axles and G-rated tires. A clever half-bathroom wall in the garage folds back for wider toys.
Exterior Length 44′ 1″
Garage Length 13′
GVWR 20,000 lbs.
MSRP, Base $90,418
Ideal for big toys and big gatherings, the 42-foot-plus 383H offers a 15-foot enclosed garage, a bath and a half, and a sizable 5,525 pounds of claimed cargo capacity at a relatively modest price.
Exterior Length 42′ 2″
Garage Length 15′
GVWR 18,000 lbs.
MSRP, Base $67,418
Sporting rear and side patios, two bathrooms and a raised kitchen with extensive counter space, the 45-foot-plus 4113 offers plenty of living space to go with its 12½-foot enclosed garage. Triple 7,000-pound-rated axles help carry the load.
Exterior Length 45′ 7″
Garage Length 12′ 6″
GVWR 20,695 lbs.
MSRP, Base $105,450
---
SEMI-CUSTOM TOY HAULERS
Built on an in-house frame with individually controlled hydraulic slides, the elegantly appointed, four-season S41IKT3S has a 10-foot garage, Dexter axles and a 30-gallon fuel station. MORryde independent suspension and disc-brake upgrades are available.
Exterior Length 43′ 8″
Garage Length 10′
GVWR 23,000 lbs.
UVW 18,100 lbs.
Base MSRP $174,400
Luxurious and very long, the Luxe boasts 3-inch insulated walls, upgraded frame specs, Dexter 8,000-pound-rated axles, H-rated 17.5-inch tires and disc brakes.
Exterior Length 47′ 3″
Garage Length 14′ 5″
GVWR 24,000 lbs.
UVW 18,600 lbs.
Base MSRP $183,707
Sundowner builds its own frames, doors and ramps. At just 10½ feet tall, the 2286 SGM has a streamlined gooseneck design. Buyers can customize a standard floorplan or design one from scratch.
Exterior Length 38′ 6″
Garage Length 16′
GVWR 15,210 lbs.
MSRP, Base $78,889
---
FULLY CUSTOM TOY HAULERS
Dune Sport offers budget-friendly custom toy haulers that stretch from 24 to 46 feet,
including wheelchair-accessible models. Each floorplan is uniquely crafted for the individual customer. Average price per linear foot is $1,400.

Design possibilities are limitless on Space Craft's custom high-end toy haulers, built on an in-house frame. Lengths range from 28 to 57 feet; larger models are beyond the towing limits of light-duty trucks. Pricing averages $5,100 per linear foot.
---
Trailer Life columnist and frequent contributor Emily Fagan has traveled full time by RV and sailboat with her husband, Mark, since 2007. The couple's photos have appeared on more than 25 magazine covers and wall calendars, and Emily's lifestyle, travel and how-to articles have been featured in more than a dozen RV and sailing publications. Follow their adventures on their blog, Roads Less Traveled.
---