Q: I want to buy an '03 GMC 2500, extended cab, Duramax diesel with a short bed that should be 6.5 feet long. I have always insisted on a long bed to pull our '03 Wildcat 27RL in order not to have to worry about turns and possible trailer or truck cab damage. Can this size box accommodate a standard Reese-type hitch and have proper clearances for the sharp turns often encountered? I want to avoid any special hitches or an extended pin box, if possible.
Merland Clark, Corinth, Maine
A: The average short-box truck cannot tow a standard fifth-wheel trailer with a standard hitch without risking damage during tight turns, Merland. That's why there's a proliferation of sliding hitches, extended pin boxes and other towing solutions on the market.
You can do the math to see for yourself how this is true. First, measure the distance from the back of the truck cab to the center of the rear axle, which is where the hitch pin pivot would be mounted. Now measure from the outside wall of your trailer to its centerline, where the hitch pin is located. You can readily see how half the trailer width is greater than the clearance from cab to pin pivot point. You can buy a standard hitch and be extra careful when driving, but sooner or later, your chances of experiencing some damage are pretty good. Better to go with one of the shortbox towing solutions on the market, and not have to worry about it.
– Jeff Johnston
---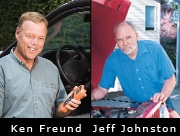 To send your questions to RV Clinic, write to 2575 Vista Del Mar, Ventura, Calif., 93001; or email [email protected]. Also, check out TrailerLife.TV for our expert RV how-to videos.