In the fall of 1948, Trailer Life rolled with the times
In the post–World War II years, movies and the media often portrayed returning GIs with their girlfriends or young wives, and Trailer Life was no exception. The November 1948 cover of Western Trailer Life ("Western" was dropped the following year) showcases a University of Southern California letterman holding hands with a smiling coed. Parked between them and the Los Angeles Coliseum is a 23-foot Columbia "trailer coach." The then-state-of-the-art trailer, equipped with an electric refrigerator and water heater, sold for "a moderate price that is attracting collegians and young folks," reads the caption.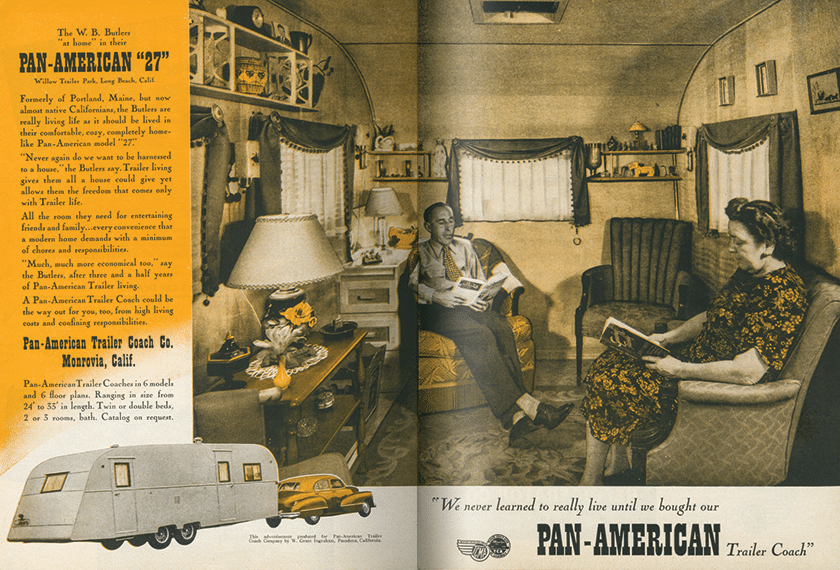 With the end of rationing and a booming economy, couples were living the American dream with a home, a car and, if they were lucky, a travel trailer. Manufacturers that provided temporary military housing during the war had returned to building trailers and were busy bringing out innovations. The November 1948 issue promotes the virtues of Masonite exteriors and dual butane cylinders, and introduces trailer turn signals from Bargman, a company that still supplies light fixtures and wiring to the RV industry. Bathtubs and flush toilets also appeared in the late '40s, and heaters that ran on bottled gas were replacing oil-fueled models.

As trailers became more sophisticated, so did Trailer Life. Page layouts show the influence of Life and Look, popular magazines in the '40s known for their photo essays. In a November 1948 article on making a sofa bed, a series of black-and-white photos shows a woman in pajamas demonstrating each step. Another page pictures a "young miss" who could double for the teenage Shirley Temple displaying the proper way to light a kerosene wall heater.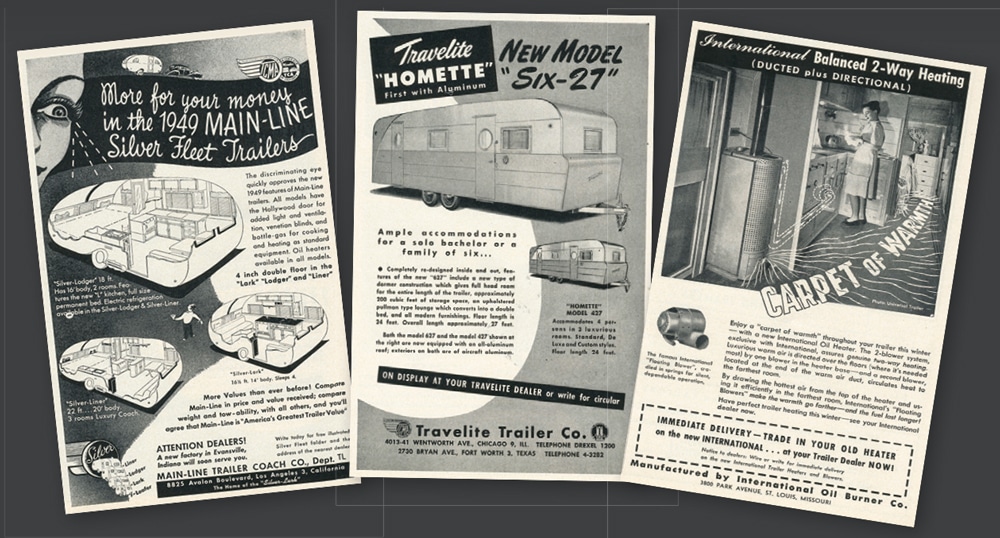 Editor Milt Hill understood that pretty girls and celebrities sell magazines. His November 1948 column drops the names of luminaries who "have taken to trailering," including Cornelius Vanderbilt, Leopold Stokowski and his wife, Gloria (another Vanderbilt), and Prince Peter and Princess Irene of Greece and Denmark.

Ads in the November 1948 issue have come a long way from those in the 1941 debut, particularly Airstream's center spread, which helped establish the now-iconic trailer's image. Other trailer brands that advertised in the issue didn't stand the test of time, including sound-alikes Travelite, Travelon and Traveleze, although the latter had a long run from 1931 to 1990. The Columbia Trailer Company, manufacturer of the retro-cool two-tone rig on the cover, went on to build trailers for another 10 years.
---