The Hells Canyon Scenic Byway is a nature lover's back door to grand vistas and outdoor adventures
A bald eagle swoops down from its perch high atop a tall, slender pine at the lake's edge and gracefully plucks a fat trout from the clear water — breakfast on the fly. The morning sun bathes the beautiful raptor and its catch, while the glass-smooth surface of the lake a hundred yards from where I am standing reflects the snowcapped Wallowa Mountains to my west.

I keep working my way down the fast-flowing stream that feeds into the eagle's fishing ground, hoping I'm just as proficient as my white-headed friend. The air is as pure as the snow on the mountain peaks with a hint of pine and fir. The only sound is the rushing of the creek flowing over countless rocks on its downward path to the lake.
An hour later, my wife and I are sitting outside our truck camper enjoying fresh trout for breakfast while watching a trio of mule deer easing their way around a rocky outcrop not far from where the eagle is again perched, waiting and watching.

That was our first morning's welcome at a remote dry camp in the Wallowa-Whitman National Forest on the edge of the Eagle Cap Wilderness in northeastern Oregon. Avoiding crowded campgrounds, we had opted to tour the 218-mile-long, horseshoe-shaped Hells Canyon Scenic Byway (HCSB) that skirts the eastern side of the Wallowas and the western side of the Snake River.

Think of the route as the letter "D," where the HCSB is the curve of the "D," and the straight side is Interstate 84, with La Grande at the top end and Baker City on the bottom. RVers rolling along I-84 see the majesty of the Wallowa Mountains to the east, but few know the secret outdoor playground that lies on the other side of Oregon's Alps.
Driving the length of the HCSB can be done is less than six hours, but doing so robs travelers of the scenic countryside the Wallowa band of the Lower Nez Perce Indians and their leader, Chief Joseph, once called home. To really enjoy this unique area, set aside at least four or five days, if not a week.

The best time of year to enjoy the scenic byway is mid-June through late September. That's because the southern portion, specifically the Wallowa Mountain Loop (Forest Serv­ice Road 39) that links State Route 82 with Route 86, is covered in snow much of the year. Open from mid-June through early October, weather permitting, the route offers unspoiled views of the Wallowa-Whitman National Forest, easy access to hiking, fishing and camping opportunities, and a measure of solitude that is rare in this day and age. Side trips, such as the drive to Hat Point Overlook, can extend the total driving distance close to 400 miles.
To witness Hat Point's breathtaking view into Hells Canyon, instead of going south on the Wallowa Mountain Loop, travel north on Route 350 to the little town of Imnaha. From there, a pair of Forest Service roads, 2640 and 315, lead to the impressive overlook, but the last couple of miles are gravel and steep, and are not advisable for vehicles towing trailers.

Taking a few days, or a week, to explore the Hells Canyon Scenic Byway will be one of those rewarding road trips that you'll want to share with others yet at the same time keep a secret.
Where to Stay on the Scenic Byway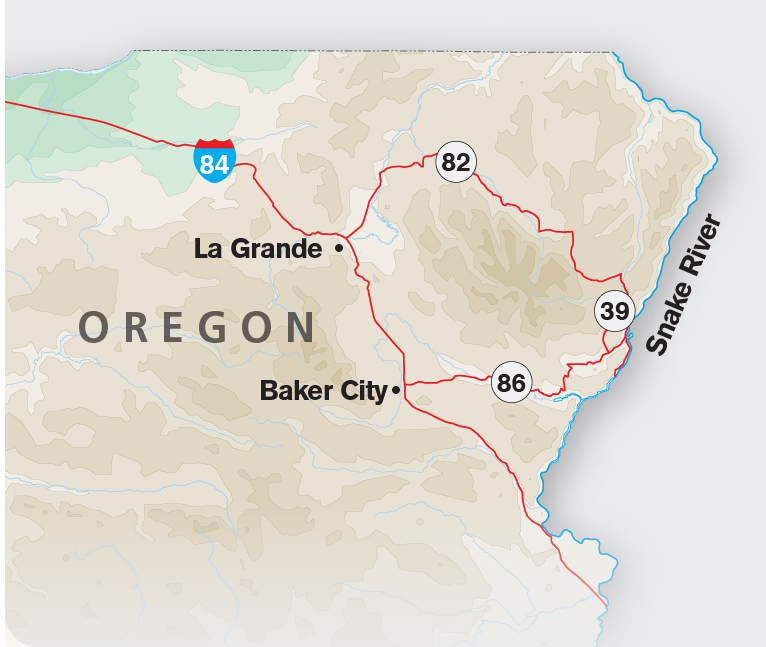 The Wallowa-Whitman National Forest has a wide range of campgrounds, including some with full-hookup campsites for larger RVs. Traveling with a truck camper, we opted for three rustic campgrounds — Fish Lake, Indian Crossing and Twin Lakes — that were accessible from the Wallowa Mountain Loop and didn't require reservations. Although these campgrounds don't have RV hookups or much in the way of amenities, fishing, hiking and the scenic surroundings are world-class.
541-523-6391 | www.fs.usda.gov/wallowa-whitman
RV parks and public campgrounds accommodate RVers along much of the byway, including a couple of Baker City Good Sam Parks that supply full hookups and all the amenities:
Mountain View RV Park | 541-523-4824 | www.mtviewrv.com
Oregon Trails West RV Park | 541-523-3236 | www.goodsamcamping.com
What to Know If  You Go
Hells Canyon Scenic Byway is paved and open to all vehicles. However, it's prudent to call the Wallowa-Whitman National Forest office in Baker City (541-523-6391) or Joseph (541-426-5546) for the latest road and campground information. For those traveling with trailers longer than 24 feet, we recommend unhitching and taking day trips in the tow vehicle, particularly when exploring secondary Forest Service roads such as FR 315 to Hat Point Overlook.

Before heading into the area, obtain a Northwest Forest Pass (800-270-7504, www.fs.usda.gov/main/wallowa-whitman/passes-permits), which allows the pass-holder and accompanying passengers use of Forest Service facilities. Some campsites require an additional fee of $5 to $8 per night.

Think Small to Catch Your Limit
Many trout anglers fishing the high country that the Hells Canyon Scenic Byway weaves through get flustered when it comes to what gear to take along. The reality is, it's best to keep it simple and think small, if you want to be successful. An ultralight four-piece pack rod, a matching spinning reel loaded with clear 6-pound-test monofilament and the right lures are all you need.

High-country trout are voracious feeders. Present them with a lure that replicates what they normally prey upon, and the chances of putting fish on the galley table are excellent. My go-to lure is a slowly retrieved 2-inch Rapala Rainbow Trout in the floating or sinking model. Another excellent lure is a 1⁄4-ounce red-and-white Mepps Aglia spinner, with or without a hair hackle. Change up the retrieve speeds to find the most effective pace. I keep several on hand, along with a Mepps Trouter Kit.
For More Information
Travel Oregon | 800-547-7842 | www.traveloregon.com
Wallowa County Chamber of Commerce | 800-585-4121 | www.wallowacountychamber.com
---
A respected automotive and RV journalist and longtime Trailer Life contributor, Bruce W. Smith has held numerous editorial titles at automotive and boating magazines, and authored more than 1,000 articles, from tech to trailering. He considers his home state of Oregon a paradise for RVing and outdoor adventure.
---