Starting in Shoshone, Idaho, this route winds north through the resort towns of Hailey, Ketchum and Sun Valley, and then to the Galena Summit for stunning views of the Sawtooth Valley below
When we travel in our motorhomes, we can become so focused on getting from point A to point B that we forget all the wonderful discoveries waiting for us on the less-traveled backroads and byways. On this particular trip to Idaho, we're committed to exploring the slower, more scenic routes. Our first is the Sawtooth Scenic Byway, carving 117 miles through the Boulder Mountains to Galena Pass, along the way showcasing the magnificent Sawtooth Mountains, the spine of the Rockies. While we could drive this byway in three or four hours, we're dedicating a couple of days to get to know this impressive route.
Interstate 84, the major east-west route through Idaho, is fast and it's a good choice if you just want to pass through the state. But it's not the route for discovering the beauty of Idaho, so we leave it as soon as we can. We pass the fast-food suburbs surrounding Boise, then pull off the highway and drive through the town of Glenns Ferry to Three Island Crossing State Park, one of our favorite campgrounds. The park offers 82 grassy RV sites with partial hookups and plenty of shade, a rare commodity in this desert landscape.

Three Island overlooks the mighty Snake River and marks the spot where, between 1840 and 1860, more than 50,000 emigrants made the perilous water crossing on their way to Oregon. The park features the Oregon Trail History and Education Center that tells the fascinating and often heartbreaking story through videos, dioramas and artifacts of these intrepid travelers. Admission to the center is free and it's worth a visit.

Early the next morning, we travel along I-84 under amazing cloud formations and buff-colored buttes. The desert's muted beauty contrasts sharply with the vibrant green of the irrigated fields. Our planned exit, U.S. Highway 26, is closed for construction so we take exit 147 and wend through backroads. It's a fortuitous detour that takes us through Malad Gorge, an impressive 250-foot-deep basalt canyon cut by the Malad River and its stair-step waterfall that are part of Thousand Springs State Park.
History, Caves and Desert Landscape
The historic town of Shoshone is the official start of the Sawtooth Scenic Byway. This former railroad center is famous for its many lava rock buildings that were handcarved by Basque sheepherders who lived in the area. It's also home to a number of antique stores like Whistle Stop Antiques (aka Second Time Around Antique Mall), where we admire a huge horse sculpture made out of 15,000 metal maple leaves. I'm certain the equine would look great in my garden; the $36,000 price tag convinces me to move on.

We explore Shoshone under brilliant blue skies and, while it's sunny, a cool, stiff wind makes us glad we're wearing fleece vests. The proprietor of Crossroads Attic, where they sell old housewares and freshly baked bread and home-canned preserves, tells us this is typical early summer weather. Before leaving town, we grab burgers and shakes at the Shoshone Snack Bar, a local favorite.

We take state Route 75 north out of Shoshone. The craggy, snow-covered Sawtooth Mountains are clearly visible and stand in sharp relief to the sage-covered landscape we're driving through. Just 9 miles out of Shoshone, we spot a big, blue sign sporting the word "Cave." Since we're not in a hurry, we turn off the roadway and drive 1½ miles down a washboard gravel track until we come to a gaggle of wooden and stone buildings, corrals and animal cages. We've arrived at Idaho's Mammoth Cave and the Shoshone Bird Museum of Natural History, site of a half-mile-long lava tube and a strange collection of taxidermy animals.


For $10, proprietor Paul Olsen gives us each a gas-fired camping lamp and instructs us to follow the winding pathway to the cave. Back in the 1950s, Paul's dad discovered this cave, the result of volcanic lava intrusion that cooled and left caverns as high as 50 feet tall. The family cleared out the cave's rubble and built an easy, hard-pack trail that pushes a half-mile into the gloom. Since this is a lava tube and not a limestone cave, the walls are smooth and there are no impressive stalagmite or stalactite formations. But it's still interesting to walk through the cool dimness that ends at the large cavern room.

The bird museum is housed in an impressive round wood and lava rock building Paul and his family built. Visitors wind though circular aisles to see a strangely wonderful collection of fossils, antiques, Native American grinding rocks, carved African masks and a massive assemblage of stuffed animals from bears to birds to giraffes. This is desert quirky at its finest.

We take a shorter half-mile road back to the byway. This is flat country with long, wide vistas. It's also open range, so we keep an eye out for cattle that occasionally cross the road. We pause briefly at the Bear Claw Trading Post and browse through tourist trinkets, artificially colored rocks, and authentic Native American beadwork, leather goods and jewelry.

The road is straight and fast and, while it's hot and sunny here on the Sawtooth Byway, clouds have gathered along the Sawtooth range and sheets of rain/snow are falling in the distance. We crest a hill and drive into a vibrant, emerald valley of ranches and irrigated farm fields. Trees grow wildly along irrigation fields, but just beyond the water's reach, the land retreats to sagebrush.

This is Sun Valley. We pass through the town of Bellevue and the valley narrows and mountains rise up steeply on both sides of the road. As we enter the outskirts of Hailey, big raindrops splat the windshield. We've caught up with the mountain weather we'd seen earlier. We cruise through Hailey's cute, walkable downtown and the raindrops become hail that rat-tat-tats on the motorhome's roof.

Just outside of Hailey, the speed limit springs back to 55 mph, but there's a line of traffic due to road construction. We cross a bridge over the Big Wood River and spot an elevation sign – 5,607 feet. We've climbed quickly from the desert floor just a few miles south and evergreens, aspens and willows dot the hills.
Skiers' Heaven
We're still climbing and the forests are becoming thicker when we enter Ketchum, an attractive resort town filled with river rock and timber buildings. It's gorgeous here, with nearly vertical slopes crisscrossed with ski runs. The weather is socking in and snow is falling on the hillside trees as we check into a flat, full-hookup site at The Meadows RV Park, our home for the night.

Dinner is at Trail Creek Cabin, a historic hunter's cabin built in 1937 and once frequented by author Ernest Hemingway, a resident of Ketchum. Seated on pine furniture beneath old-time photos, we gobble down their famous "scones," mini cornbread muffins with whipped honey butter; a charcuterie plate that includes house-smoked duck; roasted beet salad; giant, perfectly cooked, bone-in cowboy rib-eyes; and, for dessert, warm peach crisp with rich caramel ice cream.

The next morning, our motorhome sports a thin layer of snow and the air is chilly despite the sunshine. It's a good reminder to bring warm clothes when traveling in the mountains.
We're eager to explore Ketchum and we start at the Ketchum Visitors Center, conveniently located in the downtown Starbucks. Central Ketchum is charming, with plenty of shops, cafés, galleries, coffee shops, and restaurants to enjoy and a popular, paved walking/biking path. Many of the shops are high-end boutiques and, for visitors on a budget, there's always the Gold Mine Thrift Store or Terra Sports, a consignment shop that sells gently used sport clothing.

The village is completely surrounded by steep mountains that loom over the town like green Titans. The forested slopes sport ski runs and chairlifts snaking down their faces. While it's hard to imagine anyone skiing down these sharp cliffs, they're the reason Sun Valley is famous for world-class skiing. Riding the Doppelmayr Gondola (2,000 vertical feet in eight minutes) up Bald Mountain is a popular summer activity, but we're too early in the season and it hasn't opened yet.

Ketchum has been ski central for years and many of the sport's advances, like the first ski lift, were invented here. It's a fascinating history that's documented in the Ketchum Sun Valley Historical Society Heritage & Ski Museum.

Our next stop is the Sun Valley Gun Club at Sun Valley Resort to try our hand at skeet shooting. Bob, a fit and tanned 70-year-old, outfits us with a couple of shotguns and ear and eye protection. On the range, he tells us the object is to hit orange discs that are launched from a mechanical launcher. I shoulder the rifle, staring down the barrel. "Pull," I say.

Pow! The gun slams into my shoulder nearly knocking me off my feet and the orange puck torpedoes into the hillside sending up a tiny puff of dust. I try again and again with Bob gently coaching me and correcting my stance, my grasp, even how I hold my head and breathe. Finally, kapow! The disc shatters in a satisfying spray of orange.

We're there for an hour, taking turns shooting, mostly missing, and occasionally smacking those lightning-quick targets. By the time we depart, my shoulder is a bit sore, but I'm feeling smug, like I'm a budding Annie Oakley.

While the weather has been clear all day and it would be easy to spend days here hiking, horseback riding or mountain biking the hills or fly-fishing, rafting or kayaking the Big Wood River, it's starting to cloud up. We decide to make a run for Galena Summit (8,701 feet) before it socks in. We climb through a narrow valley with shafts of sunlight illuminating the ragged snow-covered Sawtooths. We're driving along the wide Big Wood River with mountains on both sides of the road that are dotted with craggy rock outcrops and wildflowers – purple lupine, orange Indian paintbrush, red shooting stars. We climb higher and higher, our ears popping and the motorhome's engine working hard on the 5 percent grade.

At Alexander Ross Summit (8,278 feet), we pull off into a wide turnout to take in the view – the steep Sawtooth and White Cloud mountains with their thick forests dusted with fresh snow. Way down below are the headwaters of the Salmon River and two more Idaho scenic byways to explore – the Ponderosa Pine Scenic Byway to the southwest and the Salmon River Scenic Byway to the northeast.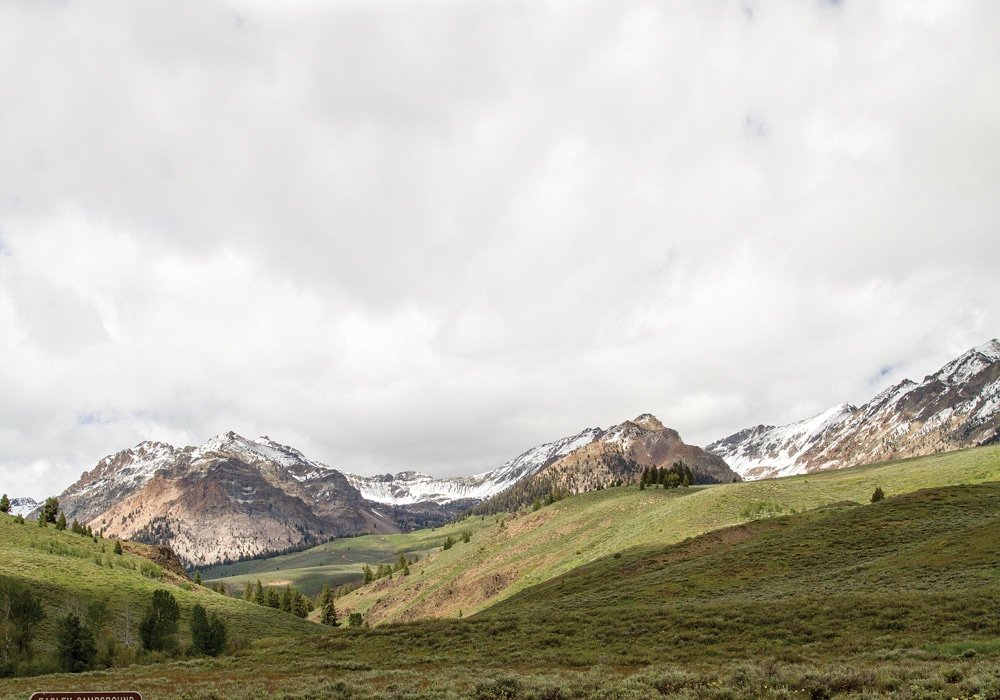 For More Information
Idaho RV Campgrounds Association
www.rvidaho.org
The Meadows RV Park
208-726-5445 | www.themeadowsinketchum.com
Three Island Crossing State Park
208-366-2394 | http://parksandrecreation.idaho.gov/parks/three-island-crossing
---