Q. I am searching for a small SUV or other small vehicle to tow when I travel. I am aware there are many factors involved in this matter. Can you please give me some good suggestions as to what type of vehicle and tow bar that I should get for this use? I don't want to spend too much money, perhaps something under $6,000. I was looking at the Kia Sportage, Jeep Liberty and a Honda CRV, but I don't know if these vehicles are good-towing cars. Can you please advise me?
— R.D.R., Miami, Florida
A. You can look up what vehicles are factory approved for towing on our sister publication's Web site at www.motorhomemagazine.com We don't make brand or product endorsements. However, you can be quite sure that any model approved for towing has been tested by their manufacturer for stability, etc. The RV tow bars and baseplates offered by the established manufacturers are also well proven. The self-aligning tow bars are more expensive, but many owners think they are worth it.
— K.F.
---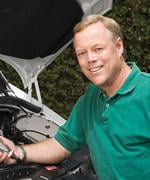 Ken Freund's more than three decades of auto-repair experience and 20-plus years of RVing helped him author numerous books and articles on vehicle repair. In addition to RV Clinic and Performance, he writes the Powertrain column in MotorHome magazine. Ken has been a California Automotive VO-Tech and Smog-Test Program Instructor and an ASE-certified Master Automobile Technician.