Explore the backcountry with the XPCamper V1 truck camper, an all-weather hard-sided pop-up with marine-grade appliances powered by diesel fuel and everything needed for back-roads roughing it in style
When we saw the XPCamper prototype a few years ago — with its unique aerodynamic roofline — we thought it was just another pop-up truck camper. That was our first mistake. XPCamper founder Marc Wassmann, a professional chef by trade, had been applying his German sense of perfection in some of San Francisco's better restaurants for 20 years, so when he searched for the ideal camper in which to explore some of California's back roads, nothing on the market had the features he demanded.

The solution was to mix up an all-new recipe and design his own. Who would guess that a German chef could build campers? But Wassmann's background allowed him to think outside the box. With the help of his wife, Toni, a graphic designer, things started to take shape. Wassmann's motto through the process was, "Include everything you need and nothing you don't need." After seven years of research and testing, the XPCamper was ready for the outdoor enthusiast's table.

Blending his own requirements with proven German and marine-grade components, he used closed-cell foam sandwiched between hand-laid unidirectional fiberglass reinforced with carbon fiber to give the XP the strength to survive rough roads while minimizing weight. Together with German Seitz dual-pane windows, the foam walls provide great insulation. The seamless monocoque construction allows no opportunities for leaks and eliminates the "stick and staple" or welded aluminum frames that are prone to cracking due to off-pavement twisting.

His preferred foundation for the XP V1 is a one-ton diesel pickup, on which he replaces the factory bed with a custom XP Truck Tray system that offers maximum utility. The Truck Tray features removable fold-down side panels, headache racks (truck-cab racks to protect the rear truck window), spare-tire carriers and on-bed storage boxes that can be custom-tailored to an individual's needs.

The Truck Tray system allows the truck camper to be easily removed, returning the base truck to a multipurpose work vehicle. The unique XPC Flex-Mount system maximizes the departure angle and eliminates the frame flex that would tear an ordinary truck camper apart on rough roads. Large under-bed storage and side storage compartments are bonuses that are often missing in small campers.

To reduce wind drag and allow the truck and camper to fit into a shipping container (a growing consideration for people discovering how easy it is to explore beyond North America), the XPCamper is a pop-up design. The rear portion is hard-sided, and the front cabover bed area is made of a high-tech, waterproof marine material with large windows that are zippered and waterproof. With the top in the down (or compressed) position, the camper is completely secured and locked inside hard walls. Pushing a button on a remote control activates hydraulic lifts that raise the sides to full height in seconds. Stairs slide out, so it's easy to get up into the camper.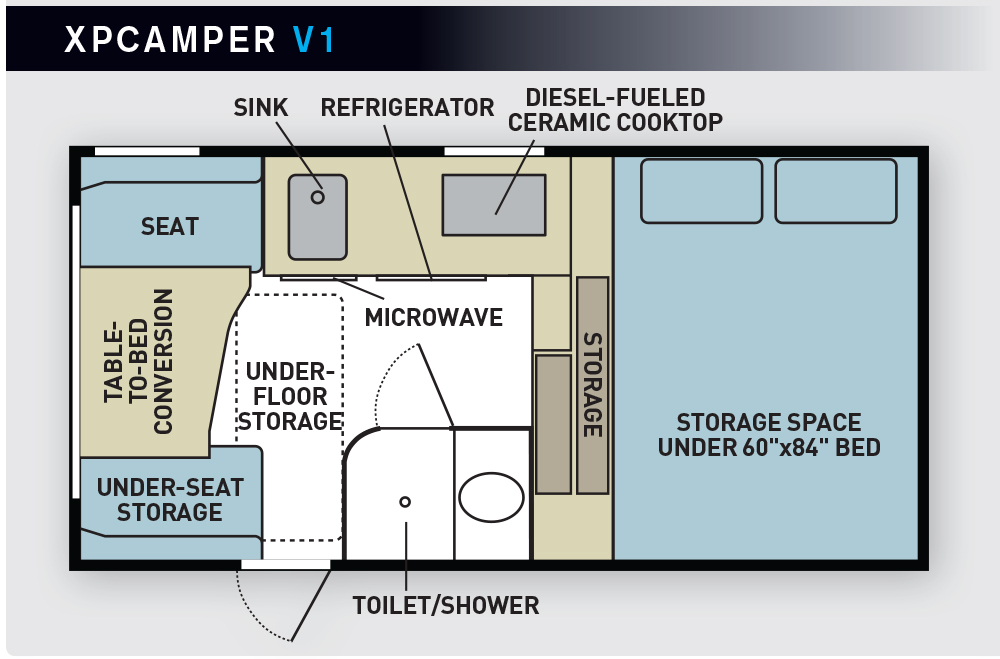 That's where the real surprise awaits. Over the cab is a queen-size bed using European-designed spring coils by Froli and a high-grade foam mattress. The bed lifts up on gas struts to reveal a huge, easily organized storage compartment, fitted with matching carrying bags and enough room for a long-distance, multi-season wardrobe.

As a chef, Wassmann naturally assigned plenty of counter space to the kitchen. A diesel-fueled cooktop eliminates the need to carry LP-gas or look for a refill station in foreign countries. The Webasto diesel-powered heating system provides hot water and heat to the living area, enclosed water tanks (fresh and gray), storage compartments and the floor. A 3-gallon diesel-fuel cell within the camper is used in lieu of common LP-gas cylinder(s).

---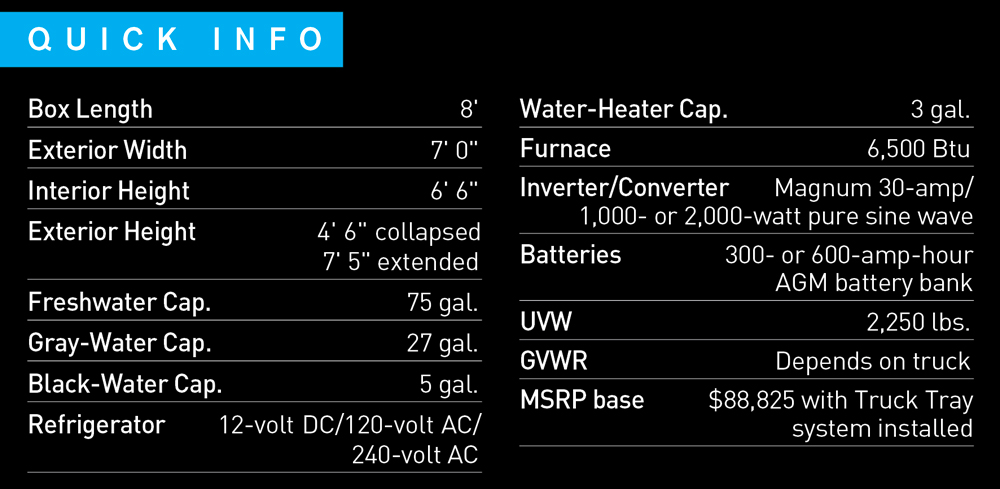 XPCamper Options
The XPCamper is no ordinary truck camper and therefore doesn't offer ordinary options. Depending on your needs, XPCamper can outfit your truck with a variety of add-ons designed to make travel in remote locations easier and safer:
Hellwig air-assist rear suspension
ARB dual compressor with air outlets on either side
Heavy-duty Buckstop bumper
Long-range auxiliary lights and fog lights
Rear Golight Stryker remote-control spotlights
16,500-pound Warn electric winch with Viking synthetic rope
Class IV trailer hitch receiver
Underside skid plates
Awning with LED lights
Icon shock absorbers
Titan long-range fuel tank
Other items necessary for remote overland travel
---

Speaking of hot water, as you enter the XP's door, the large counter space on the right flips up to reveal a good-size shower and the cassette toilet, commonly used in European RVs. With a practical German outlook, Wass-mann did not find it necessary to have a separate sink to brush your teeth or wash your hands just 3 feet from the main kitchen sink. The faucet features a hands-free, hip-operated system to save water and eliminate touching the faucet handle with dirty or soapy hands. At mealtime, the large rear dinette, located next to a picture window, is comfortable for two but big enough for company, eliminating the cramped feeling of many small campers.

All internal and external lights are LED, and the meticulously engineered electrical system uses a 300- or 600- amp-hour AGM battery bank and a 30-amp/1,000- or 2,000-watt pure sine inverter/converter that quickly recharges the batteries while plugged into shorepower. Otherwise, the 400-watt solar panels can keep the batteries charged, even while running the Dometic Coolmatic compressor refrigerator/freezer. Unlike more common absorption RV refrigerators that run off 120-volt AC or LP-gas, this refrigerator does not need to be level. The use of marine-quality components enhances worldwide serviceability.

Wassmann worked out the bugs in his own personal prototype, and the XPCamper has now been in full production for four years, with many currently running around the back roads of North and South America and Australia. A new, smaller model, the XP V2, is for small to midsize trucks like the Toyota Tacoma or Tundra. The V3, currently under development, will be a full-size slide-in version for pickup owners who do not want the XP Truck Tray. The V4 XPCube does not feature a cabover design and can be custom-designed to fit most trucks.

All XPCampers exhibit the state-of-the-art perfection of a German-chef-turned-engineer. We can't wait to see what's for dessert.
XPCamper | 530-274-1957 | www.xpcamper.com
---