Winnebago's Micro Minnie bunkhouse has a lot more room than the name suggests and features a Murphy bed. 
The recession of 2007 to 2009 hit the RV industry hard, but it also caused many of the major manufacturers to innovate in the travel trailer segment. The industry realized that if first-time buyers did not have to purchase a new heavy-duty truck and an RV at the same time, the barriers to RV ownership could be lowered dramatically. The RV industry gambled, and gambled correctly, that if manufacturers made their RVs lighter, many consumers would realize that a suitable tow vehicle was already sitting in their driveway.
A decade ago many of these compact ultralight trailers were entry level in terms of price and quality. But not anymore. This entire segment has matured and exploded in popularity. The options, in terms of price and amenities, are various and appealing to a wide demographic of buyers. Young families and empty nesters (and everyone in between) are purchasing ultralights. There is even a downsizing trend among seasoned RV owners. You don't need a 40-foot fifth-wheel to experience all of the comforts and conveniences of a modern RV. A compact ultralight might just do the trick.
Try It On for Size
The benefits of a shorter, lighter rig are many. Instead of having to purchase an expensive heavy-duty truck, you have the option of purchasing a comfortable and immensely drivable (and increasingly fuel-efficient) half-ton pickup. Not into pickup trucks? A properly matched SUV might make the perfect daily driver and tow vehicle for a compact ultralight.
You will also have more options for booking great campsites, particularly in state and national parks. Owners of large fifth-wheels and motorhomes have fewer sites to choose from in most public campgrounds. A compact ultralight trailer is also easier to navigate through the twists and turns of campgrounds that were designed when RV's were smaller. They are also easier to store.
A good choice in the downsize-trailer segment is the 2019 Winnebago Micro Minnie 2306BHS, which offers a generous amount of livability, even if the name suggests the opposite.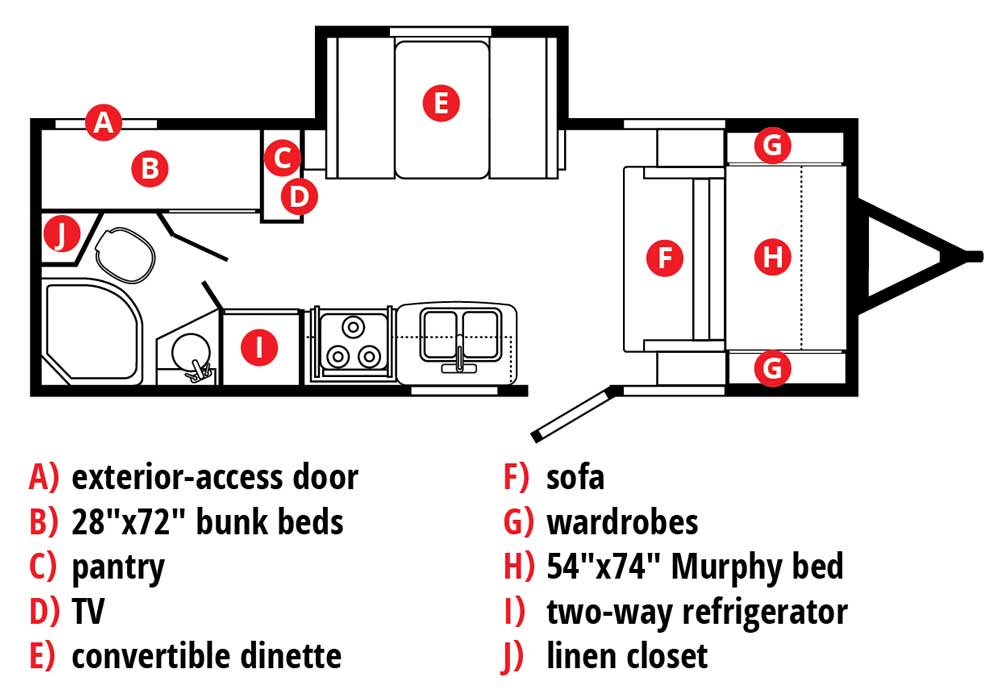 Outside the Box
If this review hinged on the exterior look of the trailer, the Micro Minnie 2306BHS would get two thumbs up. The Noble Classic high-gloss fiberglass side walls are sleek and
fashionable. The test trailer featured the Champagne exterior, but if you don't want to blend in with the campground crowd, a Cherry or Yellow paint job will hit the mark. The average age of the RV buyer is getting lower every year, and new shoppers often complain that everything looks the same. Winnebago offers eight stylish exterior options in
an industry that often plays it safe with design.
What We Liked

Design and functionality are spot on for a family of three or four. The Murphy bed layout, spacious bathroom and roomy kitchen fit plenty of flexible living space into a small footprint.

What We'd Like to See

The optional lift kit for the axles should be a standard feature for sewer-pipe clearance. Upgraded trailer tires would fit nicely with the other high-end manufacturing features.
Color is not the only thing that stands out about the Micro Minnie's exterior. Winnebago is using high-quality and notable materials in the construction of this trailer body. The fiberglass walls are layered with solid material inserts, which add durability. The BAL-engineered chassis is designed to be both lightweight and extremely durable, using huck bolts and interlocking dimples, which eliminates welding. Other manufacturing materials worth a mention include the exterior-grade tongue-and-groove plywood flooring fastened to an aluminum floor frame, offering a more stable foundation for the rest of the trailer components.
It may not be as important as build quality, but awning size can be a deal breaker for some. On this Micro Minnie, a 15-foot awning extends from the door to the rear of the rig, providing shelter from the sun or the rain. During our stay in Indiana, it was either pouring rain or blazing hot. We certainly appreciated the awning under both conditions.
The Micro Minnie has a heated, insulated and enclosed underbelly for those looking to stretch their camping season into cooler months. If you're really concerned about staying toasty warm in chilly temperatures, consider upgrading to the Extreme Weather Package for additional reflective foil insulation.
We were plugged into campground power during our whole stay, but for those who like to dry camp, the 2306BHS comes prepped for solar power by Zamp Solar. This means you can purchase a portable solar-panel kit from Zamp or another aftermarket supplier and easily connect it to the trailer. Many solar companies use the same two-pin connector as that used by Zamp, so the hookup is easy. The size of this RV allows it to fit into more remote campsites, which often do not offer electric hookups. So if you are thinking about dry camping but still would like to enjoy the comforts of the RV, adding a solar panel or two will allow you to keep the battery charged and use the 12-volt DC appliances.
Note that if you want to use any of the 120-volt AC outlets when not hooked up to shorepower, you will need to add an inverter and upgrade the trailer's battery bank or use a generator. Also keep an eye on those tank sizes if dry camping is your style. The 2306BHS can carry 31 gallons of fresh water. The black and gray tanks can each carry 35 gallons of waste, all a little light on capacity for boondocking.
Speaking of tanks, a black-tank flush on this 2306BHS is a truly great RV feature that we would never want to be without, but it is located on the door side of the RV. This isn't a huge deal, but we did find it to be a minor inconvenience. We had to run a hose from the water spigot on the hookup side to the opposite side of the RV. Most owners prefer to have tank-maintenance valves and connections on the hookup side.
The only exterior feature that gave us real cause for concern was a very low-lying sewer pipe. We noticed right away that this could easily be an issue on pitched or uneven terrain. Fortunately, Winnebago offers an optional off-road kit that includes a suspension lift at the axle to boost the trailer height a few inches to provide additional ground clearance. In the future, we hope Winnebago offers a standard solution to what we see as an accident waiting to happen.
Inside Scoop
The real question for families is whether the interior of a 25-foot-plus travel trailer could be functional. Is there enough space to fit in all the stuff? Would a family be able to hang out comfortably inside? Could family-size meals be cooked in the kitchen? And is a Murphy bed as easy to open and close as they claim?
We'll tackle the last question first, since the real-world functionality of the Murphy bed in the 2306BHS was our number-one question. In theory, a fold-up bed takes care of a lot of small-trailer issues. You don't have to choose between a dedicated sleeping or seating area or transform a U-shaped dinette into a bed every night.
It took a little bit of practice, but after three or four trial runs, we were masters of the 54-by-74-inch Murphy bed, requiring less than a minute to open and close it. There were latches to lock the bed into the open position, which circumvented unintentional closing — a safety concern expressed from other RVers. It was also possible to close the bed easily with all of the bedding still on it. The mattress was a bit firm for our taste, but more picky sleepers can replace the standard mattress. With the Murphy bed, an owner would need to be sure a replacement mattress was flexible enough to allow the mechanism to function.
When the bed was folded up, we enjoyed sitting on the comfortable leatherette couch. The table space on either side came in handy throughout the week for a cup of coffee or magazine.
The twin bunks, measuring 28 by 72 inches, were perfect for two youngsters. The Teddy Bear Mattresses were comfortable, and there was plenty of room at the end of the beds for storing three packing cubes that we use when traveling in an RV. One thing to note is that the top bunk has a window but the bottom bunk does not. This is a trade-off for a very convenient feature. The bottom bunk flips up, and an exterior door allows for easy loading of bikes or other gear. The best part about this feature is that the generous amount of carrying capacity on the 2306BHS (2,440 pounds) means you can safely bring your "toys" and not worry about overloading the rig.
At night, the dining booth was converted for our five-year-old, and while he was perfectly comfortable, we were reminded of why dedicated beds are best for families. The Winnebago is a very suitable trailer for a family of three or four.
Speaking of sleeping comfort, the 13,500-Btu air conditioner worked efficiently and
effectively to circulate air throughout the trailer, even cooling the bunks, which are mostly tucked away behind walls. It is not a quiet system, however, and those sensitive to sound should be aware of that.
This trailer's Graphite interior color scheme is a departure from the more traditional RV interior. Many people complain about the layers and layers of brown in RVs. No brown is to be had in this Micro Minnie. The creams, grays and black create a light, open feeling inside a relatively small trailer.
The kitchen may have been the superstar standout in the 2306BHS. It is fully functional with a double sink, three-burner range, oven, microwave and two-way refrigerator. There's a surprising amount of cabinet and drawer space. We were able to fit all of our camp-kitchen basics and pantry supplies. Spaghetti and meatballs is a comfort food for most families while on the road, and we cooked an entire Sunday dinner in the Micro Minnie. The flip-up counter extension was perfect for providing additional food-prep space. There are also USB outlets below the top cabinets and 120-volt AC outlets for a coffeemaker or other kitchen appliances.
The bathroom is surprisingly roomy and includes a nice-size shower. The configuration of pieces meant we could easily use the toilet without banging our knees into the walls or cabinets. The vanity and medicine cabinet had plenty of room for our family's toiletries.
When the booth dinette wasn't acting as a bed, it functioned well as a place for eating, working or playing cards. The dinette is in a deep slideout, and while we didn't love the modest step up from a convenience perspective, it was comfortable and roomy for all five of us. There was a nice view of the LED TV from a few spots on the dinette, but not from the seats closest to the window. The Jensen stereo-and-speaker system was easy to use, making it simple to listen to music from our smartphones in various interior and exterior zones.
Throughout the week, we exclaimed repeatedly over certain features that seemed particularly impressive in a small trailer: the intuitive kitchen layout, the spacious bathroom, the ease of the Murphy bed setup. We offered daily thanks for the Thin Shade Ready privacy shade on the door, since the master bed is located right next to it.
SPECIFICATIONS

2019 Winnebago
Micro Minnie 2306BHS

Exterior Length 25′ 5″
Exterior Width 7′
Exterior Height 10′ (including A/C)
Interior Width 6′ 10″
Interior Height 6′ 4″
Construction Welded-aluminum-tube side walls, high-gloss fiberglass exterior, Azdel backer for fiberglass walls, BAL chassis secured with automotive huck bolts, exterior-grade tongue-and-groove plywood flooring fastened to aluminum floor supports
Freshwater Cap. 31 gal.
Black-/Gray-Water Cap. 25/25 gal.
LP-Gas Cap. 10 gal.
Water-Heater Cap. 6 gal.
Refrigerator 6 cu. ft.
Furnace 18,000 Btu
Air Conditioner 13,500 Btu
Converter 30 amp
Battery Dealer supplied
Tires ST205/75R14
Suspension Torsion
Weight (freshwater, water heater,
LP-gas full; no cargo) 4,560 lbs.
Hitch Weight 495 lbs.
Axle Weight 4,065 lbs.
GVWR 7,000 lbs.
b (2) 3,700 lbs.
Cargo Carrying Cap. 2,440 lbs.
MSRP, Base $31,573
MSRP, As Tested $31,784
Basic Warranty 1 year
The wardrobe space next to the master bed is quite limited, which is expected in a 7-foot-wide trailer. Folks traveling with more than two people will have to get creative with clothing storage. We thanked the gods of RVing more than once that all five of us had packing cubes to help keep the trailer neat and organized.
Bottom Line
What's the final verdict? Could we spend a vacation in such a small space and still love each other at the end of the week? The answer was an emphatic yes…and no.
The size and layout of the Micro Minnie 2306BHS functioned beautifully, offering individual and communal spaces, as needed. We didn't feel jam-packed when doing basic daily activities like showering, cooking, eating or watching television. The Murphy bed was as easy and intuitive as we had hoped.
The real hiccup to us was making and unmaking the dinette into a bed. It was a comfortable place to sleep, but we weren't thrilled with that daily routine. That being the case, we suggest that the Micro Minnie 2306BHS is a wonderful first travel trailer for a family with no more than two kids. If you are looking for a well-constructed, well-designed RV that you could pull with a suitably equipped large SUV or half-ton truck, this should be on your list.
---
In addition to contributing to Trailer Life, Jeremy and Stephanie Puglisi are writers for RVFTA.com and hosts of the RV Family Travel Atlas podcast. They are also the authors of Idiot's Guides: RV Vacations. The couple spends as much time as possible exploring the country in a toy-hauler travel trailer with their three very energetic sons and Maggie the Camping Dog.
---