Food tastes better when it's cooked outdoors. That saying holds true for RVers and outdoor enthusiasts. Having the ability to prepare food outside your RV also means you are cooking and eating in one place, versus going in and out of the trailer. Ask any RV owner what is the one feature they would love to have in their next RV, and a good percentage will say an exterior kitchen. Convenient outdoor-kitchen features not only help everyone enjoy their time at the campsite, they help keep the indoor kitchen clean and the RV free of the lingering smell of cooked food.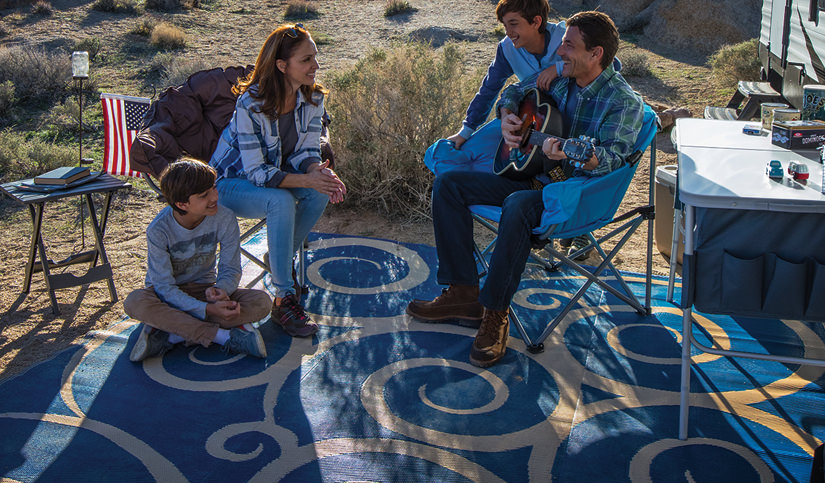 However, most RV owners do not have an exterior kitchen built into their RV. Neither our vintage 1962 Shasta nor our Airstream trailer has one. For us, and many other RVers, purchasing pieces of outdoor cooking equipment is a must to create this culinary extension of our campers.
Coleman did a study in 2017 called the American Camper Report. Participants in the study were asked to name their "Top 10 Nighttime Activities While Camping." Grilling came in at number three, and cooking was number five. That same report also showed that 29 percent of consumers polled did some research before buying camping equipment, and that included checking out cooking equipment. Consumers wanted products that folded down to save space, were easy to assemble and were multitaskers so multiple pieces of equipment were unnecessary.
Below are some fundamental supplies RVers are adopting as their essential outdoor-cooking equipment.
Everything in Its Place: Outdoor Kitchens
Having a true outdoor kitchen starts with exactly that: a portable kitchen setup that is the center for all your food prep and cooking organization. The key is that this piece of equipment helps you stay organized with a flat surface for chopping and serving, a good storage area and a place for seasonings. Lightweight but solid construction ensures this investment will last many camping seasons and help you stay organized.
The Coleman Pack-Away Deluxe Kitchen has all the above features plus a few extras. The metal side-table extension provides a heat-safe area for placing an outdoor camp stove. The lower storage area has enough space for an ice chest to slide under the shelf, keeping cold food right there at the prep area. The lantern hook is key at night when a camp cook needs a light source. Utility hooks and baskets hold jars of seasoning and oils, potholders, paper towels, tongs and spatulas. This camp kitchen is a space saver when it's collapsed and stored away, weighing less than 25 pounds.
Into the Fire: Cookware
The Lodge Five-Piece Cast-Iron Set supplies the cookware needed to stock an outdoor camp kitchen. The griddle is perfect for warming up tortillas, searing steaks or cooking a fried egg. The 8- and 10-inch skillets provide the ideal cooking surface for sautéed vegetables, seared pork tenderloin, skirt steak and cornbread. The 5-quart Dutch oven will have you making stews, soups and pasta, roasting meats and serving morning cinnamon rolls. The cover fits over both of the skillets and the Dutch oven.
Over-the-fire cooking is what camping is all about. The perfumed smoke and the sizzle of fat crisping on a steak are what we all envision when we tell people, "I'm going camping." But campground fire rings are not always the cleanest for campers to use. The Stromberg Carlson Fire Stake and Grill easily fixes any fire-ring issues. The large 22-by-15-inch grill allows you to cook multiple items and save time. With the large stake inserted into the ground, the grill slides onto it and rotates 360 degrees, making removing food safe and nearly effortless.
Grill On: More Ways to Cook
There's nothing like the smell of burgers, steaks, barbecued chicken or cedar-plank salmon cooking on a grill, so it's no surprise that a portable grill is one of the most popular purchases for RV owners. Most portable grills work with charcoal or propane. With fire bans happening more often at campgrounds, the market is leaning toward the portable propane grill, and RVers want features, ease and, honestly, the wow factor.
The Blackstone Tailgater Combo Griddle + Grill is the perfect portable cooker for RVers. This grill has three key features that any outdoor cook will love, starting with a large griddle to cook hash brown, eggs, pancakes, stir-fry and smash burgers, and a grill to handle fish, steaks, chicken, vegetables, hotdogs and hamburgers. But the third feature drives the usefulness home for RVers: a high-output burner. Simply remove the grill top, and there you have a burner for a shrimp boil, soups, Dutch-oven cooking and oversize skillets.
Baked, Broiled, Sautéed and Steamed: Outdoor Ovens
Turning on the oven during the hot summer months is not an appealing option for many RVers. The quest to find a portable outdoor oven is something many are looking to add to their outdoor kitchen setup. Important features include sturdy design, good temperature range and the ability to cook food for the whole family.
The Camp Chef Deluxe Outdoor Camping Oven and Two-Burner Stove is a smart solution. The portable oven has a temperature range from 150 to 400 degrees, ideal for keeping food warm or roasting a chicken. With the two burners on top, you won't need a separate cookstove. Two accessories help with the function and storage of the camp oven: the padded carrying case with handles and the LP-gas adapter so you can hook into the RV's propane supply.
Make Them Multitask: Tools for Your Culinary Creations
Having the right tools to help with meal prep and cooking is a must, and for RVers, finding kitchen gadgets and accessories with flexibility is key. A compact grater like Oxo's Good Grips Complete Grate & Slice is a true multitasker. With four changeable plates — a coarse grate, medium grate, slicer and julienne slicer — the seven-piece set tackles grating of everything from cheese to cabbage, carrots, potatoes, apples, onions and even chocolate. The handy all-in-one set also saves money at the grocery store, as there's no need to buy pre-chopped or sliced items. The container lid does double duty as a large measuring cup.
Cast-iron pan scrapers are another must-have in your camp kitchen tool kit. The Lodge Pan Scraper is made from sturdy polycarbonate, which easily scrapes off burnt-on bits of food without scratching or damaging the seasoned finish of cast iron. Other uses are as a cutting-board scraper, biscuit cutter and candle-wax drip remover.
Reversible Chopping Mats from Progressive International are a time saver when prepping meals, and are color-coded to help avoid cross-contamination and keep food safe. The smooth non-porous surface won't dull knife blades, and the mats easily fold into funnels to pour food onto a hot pan or griddle. Other uses are as picnic-table place mats, craft-project work surfaces, Lego mats for the kids and knee protectors when lowering the stabilizers on a travel trailer.
It's All About the Extras: Fun and Some Flash
Ice — we all need it when we are camping, whether for cold drinks or keeping fridges and ice chests cold while traveling. The compact Avanti Portable Ice Maker keeps the ice coming, with fast production that will have you relaxing at the campground and not worrying about making a run to the camp store for another bag of ice. The water reservoir holds about 2 quarts, and the ice bin holds 1.5 pounds of ice. Average daily production is 25 pounds of ice.
Nothing ruins a camp meal faster than pesky insects landing on your food. To keep flying and crawling pests at bay, add a Mesh Food Cover or two to your supplies. The large 48-by-24-inch design allows you to place multiple food items under the canopy and lets air flow through the mesh. Storage is simple: the food cover collapses and stores in a drawer.
Pizza at the campground? You bet! The Camp Chef Italia Artisan Pizza Accessory fits over any of Camp Chef's 14-inch cooking systems. It's not only for pizza, but you can cook whole fish, toast marshmallows on top of brownies, grill sandwiches, warm garlic bread and roast vegetables.
---
Kate Dunbar has always had a passion for food. Growing up in a farming family, she took the statement "love your farmer" to heart. Now a published cookbook author, Kate has a mission is to show how delicious and simple outdoor cooking can be. Spending time at the campground started with her grandparents and now continues with her family as they travel all over the United States in search of food, fun and the joy of the open road.
---