I have a 34-foot Jayco Designer that works great except for the water system. I am not a big fan of the new control boards for directing water inflow and winterizing. The problems I have are that I can't get to the water to bypass the water heater, and the pump will not pick up the antifreeze to clean out the pipes. I bypass the antifreeze method by blowing out the lines but I have a real concern on sanitizing the unit in the spring since I can't pump a cleaner into the lines.
I spoke to the dealer and he advised me to flip the intake washer since the pump was not strong enough to pull the antifreeze. I did this and it still will not pump the antifreeze. Would it help to take the intake washer completely out? Any suggestions would be appreciated. Like others, it's hard to find the time and it's a lot of trouble to take a unit back to the dealer (the dealer is 100 miles away).
Bill McCraw, via email
Is your control board manual or automatic? If it has a series of valves that you need to adjust for a given water flow setup – i.e., filling with fresh water, running on city water, winterizing, etc. – the valve labels may not be right. A trip to your Jayco dealership service department could verify this problem and produce a solution. If the system is automated and controlled by switches, the same solution applies. You didn't say what year your trailer was built, but we've seen mislabeled and misaligned water flow valves on all kinds of RVs so this would be a likely place to start looking.
When you say "pull the antifreeze," do you mean you use the RV's short, separate "winterizing" hose and a specific valve setting to draw antifreeze from the gallon jug and then pump it through the system? Antifreeze is a low-viscosity fluid and draws easily using the RV's pump. If the valving is correct, the pump would have zero problems with the antifreeze, although a loose fitting would produce an air leak that would reduce the pump's ability to pull the liquid. If the pump operates fine otherwise and you have no water system problems, I'd look at the valves as the cause and the solution.
– Jeff Johnston
---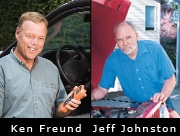 To send your questions to RV Clinic, write to 2575 Vista Del Mar, Ventura, Calif., 93001; or email [email protected].