Q. I am towing a roughly 3,000-pound 1999 21-foot tandem-axle hybrid travel trailer with a 2005 Chevrolet Trailblazer. How important is it for the travel trailer's 400-pound hitch to remain level after I put on the weight distributing bars? Is this mostly an issue of suspension and/or tire wear on the trailer? Is a few inches off level at the coupler a big deal?
— A.B., via e-mail
A. I'm guessing that by "remain level" you are referring to the back end of the Trailblazer sagging a bit under the weight of the trailer hitch. If that happens, you don't have the hitch adjusted properly. Yes, it can be a big deal because if the Trailblazer back end is a few inches low, that means the front end is a bit high, and that means your steering geometry can be thrown off. It may not be obvious at first, but get into a squirrely driving situation and you may have a handful of excitement in a big hurry.
The bars will need to be tighter to better distribute some of that hitch weight to the tow rig's front axle, which is the whole idea of the equalizing hitch in the first place. The Trailblazer should lower by roughly the same amount at the front and rear axles when the equalizing hitch is properly adjusted.
If, on the other hand, the Trailblazer sits level and the trailer hitch is too low, such that the trailer's frame seems tipped forward in relation to the Trailblazer (which is level), that's a different matter. There's no harm in having the hitch adjusted a bit low, other than for possible ground-clearance problems on speed bumps and the like. In fact, a slightly low hitch may help your towing stability. If the hitch is high, so the trailer seems to be dragging its tail, that can lead to increased sway.
Tighten the spring bars if need be, or raise the adjustable-height hitch head for ground clearance if that's a problem.
— J.J.
---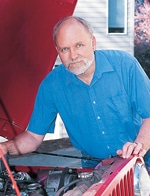 Jeff Johnston, TL consulting editor, started RVing at age 6. During his more than 20 years as a writer/photographer, he has worked for Truckin' and Four Wheeler magazines before joining TL's technical staff in 1985. Johnston also has produced an award-winning travel video and TV commercials.