Q. We have a Montana triple-slide fifth-wheel trailer. I store it on a concrete slab. Do I need to put anything under the tires while it is stored? Also, I am looking into a cover. What are the pros and cons and best recommendations? Thanks for your consideration.
— W.C., Mount Carmel, Tennessee
A. It's recommended that you park with the tires on pieces of plywood or other material that will keep them off the wet ground. It's even better if you support the trailer on jack stands under the frame and take the weight off the tires and springs. The tires should be protected from the sunlight, too. If you use a cover, make sure it's a quality cover that is designed to hold securely, so it doesn't get shredded by the wind and doesn't trap moisture underneath.
— K.F.
---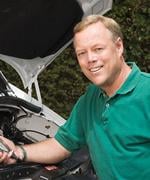 Ken Freund's more than three decades of auto-repair experience and 20-plus years of RVing helped him author numerous books and articles on vehicle repair. In addition to RV Clinic and Performance, he writes the Powertrain column in MotorHome magazine. Ken has been a California Automotive VO-Tech and Smog-Test Program Instructor and an ASE-certified Master Automobile Technician.