I have been reading your column for a while and appreciate the time you guys take to give people the right answers to their questions. Now I have one for you; hopefully it will be easy. I have a 2009 Fleetwood Formula fifth-wheel with two slideouts. The slides seem to be tilted inward from the top too much, in my opinion. As the top of the slide touches the side of the trailer there are about 2.5 inches at the bottom that need to be drawn in yet. The floor of the slide inside the trailer kicks up about 2 inches as the bottom is drawn in. I looked to see if there is an adjustment but all I can see is a control to adjust alignment up and down but nothing to adjust the tilt. I called a few of the local Milwaukee, Wisconsin- area RV dealers about my concern and I was basically told they don't handle Fleetwood anymore. I would think the manufacturer would not make a difference, because a slide is a slide. How much tilt should there be? Is there an adjustment I can make to reduce the tilt or is the tilt correct?
John Pauley, Milwaukee, Wisconsin
Most slideout rooms are designed so they contact the top edge first when being drawn into the travel position. That's because the top edge is the first line of defense against leaks. As the room comes closed the rest of the way with the top edge in place, the top is really tight. This helps ensure the rest of the seal will come tight as the bottom is drawn in. And it's perfectly normal for the inside edge of the room to kick up a bit as this happens. There are many different slideout room mechanisms, and this is how some of them work.
Incidentally, the dealer who passed on working on your trailer must have been having a really good year and didn't need any more business. Your trailer is out of warranty anyway, and any qualified RV service center should be able to address your concerns about your slideout or any other mechanical problem. I'd suggest you look around for a dealership that takes a somewhat more professional approach to customer service.
– Jeff Johnston
---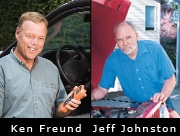 To send your questions to RV Clinic, write to 2575 Vista Del Mar, Ventura, Calif., 93001; or email [email protected].