While attempting to rotate the tires on my 2009 Ford F-350 Lariat I found that three of the four OEM 20-inch aluminum wheels were solidly corroded onto the center steel hub. One broke away rather easily, but the other two took a lot of work to break loose. Before remounting the wheels I spread a coat of chassis grease on the hub with hopes of preventing this from happening again. Time will tell how well this works. Can you offer any better suggestion to prevent corrosion between the aluminum wheels and the steel hub?
— R. Warn | Oak Harbor, WA
This can be a big problem in regions with wet weather and high humidity. As to a solution, anything that creates a film between the two dissimilar metals will work to keep them from sticking. A thin coat of RTV silicone, paint or anti-seize compound should also do the job. – K. F.
– Ken Freund
---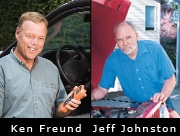 To send your questions to RV Clinic, write to 2575 Vista Del Mar, Ventura, Calif., 93001; or email [email protected].