We recently did some damage to our Cougar fifth-wheel trailer and need to replace a slide fascia. Because of the shape and size, shipping is expensive going through a dealer. We are wondering where the RV units go when they are wrecked. Is there a salvage yard some place in the Midwest we could access easily?
— Joan Black Lund | via e-mail
Insurance companies generally send "totaled" units to regional auctions and salvage yards, because of the high cost of shipping them long distances. Therefore, there should be some RV salvage yards within your region. You can put "RV salvage yards" into an online search engine. Here is a website (www.salvage-yards.org) that lists salvage yards by state. RV.net also has a list of salvage suppliers at www.rv.net/obsolete. Click on "Parts."
– Ken Freund
---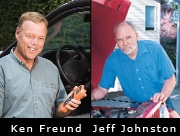 To send your questions to RV Clinic, write to 2575 Vista Del Mar, Ventura, Calif., 93001; or email [email protected].