We have a 2008 21RB Dutchman Class C motorhome by Four Winds featuring a battery cut-off switch and a 55-amp converter charger with an output of 13.6 volts DC. I would like to install an ammeter in the coach, to check the status of my two batteries that are in parallel, for checking the rate of discharge, when operating on battery power alone, and for rate of charge from the charger/converter when on an electrical hookup. Could you tell me what scale on the ammeter I should get, what gauge of wire for about a 4-foot-long run I will need, and where I can find a schematic on how and where to hookup the wires. They have a little information in the full-time RVing book, but not much of anything else. Thanks!
— Bob Loeper | via e-mail
An ammeter will let you monitor current flow in and out of the coach batteries, but it won't show you charge status (state of charge) or actual charging voltage. For that you need an accurate voltmeter, preferably a digital unit. These can be easily installed, and only requires 16-gauge wire.
You could install an ammeter inline (in series) in either the main positive power cable going to the batteries (before it splits to go to each battery) or in the single ground cable that connects both batteries to chassis ground. It's safer to put it entirely in the grounded side of the battery, because if it gets shorted out it won't cause a fire. With a short run such as 4 feet you shouldn't have too much loss in the cables, but remember that the distance both wires (going to and from the meter) run counts. The scale on the ammeter should go higher than maximum charging or power draw, so 60 or 75 amps should do. You must use a wire gauge at least as heavy as the original wire, so it is better to go one size larger (as wire diameter increases, gauge numbers decrease). So if the wire is 6 gauge, using heavier 4 gauge is preferred. Use flexible automotive insulated copper cable and quality connectors, either crimped or preferably soldered.
– Ken Freund
---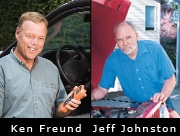 To send your questions to RV Clinic, write to 2575 Vista Del Mar, Ventura, Calif., 93001; or email [email protected].