The rear door on our 2007 Terry travel trailer keeps opening while traveling, even though the door is locked. We have taken it to two dealers and they can't figure out why. They think it's because we put a hitch on the back to carry a 2000-watt Honda generator. With four gallons of gas, the total additional weight is only around 150 pounds on the rear end of the trailer. I've had to jury rig a fix using pieces of PVC pipe and cord to keep the door closed when were traveling.
– Jack Clauson | via email
I can think of two reasons why the door might open on its own: The latch and striker are out of adjustment, or the trailer frame flexes enough that it allows the latch to become disconnected.
We've seen many RVs with a poor door latch setup and alignment. You may have to reposition the striker plate to better align it with the plunger. The striker plate-opening cut in the door frame needs to fully clear the plunger, and any obstructions need to be cut away to allow the plunger to fully engage the striker plate. In addition, the door knob and plunger spring need to operate freely to ensure proper latch engagement.
That 150 pounds of generator and its support that you've added out back may not seem like much, but amplified by the leverage effect way out back behind the trailer's axles, it might possibly be enough to cause the frame and body to flex just enough on rough roads, and if the door latch adjustment is marginal, the flex could be causing the door to pop open.
Have you tried towing the trailer without the generator and its support platform? That could pin down the cause. If the weight is causing frame and body flex, you may need to move the generator to a different location to avoid long-term damage to your trailer.
– Jeff Johnston
---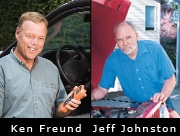 To send your questions to RV Clinic, write to 2575 Vista Del Mar, Ventura, Calif., 93001; or email [email protected]. Also, check out TrailerLife.TV for our expert RV how-to videos.