Why do my lights on my travel trailer go so dim? The more lights I have on the dimmer it gets. But if I have it plugged in they are all really bright. I have a five 12-volt battery bank and three solar panels, so the batteries are always charged up. I just can't figure it out, please help.
– Mike Logan | Phoenix, Arizona
The key here is that the lights brighten when the trailer is plugged in and getting shore power through the converter. This indicates that the batteries are either not getting recharged properly, or are not able to hold a strong charge anymore. When you have them wired in parallel (which is the only way you can wire 12-volt batteries) even one weak cell in one battery will draw down all the batteries. Have the batteries individually charged with multi-stage battery charger and then have each one load tested. Many RV service centers can do this for you.
– Ken Freund
---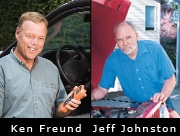 To send your questions to RV Clinic, write to 2575 Vista Del Mar, Ventura, Calif., 93001; or email [email protected]. Also, check out TrailerLife.TV for our expert RV how-to videos.