When towing my 2005 Flagstaff 8528 RLSS fifth-wheel trailer, I get an awful lot of bounce in the rear end. Any information you can give me to correct this problem would be greatly appreciated.
– Chuck Bonner | via email
The tail end of your fifth-wheel may be displaying a bit of bounce due to the leverage and springboard effect of the hitch on the truck acting as a pivot point and the trailer's body moving up and down on the axles too much. This may be reduced with the installation of a set of high-quality shock absorbers on the trailer's axles. For example, Monroe makes shock absorber kits for various frame and axle setups. A more severe fix would be to install an aftermarket trailer suspension such as one of the products from MOR/ryde. The MOR/ryde solution is more costly but it can help smooth out the wallowing in your rig's rear end.
– Jeff Johnston
---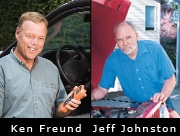 To send your questions to RV Clinic, write to 2575 Vista Del Mar, Ventura, Calif., 93001; or email [email protected]. Also, check out TrailerLife.TV for our expert RV how-to videos.