The Weekend Warrior 28W and Ram 2500 Tradesman team up to move a garageful of off-road toys
Talk about a gateway drug. One hour on a little trail bike at 15 years old put the hook in me for a lifetime of dirty adventures. Starting with an unassuming 90cc scrambler, the passion soon turned into a 250, a motocross racer, and then, well, you know how it goes. And so today, the obsession has expanded to multiple bikes, piles of gear, friends and family — and the need to carry it all. The final straw this spring was the addition of a Polaris RZR XP Turbo side-by-side, on loan for a week.

Carrying four motorcycles, an off-road vehicle and a week's worth of gear, fuel and supplies is no easy task for an ordinary pickup and trailer, especially when the destination is miles removed from anywhere and the conditions can range from Dust Bowl-quality grit, rain or snow to wind, wind, wind. We needed a big space, a condominium's worth of storage and almighty torque to pull it all up a nearly mile-high mountain grade.
Fortunately, Weekend Warrior, the toy hauler credited with starting the fad for trailers that could pack motorized equipment, is back in production, and the 28W model — a 33-footer costing $39,999 and offering a main storage area measuring over 11 feet by 8 feet — is plenty big to fit the Polaris two-seater plus a couple of bikes. With food and cookware stashed in the cabinets, the generous combined fridge/freezer stocked with volatile teen beverages that should have "Warning: Nitro!" and "Not Mom Approved!" emblazoned on the cans, and our riding-gear bags, well, riding in the master bedroom, the trailer promised the perfect solution. But weighing 7,950 pounds empty and closer to 12,000 pounds full of water, gasoline for the onboard fuel station and generator, and our toys and gear, the 28W would take some muscle to move.


This was satisfied by the Ram 2500 Tradesman, a no-nonsense 6.4-liter Hemi Crew Cab 4×4 rated at 12,650 pounds towing capacity and priced at $43,435, as equipped. Although an 8-foot bed is ideal for motorcycles, we found that with creative loading techniques (one bike frontward and one bike backward, with both angled sideways), the 6-foot 4-inch standard bed in the Tradesman would fit two dirt bikes with the tailgate closed — barely. The Ram's coated bed is a great addition to any pickup. It not only offers a nonskid surface, but the inevitable scuffs that come from use just aren't visible.

Fully packed, we took our first tentative steps — or rather miles — along the Los Angeles freeway corridor. The Ram's pulling power is impressive, even with nearly 500 pounds riding in the bed and another 6 tons behind. The six-speed automatic transmission shifts smartly to keep the engine in its power band, while a tow/haul feature reduces gear hunting on grades. An adjustable electronic trailer-brake controller, integrated into the instrument panel, allows manually activating additional braking as needed. An electronic sway controller on the trailer, made by Tuson, helps deal with crosswinds, turns and road irregularities that can introduce yaw (sway) at highway speeds, while a weight-distributing hitch keeps the combo on a level plane.

There is an old highway grade north of L.A. called the Grapevine for good reason: the road winds like a grapevine as it climbs to Tejon Pass. Most of that road has been replaced by the significantly straighter Interstate 5, which still ascends from 1,000 feet all the way up to 4,160 feet at the summit, and the relentlessly long incline and 100-degree temperatures during summer pose a challenge to tow vehicles. The Tradesman digs into the task, downshifting to third gear and climbing toward the Hemi's 4,000-rpm torque peak. While the instant mpg readout plummets during this most challenging part of our trip, the truck averages more than 9 mpg for the duration, in keeping with other tow vehicles doing similar workloads.

In two hours, we arrive at Gorman's Hungry Valley OHV park, a 19,000-acre state recreation area for off-pavement  activities. Aside from a few latrines, there are no services here, so everything you need you have to bring in.

We arrive at sunset and shift into 4×4, as we pull off the main road and onto the sandy campground-access trail, and finally park adjacent to our buddies. Fortunately for them, the trailer's wide profile blocks a stiff north wind.

With two latches unlocked and released, the 8-foot-wide tailgate swings down to reveal the suite of off-road toys. The exterior lighting switches on from an inside panel, with three LED arrays on the right side and three more above the rear door, throwing a bright swath of light as darkness descends and we unload two bikes and the Polaris. They roll sweetly down the inclined tailgate onto the California dirt. The last bit of exterior work is to manually lower four corner jacks to stabilize the trailer.

With the wind bringing a nighttime chill into camp, we quickly lift the spring-assisted trailer tailgate — it's a reasonable one-person job, but two makes it easier — secure the latches and then move inside to prepare for the night. Out comes the carpeting, which we had rolled up and stored in the bedroom. It's a big fitted piece with trimmed holes for the twin tables. The tables' stanchions screw into the floor, and the tabletops, which we had also stored in the bedroom, snap on in seconds, readying the room. One thing we left at home was the 28W's pair of freestanding easy chairs, choosing instead to fill the floor space with vehicles. While we gave up seating for two, this was easily resolved by using the three fold-down couches mounted on the toy hauler's walls.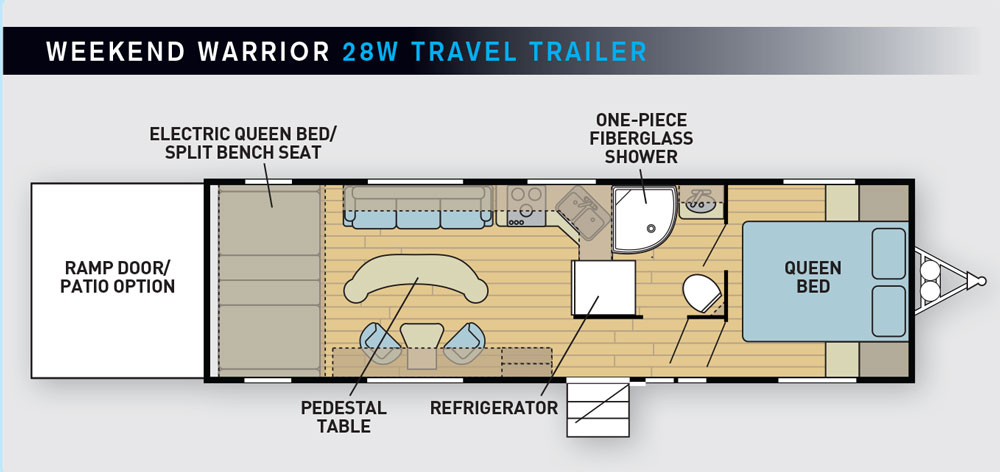 Aside from fixing dinner, all that remained for the evening jobs was to prepare the beds. Among more than a dozen switches on the nicely self-explanatory main panel is a simple toggle for moving the bed up and down. Stacked together at the rear of the ceiling, twin convertible couches and the big upper bed descend via a motorized, chain-driven mechanism, automatically stopping in the correct position. Flipping various seatbacks down gives the Weekend Warrior an eight-person sleeping capacity, more than enough for us.

The transition from storage room to living and bedroom areas requires a few minutes at most and takes the work out of getting the trailer shipshape and leaving more time for fun. With the wind now howling outside, we scanned through the signal-seeking Furrion audio system and miraculously found an all-1980s music station. Didn't even know such a thing existed! However awkward much of the '80s were stylistically, some of the music is actually holding up really well. Go, Eddie Money! The sound system can pipe the tunes outside as well, so along with mood lighting (and hot and cold shower hookups), you can take your party outside or inside, depending on the environment. On this night, we stayed put inside.


High points for the Weekend Warrior include intuitive design for all switches and gauges, a robust heating and air-conditioning system, a 32-inch flat-screen TV with a DVD player, electric starting for the generator, a convenient onboard fuel station, a quick-working water heater, a powered awning and — not that dirt bikers would care — a large bathroom complete with a walk-in shower and designer sink and vanity. Capacities include 140 gallons of freshwater, 50 gallons each of black and gray water, twin 5-gallon LP-gas cylinders, 40 gallons of fuel-station gasoline, and 18 gallons of generator gasoline. Plenty for a week, with careful use.

And so began a comfortable week of dirt-biking and four-wheeling along Hungry Valley's 130 miles of trails. We fell into a routine easily enough: up early, snap on the three-burner gas stove to boil water for coffee, switch off the heater, fire up the generator to top up the batteries, and hop outside to gas up the bikes and lube chains, while checking in with friends. Deploying the awning takes just moments to shade the morning sun.

Our shortest-range bike goes about 40 miles, maximum, on a tank of gas, and since that's a couple of hours of hard riding, we'd typically return before noontime to relax and refuel ourselves, the bikes and the Polaris. The Polaris offered a totally different take on off-road exploration than the bikes. It's wider, naturally, so it can't go on the single tracks that the bikes can. But it's fast as all get-out and handles the rolling sand washes with aplomb. On the other hand, its four fat tires kick up huge amounts of dust, making riding behind it a blinding experience. Finally, we let the motorcycles go ahead of the side-by-side, giving them the clear air.

Even years ago, my favorite time of the day on dirt-bike trips was after the last ride, when everyone has had their fill, the sun drops and that sweet late-afternoon light appears. There are always stories to tell: who dug themselves into a sand wash, who climbed which hill and who learned or accomplished something for the first time. Fold out a lawn chair, grab something cold from the fridge, collapse into the shade and kick off the boots, and suddenly the experience transcends from all right to truly great. Of course, such trips with family and friends can take any form you like. I happen to like off-road adventure, but whether it's fishing or hiking, mountain biking or photographing wildflowers, day's end always seems to include shared experiences and friendship.

Over the years I've roughed it plenty of times for the sake of such adventure, from a tube tent in Washington to no tent in the Mojave, sleeping half-frozen in the Utah snow and on the beach in Baja, and plenty more. While I'll admit suffering can be an adventure in itself, comfort does have its virtues. And on this trip, with all the storage for our dirt toys, all the pulling power, all the creature comforts and all the companionship that the Weekend Warrior and Ram 2500 Tradesman provided, I've decided this is a formula I can handle.

It's not cheating at all. It's just a bigger, better gateway.
Weekend Warrior
844-284-6678
www.weekendwarriortoyhauler.com
Ram Trucks
866-726-4636
www.ramtrucks.com
---
John L. Stein served as a charter editor of Automobile magazine and road-test editor of Cycle, the world's largest motorcycle magazine. His expertise stems from decades of automotive, motorcycle, truck, trailer and marine product testing. Competing at Daytona and Sebring sharpened his analytical skills — as did racing a kangaroo through Australia's outback on a motorcycle.
---