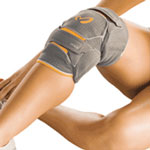 Let's face it: We can't quite compete with our younger selves – at least not physically. Our reflexes are a touch slower, our muscles a little weaker and the time it takes us to recover from soreness or injury is longer. Enter the Moji Back and Moji Knee. Billed as "the smart icing alternative," these two products allow us to be more active more often by offering "cold therapy" in a comfortable, efficient manner.
No longer do we have to attempt to salve our aches and pains by dropping ice cubes into baggies and reaching our hard-to-reach muscles. Now with Moji Back, you only have to remove the Cold Cell from the freezer, press it against the comfortable Compression Wrap, then pull one side of the Compression Wrap over the other. The benefits of the cold therapy begin immediately. And for active folks who may need the Cold Cell later, when they are away from a freezer, the company makes Moji To Go, a thermally insulated stainless-steel canister that keeps the Cold Cell cold for a few hours.
For more information, go to www.gomoji.com.