Larry Singleton has an unusual job finding local and regional artifacts for new Cracker Barrel locations
Larry Singleton has spent the past 30-plus years traveling back in time, from the 1800s up through the 1940s, '50s, sometimes dipping into the '60s. It's been a full-time job, literally. And there's a strong chance you've seen the results of his labor and just didn't know it.
Singleton is the man who turns those Cracker Barrel Old Country Stores just off the interstate into mini-museums of America's "good old days." If you've ever been inside one and looked on the walls or up at the ceiling, you've likely seen wagon wheels, sleds, antique pots and pans, farm tools, old-time portraits, tin signs for companies like Texaco and RC Cola, and much more. He visits antique stores, flea markets, garage sales, warehouses and other unique spots across the country to search for the numerous pieces of memorabilia that fill each store and restaurant. When you consider Cracker Barrel operates 624 locations in 42 states and every store has more than 1,000 items inside with no copies or duplicates, the numbers seem staggering. And all were handpicked by either Singleton or his parents. "Yeah," notes Singleton with a laugh, "somehow, some way, we're responsible for every piece that's ever come through or into a Cracker Barrel."

Now 55 years old, he was still a kid when founder Dan Evins built the first store off Highway 109 (near Interstate 40) in Lebanon, Tenn. The year was 1969 and Evins wanted to create a place where families could feel comfortable stopping while traveling. "He just wanted to create the feel of an old country store," Singleton recalls. "He was a Shell Oil distributor so they sold gas to the little country stores around this part of the country. He was familiar with them and thought the feel and comfort and the way those stores were, would be a great place to put out on the interstate."
Singleton's parents, Kathleen and Don, owned a local antique shop and Evins asked if they'd help decorate that first store. One store led to another, then another, and soon Singleton's parents took to the road shopping for antiques – sometimes leaving for weeks at a time. Singleton joined them when the trips didn't interfere with school, learning the antique business along the way. He became more involved later when his mother became ill, eventually taking the family business over altogether. "They did probably the first 33, 34 stores," he remembers. "They taught me everything."
Since then, for the past three-and-a-half decades, Singleton has been on a never-ending search for pieces of America's past, looking for everything from hammers, hatchets, small pieces of furniture, lanterns, dishes, cleaning products, biscuit tins, food canisters and more –— the kinds of things you'd find in those old country stores. "The good thing about country stores, they sold everything, whatever you needed in America to sustain your daily life on the farm or just life, from food to farming tools to whatever you needed."
And he's canvassed the country to do it. "We've gone out to Arizona over the years, we've bought stuff from California, we buy a lot of stuff out of Maine, South Carolina, 
a lot of stuff from Texas, we've bought stuff from everywhere."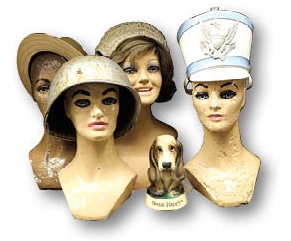 Items that aren't snapped up for new stores right away find a temporary home in a massive warehouse in Lebanon for use later. Singleton, a tall man with brownish hair, glasses, a gray speckled beard and a warm smile, is clearly very much at home there. While it's not open for public showings, he's happy to take special visitors on a tour pointing out some of the nearly 100,000 items on shelf after shelf after shelf. There are all types of wooden contraptions, one used to hang and dry clothes, another used to stretch pants. You see food items in colorful cans and containers, cigar boxes and tins (remember Prince Albert in a can?), and practical homemade items used to supply many of the simple luxuries we now take for granted. "Stuff that was used for everything," notes Singleton as he picks up a big, flat stone. "They warmed those up and put them in the buggy to keep their feet warm. Those early cars didn't have heat."
Brightly colored soda pop signs dot the warehouse walls. Many are from a long list of companies that no longer exist, while others have slogans from yesteryear like Pepsi's "More bounce to the ounce," and Mountain Dew's promise to " tickle your innards."
There are medicinal remedies like a product called Pepgen Tonic made by the American Drug Company in Ohio, that touted multiple uses as an appetizer, invigorant and even mild laxative. "I bought these years ago," explains Singleton holding one of the boxes. "They're out of Dayton, Ohio so they've got a plane (on the front) for the Wright Brothers." And then, pointing to the listing of a certain special ingredient, he adds, "That's what really cured you, 12 percent alcohol." He laughs as he puts it back with the others.

Singleton has developed relationships with antique dealers around the country who help him expand his search for antiques. Dan Cross with Cross Spruce Antiques in Milford, Maine, buys estates and in addition to running his own shop, watches out for items Singleton might need. "You have to have a good eye for what you're looking for, like Larry looks for certain things for the Cracker Barrel design," says Cross. "You know scrub boards, old tools, instant relatives …." (They use the term "instant relatives" to refer to photos featuring real people.)
Cross adds that he also pays close attention to where items originated. Singleton makes a point, when possible, to return items from a specific location back to where they came from if Cracker Barrel opens a restaurant in that city or state. "Larry's always looking for certain things that are unique to the local area. A lot of times we find stuff here in Maine that's maybe unique to somewhere like Kentucky or Tennessee or elsewhere. Stuff travels back and forth."
For antiquers – those in the antique business – much of the joy comes from the thrill of the hunt and the discovery of that rare, special or unusual find. "I always love finding things I don't know what they were used for," says Singleton. "Years ago this guy brought these, they looked like wooden paddles, but they had a hinge on them, a little hole inside and a little pin." He says the paddles sat in his office for a long time because he had no idea what they were used for until one day he stumbled across an old catalog. "We looked through it and there it was – it was called a slapstick. And that's what they used to make the gun sound when they were doing Vaudeville. They'd put a blank in there (between the paddles) and close it … and that's where slapstick comedy comes from."
Through the years, Singleton says he's learned quite a bit about history and developed a deep appreciation for the creative and inventive spirit of early Americans. "They were skilled people, they worked with their hands. They made things to last a lifetime, things that you could use and if it broke, you could fix it. I love blacksmith tools and anything blacksmiths made because you know that guy was going through the process to hammer out and design it. What talent there was, I'm just amazed at what they could do."
Thanks to his love of that history, Singleton has ended up becoming a vehicle to preserve it. When he started the job more than 30 years ago, he did it to continue something his parents started and his mother, especially, dearly loved. Now, it's turned into a legacy of his own, and he takes great pride in catching someone like a father and son, or grandfather and grandchild, share a little bit of what made America great. "You're walking down and he's pointing to this and saying 'This is what we had when we were young and this is what it did,' and you can see him wanting to share a little bit of his life with his son or his grandson. I love seeing people share that."
And for Singleton, he plans to keep on making that possible – one store at a time.