Portable and hardwired products designed to prevent damage to electrical components in RVs
Most of our favorite RV parks have one thing in common: great location. They were built in the remote corners of our continent, far from urban centers. For the rare older RV park that hasn't been upgraded or where regular maintenance is somewhat deferred, electrical anomalies can occur. Add to this the wear and tear from storms, maintenance work in the park and the sometimes quirky nature of the power grid in remote areas, and you have a recipe for some serious voltage and shock problems.
Damage to your RV is possible from power surges and over-voltage and under-voltage conditions. Other electrical issues, such as a hot-skin condition, where electrical current is flowing through the body and chassis, can pose some real dangers to you and anyone touching your RV. These conditions are why a dedicated segment of the RV aftermarket has devoted its energies to protecting RV owners from a variety of power-supply problems, with both portable and hardwired surge protectors and electrical management systems.
The problems that cause these conditions are numerous and include "damaged wiring, damaged receptacles, miswired systems, insufficient grid capacity or plugging into [240 volts AC]," according to Bobby Raatz, national sales manager for Southwire Company. Southwire owns Technology Research Corporation, a manufacturer of electrical safety products.
Joe Casale of Progressive Industries, manufacturer of surge protectors, electrical adapters and connectors for the RV market, adds that problems are also posed by "some simple electrical conditions including open ground, open neutral and reverse polarity."
These dangers are why Southwire, Progressive Industries and similar companies make products designed to handle a lot more than just power surges. The products come in two basic configurations, portable and hardwired, with functions ranging from simple surge protection to sophisticated analysis and power cutoff for a wide variety of conditions. Some even make the process seamless with automatic reset on power restoration.
Portable units plug in at the pedestal or power source and usually provide warnings about anomalies even before you plug your RV into the protective device. Portables have the advantage of not needing installation and can be used, or not, as you see fit. On the downside, they can be awkward to deploy and store. Portables are exposed to the elements and therefore may be targeted for theft, so buyers should take these factors into account.
Hardwired units are mounted permanently onboard your RV and are in operation each time you plug in. They are protected from weather and theft, but they are not as easy to service or replace. Some hardwired protectors include a digital display that can be wall-mounted inside your RV for easy monitoring.
Power-protection devices are not designed to be used in conjunction with other protection devices including power-cord adapters. Most are offered in 30- or 50-amp models, so get the amperage level appropriate for your RV.
Watch for features that address various electrical problems, including over or under voltage, open ground, open neutral, reverse polarity and accidental connection to a 240-volt AC power source. Also, note the distinction between "detection" and "protection." A device may be able to detect a power problem but not the capacity to protect (interrupt the power) while the problem exists. For devices that do interrupt power, note that some require manual input to resume, while others automatically resume connection when the power problem is resolved.
For portable devices, look for features that make them easier to operate (automatic reset and easy-pull handles) and provide protection from weather (seals, guards or covers) and theft (locking brackets and available accessories).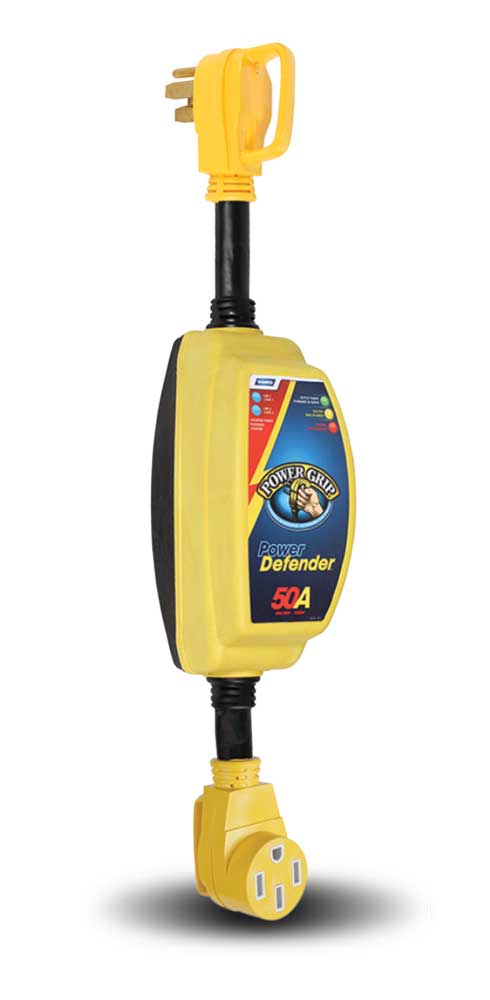 All units that are designed to act as surge protectors will have a joule rating. A joule is a unit of energy, and for simplicity purposes, the higher the joule rating, the more energy the unit can absorb from a surge event. It is usually higher for 50-amp devices, because there are more conductors in the incoming cable, and the conductors are larger, allowing for higher spikes.
Camco
Camco's PowerGrip Power Defender Voltage Protector ($299/30-amp; $399/50-amp) helps protect RVs from damaging low- or high-voltage levels, power spikes and surges. The voltage protector monitors incoming power and automatically disconnects when dangerous voltage levels are detected. It automatically reconnects when levels stabilize between 102 and 132 volts AC.
A reconnect delay protects sensitive equipment from rapidly cycling power. The water-resistant unit incorporates diagnostic lights for visual indication of faults for reverse polarity, open neutral and other power-pedestal wiring issues.
The Power Defender Voltage Analyzer ($69/30-amp) features diagnostic lights to indicate wiring faults before the 30-amp electrical cord is connected. The compact, weather-resistant voltage analyzer also includes integrated surge protection.
The PowerGrip Dogbone Circuit Analyzer ($104.99/30-amp; $139.99/50-amp) is designed to protect electrical equipment from improperly wired electrical boxes and features diagnostic lights to indicate faults. The weather-resistant device provides surge protection up to 2,100 joules for the 30-amp version and up to 4,200 joules for the 50-amp model. The PowerGrip handle makes plugging and unplugging safer and easier.


Camco Manufacturing
800-334-2004
www.camco.net
Progressive Industries
Progressive Industries' EMS-LCHW30 ($258/30-amp) and EMS-LCHW50 ($349/50-amp) hardwired electrical management systems indicate mis­- wired pedestals and provide RV surge and electrical protection against adverse power conditions. Functions include detection and protection for over and under voltage, open ground, open neutral, reverse polarity and accidental 240-volt AC protection. The units feature an adjustable time delay, a continuously scrolling digital display and thermal protection.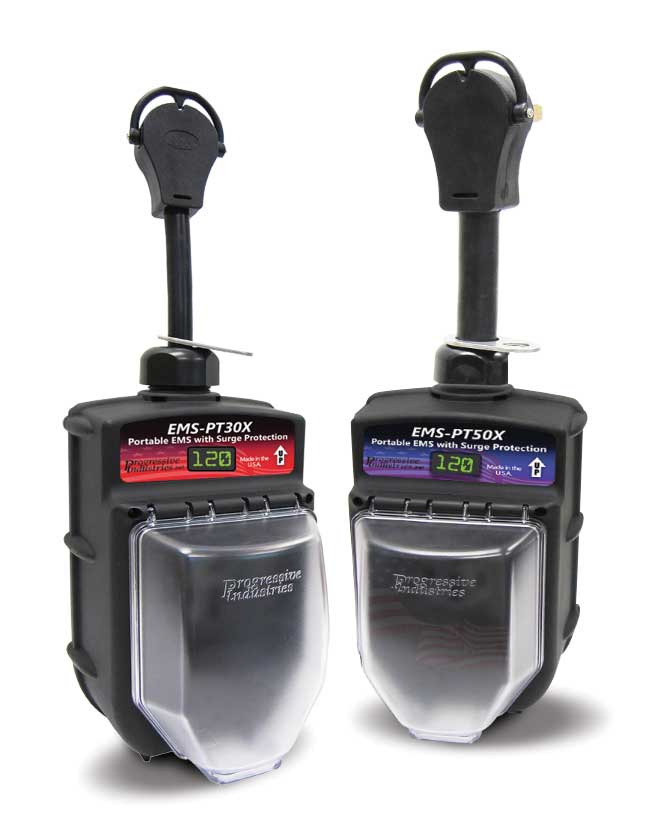 The EMS-HW30C ($299/30-amp) and EMS-HW50C ($410/50-amp) hardwired units provide the same functions as the EMS-LCHW30 and EMS-LCHW50 but also come with a remote digital display. All of the hardwired units have a lifetime warranty, are field-serviceable, and are UL Listed to U.S. and Canadian safety standards.
The EMS-PT30X ($326/30-amp) and EMS-PT50X ($453/50-amp) portable systems are designed for outdoor use and offer the same detection and protection benefits as the hardwired units. They feature an amperage meter display and come with tough Lexan housing, All Weather Shield Assembly and a security locking bracket. The lifetime warranty covers everything but the All Weather Shield Assembly. Like the hardwired models, the portable EMS units have surge suppression up to 1,790 joules for 30-amp units and up to 3,580 joules for 50-amp units.
The compact, portable SSP-30XL ($116.65/30-amp) and SSP-50XL ($151.85/50-amp) provide surge and thermal protection and detection for miswired pedestals, over and under voltage, open ground, open neutral and reverse polarity. Designed for outdoor use and equipped with rugged pull handles and bright three-color LED indicators, these units have a lifetime warranty and are UL Listed to U.S. and Canadian safety standards. Total joules rating is 825 for the SSP-30XL and 1,650 for the SSP-50XL.
Progressive Industries, Division of Power Products
919-267-6948 | www.progressiveindustries.net
Technology Research Corporation

TRC's Surge Guard 34830 ($219.97/30-amp) and Surge Guard 34850 ($299.97/50-amp) portable surge protectors provide full electrical protection with easy-to-read LCD displays that show textual information that does not require code interpretation. Real-time voltage and amp draw are continuously displayed on the screen. Power is automatically disconnected when any of the following conditions are present: under or over voltage, open ground, open neutral, reverse polarity and overheating in the plug. Continuous monitoring allows the Surge Guard units to automatically reconnect when acceptable power resumes. LED lights indicate if the device's surge protection has been activated due to a large surge or multiple small surges. The 34830 provides 2,450 joules of surge protection, and the 34850 provides 3,850 joules.
Technology Research Corporation
Division of Southwire Company
800-780-4324
---
Larry Walton is a longtime outdoor and automotive writer-photographer providing content for enthusiast magazines and product communications. A lifelong RVer, he currently lives in southern Idaho with his wife, Robin. These days the Waltons can often be found camping in the Sawtooth Mountains and exploring desert landscapes and local mining roads with their Polaris RZR side-by-side.
---