The Banks Derringer tuner is a small but potent way to add horsepower and torque to 6.7-liter Power Strokes.
Truck owners who tow trailers often appreciate the power boost offered by aftermarket tuners. Few other modifications offer comparable power-per-dollar gains. The potential trade-off is that aftermarket tuners can stress power-train components. In late-model trucks, this can create warranty headaches.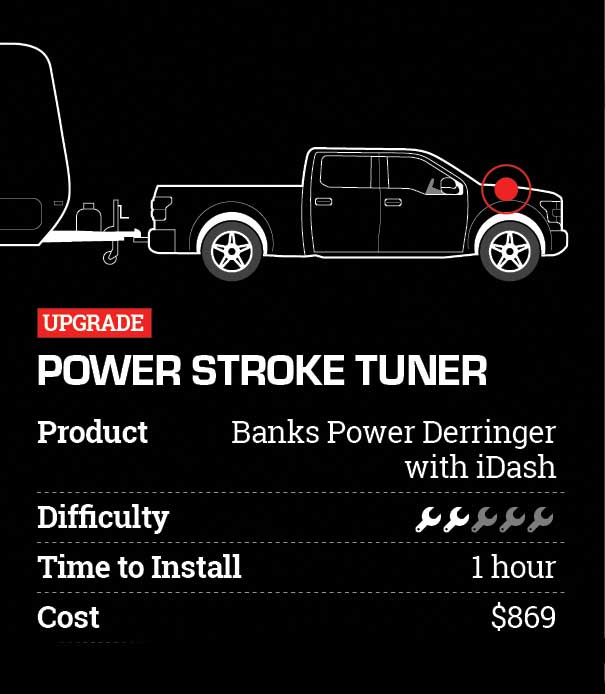 Banks Power, one of the most-enduring names in diesel performance, recently released its compact Derringer under-hood tuner for 2017 to 2019 Ford Super Duty trucks equipped with the 6.7-liter Power Stroke turbo-diesel engine. Banks' approach is to create the maximum possible safe power via a nonpermanent system that doesn't reflash the
ECU or otherwise leave a warranty-voiding footprint. The company accomplishes this by optimizing signals for both fuel-rail pressure (FRP) and manifold absolute pressure (MAP). Further, the Derringer interfaces with the vehicle's OBDII port and is able to offer on-the-fly adaptive tuning based on ECU data.
Real-world benefits include the ability to adjust for conditions such as high altitude, detonation from bad fuel and torque-converter slippage, thanks to the incoming OEM data. Also, air-fuel ratio is monitored, and the Derringer is programmed to retain the OEM mix, switching to a leaner ratio under low-load/cruise conditions to maximize fuel economy. When the Derringer is upgraded with the optional Banks iDash DataMonster digital monitor, more than 100 power-train parameters can be monitored and logged to the provided SD card.
Concerning power gains, Banks Power's dyno data showed an increase of 44 horsepower
and 79 lb-ft with the basic three-level Derringer tuner system. Upgrading to the optional iDash unit adds three more power levels, raising the gain to 59 horsepower (443 maximum) and 106 lb-ft (892 maximum).
Safety Factors
Late-model diesel truck owners have substantial investments in their vehicles and often hesitate to do any modifications that could compromise durability. Banks Power addresses this with a three-part approach.
First, a feature the company calls AutoRate uses OBDII data. Perhaps most critical here is exhaust gas temperature (EGT). The Derringer is programmed to follow the factory safeguard of 1,450 degrees Fahrenheit and automatically go into bypass/back-to-OE calibration should the EGT reach 1,500 degrees. Coolant temperature is also monitored so no additional Derringer power is added below 120 degrees (during warm-up), while power gains default to the OE calibration at 240 degrees.
Other AutoRate features include altitude compensation: the Derringer increases boost as ambient air pressure decreases. The system also monitors diesel particulate filter (DPF) regen cycles and accelerator position to further optimize tuning.
TransCommand is Banks' oversight safeguard to prolong gearbox life. The Derringer monitors transmission-gear and torque-converter performance to optimize shift speeds and modulate slip within safe levels.
Finally, ActiveSafety is the fail-safe feature that works in conjunction with the AutoRate and TransCommand features. The company says that power-train parameters and Derringer self-diagnostics are monitored more than 50 times per second. If faults occur or the Derringer loses power for any reason, the system bypasses itself and returns the vehicle to factory calibrations.
DIY Plug-and-Play
One of the Derringer's other primary benefits is that it can be installed by Power Stroke owners who have basic hands-on aptitude. The base Derringer kit has a three-level power switch and plugs in at three locations: to the MAP and FRP sensors under the hood and the OBDII port under the dashboard.
Routing and securing the Derringer harnesses are the most time-consuming parts of the job, which can still be accomplished by most people in an hour or less. Adding the iDash digital monitor increases installation time slightly. Additional harnesses are routed to the iDash unit, which can then be mounted per preference to an available windshield suction cup (used here), an optional A-pillar pod or on the dash.
Following the installation, we did a test run through a twisty canyon towing a 22-foot, 5,320-pound travel trailer. With the Banks Derringer set on Level 6, the trailer was barely perceptible. EGT remained consistent throughout, indicating that fueling and power were added only when needed.
Next-stage 6.7-liter Power Stroke upgrades from Banks that are not shown here include a Monster Exhaust kit. Testing was being finalized at press time, but preliminary data shows about a 2-psi reduction in post-DPF back-pressure. This improves exhaust scavenging. The main benefit is less load on the turbocharger, allowing it to produce more boost using less energy.
The Derringer kit includes the compact tuner unit, wiring harnesses, a supply of cable ties and installation instructions. Upgrading to the iDash DataMonster adds the digital monitor and wiring harness. The optional iDash suction-cup mount was also used for this installation. Price is $499 for the Banks Power Derringer with an included three-level switch, and $869 for the upgraded kit with the iDash DataMonster.
Signature Tunes
Banks Power's new Derringer tuner for 2017 to 2019 6.7-liter Ford Power Strokes was in the CARB emissions-compliance certification process at press time. Older Derringer applications have undergone testing and are legal in 50 states.
Like the Power Stroke application, they offer three standard power levels, AutoRate on-the-fly tuning, TransCommand gearbox safeguards, ActiveSafety self-diagnostics and automatic bypass mode, and the optional iDash DataMonster, which adds three power levels and monitoring of more than 100 power-train parameters.
• 2017 to 2019 GM 6.6-liter Duramax L5P
Manufacturer-tested gains of up to 61 horse-power and 112 lb-ft of torque
• 2014 to 2018 Chrysler 3.0-liter EcoDiesel (Ram, Jeep Cherokee)
Gains of up to 40 horsepower and 63 lb-ft
• 2011 to 2015 Ford 3.5-liter EcoBoost
Gains of up to 90 horsepower and 138 lb-ft
---
Banks recently announced that the Derringer now supports all 2011-2019 6.7-liter Ford Power Strokes. Additional Derringer systems are in development for popular applications.
---