Q: I have put two 6-volt golf cart batteries in my trailer and that has made a big difference in making everything work better. The other thing that seemed to help was to solder all the crimp connections in the system regarding my solar panel.
We have a 26-foot travel trailer. When the trailer is plugged into my truck, or on the generator or household current, I get 120 volts and my 12-volt lights and everything works inside the trailer. When the household current, generator and truck are disconnected I have no 12-volt lights inside the trailer even though my batteries for the trailer are 13.4 volts. I have 12 volts going into the trailer underneath, coming from the battery. All fuses are good and all breakers are fine. Is it possible that the inverter is not working? The trailer is a 2011 Forest River Flagstaff model 26RLS. If so, how can I tell if the inverter is not good, or do you have any other suggestions?
Robert Maresco, via email
A: The information I have for this trailer indicates it is equipped with a converter (which converts 120 volts AC to 12 volts DC) and not an inverter (which changes 12 volts DC to 120 volts AC, and may, depending on the model, also act as a converter). Therefore, when you are not on generator or plugged into shorepower, you should not have 120 volts AC anywhere in the trailer. When 120 volts AC are going to the converter, assuming it works, this could supply power for the 12-volt DC lights, etc., as you report, and a 12-volt DC charging line from the truck may also be feeding them. So, that leaves finding a 12-volt DC open circuit. I would use a 12-volt DC test light and test at the fuse box (remove fuses, look for power on one side). Since all power is out, I think that you'll find the problem between the batteries and the fuse panel.
– Ken Freund
---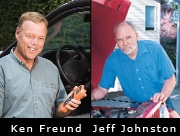 To send your questions to RV Clinic, write to 2575 Vista Del Mar, Ventura, Calif., 93001; or email [email protected]. Also, check out TrailerLife.TV for our expert RV how-to videos.