Purple Line's Opus folding trailer packs in the amenities and is at home anywhere you roam
When we decided to deviate from the norm and review a pop-up trailer, John Cleese's immortal catchphrase, "And now for something completely different," from the Monty Python series came to mind. The high-end canvas Opus, with a 7-foot 6-inch ceiling height, offers many of the amenities of a hard-walled RV in one that can be towed with pretty much any properly equipped four-wheeled vehicle and go anywhere your vehicle can tow it. And a major advantage of a pop-up is that you don't need to pay for RV storage, as it can take up residence in the corner of a garage.
The Opus is different from the average pop-up, and the British-Australian developer brought the unique Conestoga-wagon-styled trailer to the United States about a year and a half ago. To that end, it's built to endure inclement and soggy weather and is designed to go off-road with its steel chassis supporting an aluminum frame. To top it off — literally — a universal rack for kayaks and bicycles graces the "roof." It's ruggedly constructed, like a Conestoga wagon, complete with canvas stretched over arched hoops. Since rounding up a draft-horse team was unlikely, we used a small SUV to tow it to our primitive testing grounds. The Opus has electric brakes so it can be handled safely by smaller tow vehicles.

It takes some work to get there, but once the Opus is set up, it's pleasingly spacious inside with a cheerful atmosphere. Zippered-flap skylights shed plenty of light and bring in the stars at night, and a contemporary cream-colored leatherette sofa with red piping provides a comfy place to lounge. My first time out, it took about 45 minutes to set up by myself and an hour to take it down. The folks at the factory will show you how it's done, and once you get familiar with the procedure, the claim is that you'll be able to do it in 20 minutes. And I'd say that's doable once you get the hang of it.
In a nutshell, the divided top opens to the left and right, creating individual "bedrooms" at each end — sort of tents within a tent — so each team of two has private sleeping accommodations. To lower the nonelectric stabilizing jacks at each corner and set up the support legs for the beds, I had to kneel down on the ground. Later it occurred to me that the supplied fold-up step for getting in and out of the Opus would have worked as a nice seat rather than crouching. A locking storage box that offers access from both sides is included which, among other things, we housed a cordless drill and socket with extension to lower the jacks. To raise the roof, so to speak, the arched support poles are extended to exert tension on the tent fabric and the pressure clamps are set. From there, you build up by stacking the cabinets with the sink and faucet and range on top of the base cabinets. I slid in the shelves, pushed in the sofa cushions that stay put with hook-and-loop material, set up the table and was ready to relax camp side.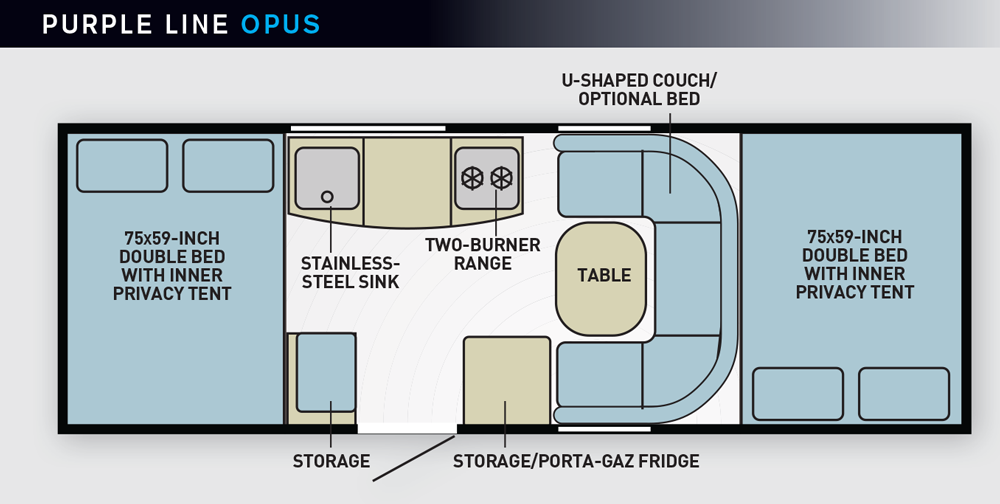 Except that was about the time my overnight guests conveniently showed up. No worries; preparing a simple snack (and meals later) was easy with prep space on the dining table and a sturdy countertop between the sink and range. Several open shelves make for a straightforward view of their contents and easy access to them. There are storage shelves at the floor level, a cutlery drawer and a 700-watt microwave.

The Italian-made SMEV two-burner cooktop heated food quickly and is obviously high-end. This particular cooktop uses JetFlow technology, which is claimed to use 33 percent less LP-gas and reach higher temperatures. It took less than a minute to hook it up to LP-gas and attach the clip to the cabinet that keeps it in place. Even better was that, when we wiped the burners down after use, it cleaned up in a snap.

Glass tops cover the cooktop and the Dometic sink that's fitted with a fold-down faucet. Standard is a city-water hookup, water hose and pressure regulator for sites offering water. Optional are water carriers that can be strapped to the front of the Opus for dry camping; a 12-volt DC water pump is standard for drawing water from a water carrier.
At the floor level is a 4,000-Btu Cadet Perfectoe electric heater to keep feet toasty in the winter. The heater draws 1,000 watts of current so users should be aware of that drain when powering up more than one high-wattage accessory at a time. Three LED toekick lights have two settings: a blue one for subtle lighting and a brighter setting. Ceiling lights that attach to the support poles are optional.

Included is a Porta-Gaz 37-quart, three-way portable refrigerator that runs on 120-volt AC or 12-volt DC power or LP-gas. The Porta-Gaz sips LP-gas at a rate of half a pound per 24 hours, which means that one of those little 16.4-ounce propane canisters could potentially keep that refrigerator running cold for two days.

There's seating for four — even five — at the dinette (which the company calls a "club lounge"), and the table rotates so we weren't knocking stuff off the table to have a seat on the comfortable sofa. As mentioned earlier, the cream-colored leatherette sofa is attractive, but it may not stay cream colored for long with certain (read: younger) guests. To get into the bed behind the sofa, you need to step on and over the sofa, plus we can picture kids (and some adults) with dirty feet using the sofa as a springboard to dive into bed. A solution for keeping the sofa clean would be to cover it with a towel or sheet. The club lounge folds down to make into another bed. If you're going to use the lounge as a bed while someone is sleeping in the adjacent "bedroom," it may be beneficial to communicate at which end your head will be so a wayward foot doesn't end up in a body part during nighttime comings and goings.
Getting into bed at the other end is not as exciting; the users simply take one step up into the room. A knee-high cabinet to the left is a good place to keep a suitcase or duffle bag that can easily be reached from bed (when you're not zipped in). Each "bedroom" has a comfortable 75 x 59-inch mattress, and even with the bedroom all zipped up, there's lots of room and we did not feel closed in. Mesh storage pockets hang at both ends of each bed and are wide enough to hold a couple of magazines. Each room has a heavy-duty plastic skylight, which I absolutely loved for nighttime stargazing while lying in bed. We didn't close it before falling asleep, so in the morning the sun was bright and hot.

There are two skylights in the main living area as well and vented "windows." Since we were camping on a hot weekend without the benefit of a shade tree, the Opus stayed toasty during the day. Our style is to be outdoors most of the day anyway. Being able to open the skylights via zippers would be welcome, but that might compromise the waterproof aspect. One wall zips all the way down to open up the entire main living area. Included is a 10 x 6½-foot zip-in awning. Optional is a full awning/room ($1,499) that creates another living area with two detachable bed pods that will sleep another four people.


One nitpick we had about the Opus is that movement is noticeable, despite the stabilizing jacks, especially when all is relatively quiet. For instance, when friends, who were sleeping in the other bedroom, got up in the wee hours to visit the campground restroom, the motion woke me (I'm a light sleeper). Another point, as we discovered, is that the Opus' heavy canvas retains heat. This is great for camping in cool climates; however, packing up the Opus in the heat of a 90-degree Southern California day was not much fun. The first step to starting the Opus' packing-down process is to zip up all vents, so breaking camp is best done at a cool part of the day.

Three colors for the trailer are standard: Opus Orange, Metallic Grey and Pristine Silver, but the company is happy to custom "vinyl wrap" in pretty much any color you want. If you don't want to mess with backing up or parking, Purple Line, manufacturer of the Opus, offers a remote-control trailer mover (see "Big E-Go" in the May 2015 Trailer Life).

The Opus' less-than-4-foot-high door locks, so the trailer can be secured when it's folded down. The only thing the Opus was missing is a bathroom, though an optional cubicle/privacy screen with a portable cartridge toilet is available for $349.99. Also optional is a portable shower that heats up water using LP-gas or the 120-volt AC volt system. The Opus comes with a 14-inch spare tire.

The company will soon release a Moto model that can tote two motorcycles (up to 1,100 pounds) on top and includes a motorcycle loading system.

The Opus is certainly not mainstream, but we were impressed with how spacious and well-appointed it is. Plus, we like its versatility — here's the possibility of exploring with an RV that can be towed over the bumps and bounces of peaks and prairies. It's a breeze to maneuver, you can see over the top of it from the rearview mirror, and it can be towed by just about any vehicle. And once you get to where you're going, you'll be far more comfortable than those pioneers battling the elements from their Conestoga wagons.

Purple Line/Opus | 415-802-3734 | www.opuscamper.com
---