The 2018 Plateau TS is fun to drive and offers premium living for couples or small families
The Class B motorhome occupies a very specific niche in the RV world. Its compact footprint lends itself to easy driving, and its economical powertrain makes it great for long hauls – plus the interior design is a study in compact efficiency. If, however, you spend a lot of time in camp, you'll want to choose a different type of motorhome because Class B's are meant to be driven. Which is exactly how we spent our time in this new Pleasure-Way.
We picked up the 2018 Pleasure-Way Plateau TS in London, Ontario, Canada, and turned northwest toward Lake Huron and a few days of beachcombing, with a visit to a traveling rodeo thrown in just for fun. Affectionately known as the west coast of Ontario, Lake Huron offers up hundreds of miles of sand beaches that tie together a dozen beachfront towns that, in summer, attract sunbathers, sailors and folks eager for a dose of vitamin D.
Over the long weekend we drove nearly 500 miles. That's not because we had to but because sightseeing in a Pleasure-Way on any road is stress-free. Clearly, this motorhome is easy and fun to drive.
Touring through these beach communities, we were curious about what homes we might see down on the beaches. Often these access roads were single lane, twisting and winding around the dunes and points. Without hesitation, we drove the Plateau down any road that appealed to us. It drives smaller than its length and, with its square shape and clear sight lines, it fit wherever we pointed it, or just about anywhere a car will go. For many folks this type of maneuverability offsets the compact space inside.
Pleasure-Way Industries was started in 1986 by RV dealer Merv Rumpel as an answer to his frustration with the available Class B's on the market. Rumpel found that his dealership was doing repairs and adding improvements to newly received motorhomes so often that it suddenly dawned on him that building a Class B his way was the answer to this problem. More than 30 years later, the company is still at it.
Pleasure-Way's 2018 Plateau TS is built on the diesel-powered Mercedes-Benz Sprinter chassis, supported by a 3500-series frame with dual rear wheels. The standard 3.0-liter turbodiesel engine is powerful and economical. With its substantial torque there was no lag on hills and it accelerated easily into highway traffic, turning in 17.9-second acceleration times from 0-60 mph. Fuel economy was also impressive with a best highway-only number of 18.7 mpg and a best combined city/highway consumption of 17.4 mpg.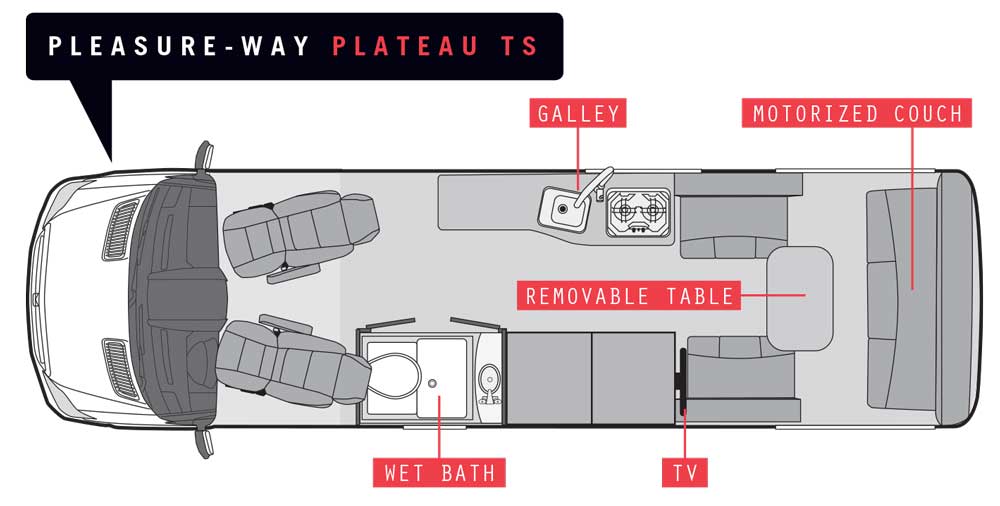 The cab, built by Mercedes-Benz, shows off its commercial origin with features designed to make the lives of professional drivers who spend full working days in the truck more comfortable and efficient, and these features serve RVers as well.
The Plateau is one of six models available from the Pleasure-Way stable. Two are wide-bodies, and the diesel-powered Sprinter chassis is the underpinning for five out of six. (The sixth, the entry-level Lexor, is built on the Ram ProMaster chassis powered by the 3.6-liter Pentastar gas engine.)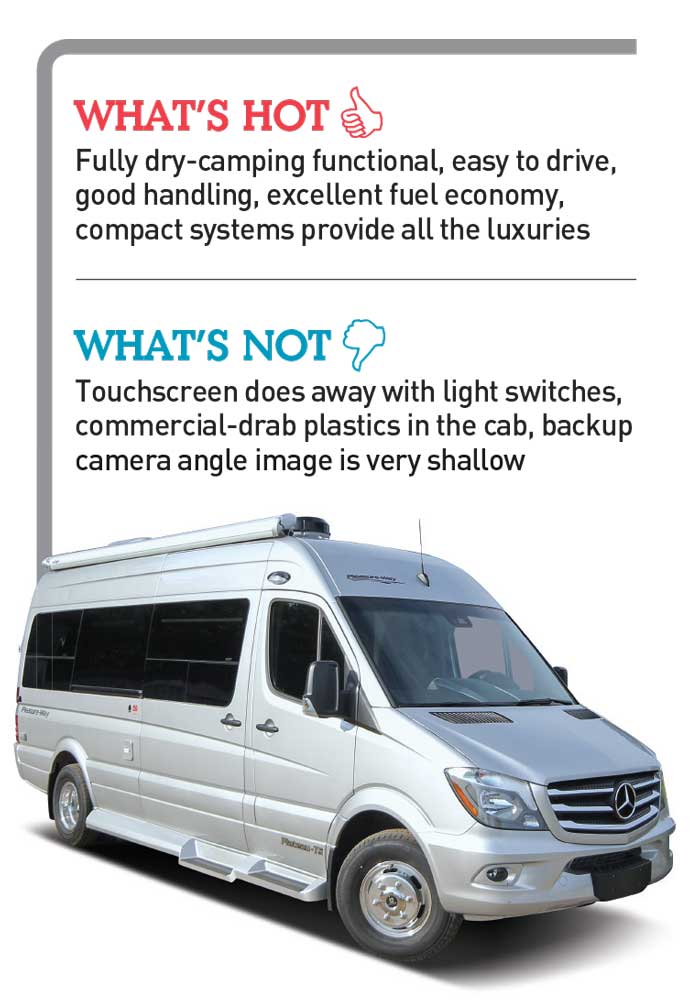 The body on the Plateau is not much wider than the cab, offering clean sight lines from the side view mirrors. Access to the interior is via a large passenger-side sliding door, which not only serves as the entry, but opens up the living space to the outside. A cantilevered power box awning provides patio shade. The test motorhome was also equipped with a side and rear door roll-up screen (optional, $780 each). These serve an obvious purpose and a nice feature in addition to the zippered entrance on the side door is a magnetic strip on the right side, which allows a quick one-handed pass-through and instant closing without touching the zipper.
Using the outside as an extension of the living arrangement is confirmed by the kitchen counter that extends into the door opening, making for a convenient serving station with food going out and dishes and condiments going back in. On the side of this counter is a 7-inch touchscreen that controls all the lighting in the unit, the awning, pumps, HVAC, water heater and Fan-Tastic Vent. It also displays the levels and power stats in one place; a second touchscreen in the living/sleeping area duplicates these functions and is backlit for night operation. We actually found we could set the screen lighting to stay on and act as a nightlight. The only downside to this setup is that you have to sit up and scoot over to the touchscreen to turn reading lights on and off.

The floorplan gives the impression of a compact sailboat interior. A single aisle runs the length of the body with all available space, above and below on either side, utilized for storage or living systems. Turn right and you enter the driver's compartment; however, unlike a larger motorhome, it's not necessary to enter the cab from the living area.
Because the cab is utility-based with large entry doors and integrated step, driver and passenger access is easy. Standard comfort features found in the cab include adjustable driver and passenger seats (passenger seat can swivel 180-degrees to face the interior); tilt and telescopic steering wheel; full HVAC system; cruise control; high-beam assist; keyless entry; power windows, locks and mirrors; and Becker in-dash navigation and audio system with Bluetooth (includes a backup camera).
Safety systems built into the Sprinter chassis are those most people expect in a commercial van, including four-wheel disc brakes with ABS, driver and passenger air bags, and smart steering-wheel controls. However, Mercedes has added other systems for the commercial market application of this vehicle which are also helpful safety features for RVers. A lane departure warning and an active steering system help resist side winds. Here, Mercedes acknowledges that driving a vehicle with a large side surface area in crosswinds can be trying. Rather than just leaving it to the driver to counter steer, the van actively works to keep itself straight, and if you do leave your lane it will let you know. Other systems include a blind-spot assist that utilizes warning lights in the side mirrors; a collision prevention assist that uses radar to monitor the traffic ahead and offers a warning if the motorhome is closing too fast and, if you don't react it will also apply the brakes independently.
Stability and traction controls are always on and work in the background to keep the motorhome going straight in all weather conditions. They are designed to brake each wheel independently and automatically to prevent an unintended spin-out.
The seating position in the cab is comfortable, and the seat height and large windshield offer excellent sight lines. In fact, the Sprinter is just tall enough to let the driver see over most of the traffic in front. Driver's seat, steering and mirror adjustments were equally good for big or small people. Gauges and knobs are large and well marked and the layout simple and ergonomic. The automatic shifter is a short stick on the dash above the driver's right knee and easy to use without ever looking. Storage is found in the doors, in the dash, center stack and above the sun visors, again speaking to the Sprinter's commercial origins.
Most features in the Plateau body do double-duty. The wet bath has a step-in floor pan and waterproof surfaces per usual for a shower enclosure. The living room doubles as the bedroom thanks to a motorized couch that folds flat for sleeping. This is also the same seating used for the eating area, and the dining table can be removed to accommodate cushions between the fixed ottomans to complete the 70-by-76-inch bed.
Making the bed is simple and quick, and the sleeping surface is comfortable for two, with the only exception being the separations in the cushions. An extra comforter or egg crate foam under the bottom sheet will help here.
The standard 24-inch flat-screen TV is wall-mounted and can be viewed while sitting or lying down. Signals are fed to it from the Winegard Rayzar digital antenna, a direct cable hookup or from the standard Blu-ray player.
The nature of a Class B means space is at a premium, but occupants don't have to miss out on any comfort features; smart design sees to that. This assessment also includes a few things you can't see such as an Eco-Ion smart lithium battery system, 2,000-watt power inverter and an on-board 2.5 kW Onan LP-gas generator. The test unit was also equipped with an optional 285-watt solar package for battery charging. Other support components include a tankless on-demand Truma Aqua Go water heater and underbody LP-gas tank where you'll also find a standard barbecue quick connector.
The galley is another model of efficiency, yet it feels surprisingly large, in part because of the Corian counter that extends into the side doorway, plus a flip-up extension on the living room side and the covers for the stove and sink. The two-burner flush-mount stove has a splash guard that flips up next to the deep sink and an integrated matching countertop cover.
Swivel around and you face the three-way two-door fridge/freezer with the High Pointe convection microwave right above it. Storage above the windows is found in the natural maple cabinetry with radius doors. The cabinets are nicely finished and the doors can be held open with top-mounted hardware. Below the kitchen counter, drawers and cupboards are equally well finished with excellent hardware.
Storage space in the Plateau, as in most Class B's, is also at a premium; however, the available space is well designed and has good access. Just don't figure on taking a whole winter's worth of gear south with you. Unless, of course you tow a trailer, which is a possibility. The standard hitch receiver is rated to handle up to 5,000 pounds and the spirited diesel engine opens up a number of recreational possibilities for the Pleasure-Way owner, like towing motorcycles in summer and snowmobiles in winter.
Outside, utility hookups are located together nicely, placed at waist height. Dump valves are hidden behind a simple latched door in the attractive ground effects that extend to around 6 inches wider than front tires but is flush with the rear duals. Just don't get too close to curbs. There is also an outside shower. It takes less than five minutes to hook or unhook the utilities making it no big deal to leave the park and use the motorhome to go shopping or tour the neighboring area.
After I weighed the Pleasure-Way at the truck scale I noticed that the front axle weight on my ticket was just 380 pounds less than the published gross axle weight rating (GAWR). So, while this suggests a good transfer of weight, back to front, on the unit, owners should be aware that cargo and passengers should be shifted rearward to keep that front axle from being overloaded.
So, a few concluding observations on the Plateau. It really is a quick getaway vehicle: quick to set up, quick to pack up, and quick and easy to handle in traffic. And, perhaps most importantly, you'll quickly come to enjoy every mile you drive in this Pleasure-Way.
Pleasure-Way Industries | 800-364-0189 | www.pleasureway.com
---