With free admission throughout 2017, Canada's national parks are the places to be this year
Traveling to Canada this year is like attending a birthday party only to discover you're the one getting the presents. That's because a big part of Canada's nationwide sesquicentennial celebration (that's the country's 150th birthday party to you and me) is the decision to make admission to the national parks, national historic sites and national marine conservation areas operated by Parks Canada free for everyone all year long. Or, looked at another way, the more Canadian national parks you visit, the more money you'll save.
If you're someone who likes a bargain, you owe it to yourself to check out these national parks – places full of jaw-dropping scenery by day and starry skies by night – for yourself. To help you plan your itinerary, here's a look at a few of our favorite parks you may want to consider adding to your must-visit list:
Banff National Park, Alberta
No discussion of Canada's national parks would be complete without this 2,564-square-mile preserve that started it all. One look and you'll understand why this land of jagged peaks and turquoise lakes in the Canadian Rockies became the country's first national park (and only the third in the entire world) way back in 1885. Don't-miss attractions include Moraine Lake, Lake Louise and the Icefields Parkway, arguably the most scenic drive on the continent. Of the park's 14 campgrounds, Tunnel Mountain Trailer Court Campground and Lake Louise Trailer Campground are your best bets if you need hookups.
Cape Breton Highlands National Park, Nova Scotia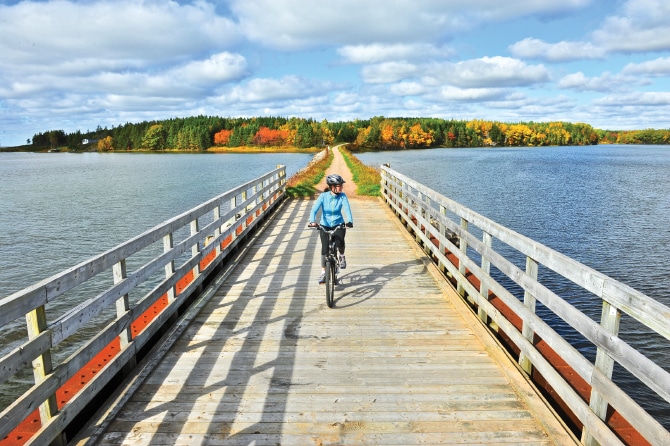 Located between the Gulf of St. Lawrence and the Atlantic Ocean, this park stretches across the northern tip of Cape Breton Island. Atlantic Canada's first national park packs a lot into its 569 square miles, including the chance to spot moose, bald eagles, and even minke and pilot whales surfacing offshore. Visitors can drive the world-famous 186-mile Cabot Trail for views of both coasts and the rugged highlands in between that give the park its name. Four of the park's six campgrounds are primitive; hookups are available at Broad Cove Campground and Chéticamp Campground.
Fundy National Park, New Brunswick
If you find the name of this national park rings a bell, it's because of its centerpiece, the 174-mile-long Bay of Fundy, where daily tides can rise and fall as much as 56 feet. Besides the chance to explore the exposed sea bottom, you'll find hiking trails that lead through lichen-draped forests to more than two-dozen waterfalls. High points include the eye-popping vistas from the viewpoints on the 29-mile Fundy Circuit (seven linked hiking trails), kayaking among the sea caves at Hopewell Cape and snorkeling amid schools of endangered Inner Bay of Fundy salmon. The park's Chignecto North Campground has full- or partial-hookup sites; Headquarters Campground and Point Wolfe Campground offer partial hookups.
Grasslands National Park, Saskatchewan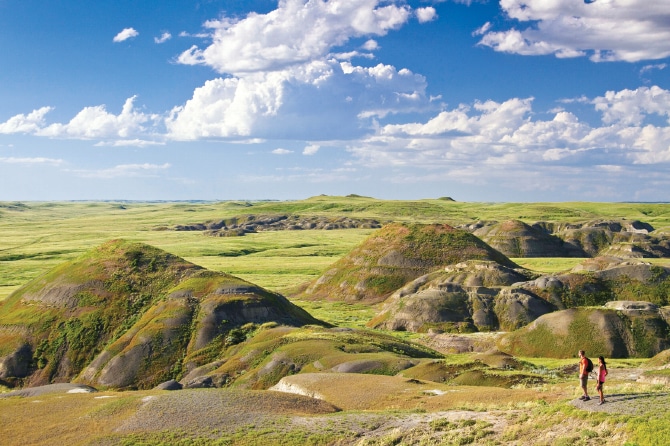 Time was, not so very long ago, that wide-open prairies covered much of this continent's midsection. You can get a feel for what this rolling grass-covered landscape was like before the settlers' plows turned it under at this 544-square-mile park just north of the Montana border. Aside from watching the wind ripple through the mixed-grass prairie like waves on the ocean, you can hunt for dinosaur bones and amuse yourself with watchable wildlife that includes comical black-tailed prairie dogs. The days here save the best for last, however, with the thousands of stars you'll find visible here in what is the darkest of Canada's designated Dark Sky Preserves. Note that campground facilities are limited at Grasslands; Frenchman Valley Campground/West Block has 20 electric sites, and Rock Creek Campground/East Block has 10 RV sites.
Jasper National Park, Alberta
As you'd expect from the largest national park in the Canadian Rockies, this 6,527-square-mile park has lots to offer. Like sawtooth mountain peaks, crashing waterfalls and nearly 600 miles of hiking trails. Though 97 percent of the park is considered wilderness, there's still plenty to see off the Icefields Parkway, including the soak-worthy Miette Hot Springs, thundering Athabasca Falls and the Columbia Icefields, which include the Athabasca Glacier, where you can hop a ride onto the glacier itself aboard the massive six-wheel Ice Explorer buses. There are plenty of campsites available in Jasper. Whistlers Campground is the largest, with 120 full-hookup sites and 126 partial-hookup sites.
Mount Revelstoke National Park, British Columbia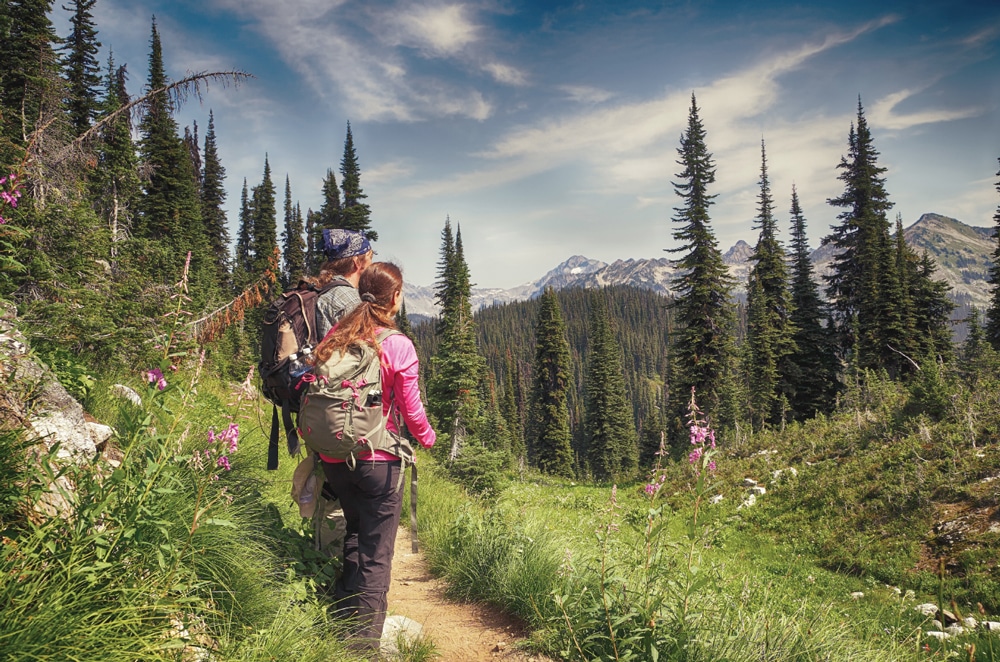 It's not every day you get to summit a mountain. That's just one of the attractions of the 16-mile Meadows in the Sky Parkway (note that the road's 16 switchbacks make it no place for larger motorhomes, so take your dinghy vehicle; parking is available .3-mile from its junction with the Trans-Canada Highway). In addition to reaching the top of the peak with no more effort than it takes to walk across the parking lot to board the shuttle bus, you can enjoy strolling the fern-lined boardwalks that lead through the world's only inland cedar rainforest, and stopping to admire the wildflower-filled subalpine meadows that line the road. There are no road-accessible campgrounds in the park, but there's a good selection of full-service RV parks in the city of Revelstoke.
Point Pelee National Park, Ontario
Here at the southernmost spot in mainland Canada, you'll find natural wonders to make your imagination take flight. And we mean that quite literally, as its location at the inter­section of two major migratory routes makes this one of the nation's top birdwatching spots. More than 370 avian species have been documented here during the spring and fall migrations, to say nothing of the Monarch butterflies that stop by to rest their delicate wings before or after their long flight across Lake Erie. While you're here, don't miss the chance to paddle your way through the park's lily-pad-studded marshlands aboard a 10-person freighter canoe with one of the staff naturalists, and stare up at the thousands of stars in the heavens above this Dark Sky park. Point Pelee does not have campground facilities, but there are a number of private campgrounds nearby, including Sturgeon Woods Campground just 2 miles to the north.
Prince Edward Island National Park, Prince Edward Island
Dig a little deeper and you'll find this tiny park on the Gulf of St. Lawrence has long been a favorite camping spot, according to park archaeologists who've determined prehistoric Paleo-Indian peoples first set up housekeeping here 10,000 years ago. They were followed to the island's north shore by other native people as well as French, Acadians, Scots, Irish and English settlers. Today, the island is known for rugged red sandstone cliffs and unusual red-sand beaches. Perhaps the most popular attractions here are man-made, however, namely the picture-postcard Covehead Lighthouse and the farmhouse that inspired the classic "Anne Of Green Gables" novels. Mountain bikers will also want to put the freshly minted Robinsons Island trail system to the test (cycling helmets are mandatory on the island). Of the park's two campgrounds, Cavendish is the best bet, as Stanhope has a 27-foot-length limit.
Thousand Islands National Park, Ontario
While many tourist destinations are given to hyperbole, this park's name is actually an understatement. You'll discover more than 1,000 islands (1,864 to be exact) here in the St. Lawrence River, not to mention a 3.5-square-mile park that balances easy access to mainland visitor facilities with solitude that comes from the possibility of having an entire island to yourself. There are several ways to explore this national park, including renting a canoe, kayak or powerboat; hopping aboard a ferry or water-taxi-like shuttle service; or setting sail on one of several tour boats that regularly ply these waters. Only tent camping is available at this park.
Waterton Lakes National Park, Alberta
Part of the world's first international park, the Waterton-Glacier International Peace Park, this relatively small preserve in the southwest corner of Alberta abuts Montana's much larger Glacier National Park. This makes this narrowest spot in the Rocky Mountain chain a great place to spot more than 60 species of mammals (including grizzly and black bears, wolves, coyotes and cougar) and 250 species of birds. You'll find that wildflowers bloom in low elevations in June, while the higher country's color extravaganza doesn't get going until mid-July. And though the park is busiest in July and August, its off-the-beaten-path location means it stays relatively uncrowded throughout the season. Don't miss the dramatic Prince of Wales hotel, with its sweeping views of Waterton Lake, the deepest body of water in the Canadian Rockies. There are three campgrounds in Waterton Lakes: Townsite Campground, Crandell Mountain Campground and Belly River Campground.
---