An RV tour of central California from Pismo Beach to Morro Bay, Cambria and San Simeon
Midway between Los Angeles and San Francisco, California's scenic Route 1 hugs the Pacific shore for much of its 100-mile wander through San Luis Obispo County. It's a popular vacation destination and a favorite of ours. Pismo Beach, Morro Bay, Cambria and San Simeon — each community offers a distinct appeal and ways visitors can give back as they travel up or down the coast.
We unhitched our travel trailer at three campgrounds during a recent exploration of the area. Enjoying perfect weather, we hiked atop ocean bluffs and through sand dunes, strolled beaches and quaint main streets, toured historic lighthouses, cruised Morro Bay, and observed elephant seals and migrating gray whales. We also visited a couple of memorable wineries and succumbed to a surfeit of culinary temptations. And beyond paying for the goods and services we received, we did uncover some small ways to give back.
Pismo Beach
Look carefully or you may miss the Guadalupe-Nipomo Dunes Center, just south of the Santa Maria River and the San Luis Obispo County line. Housed in a vintage Craftsman-style bungalow along Route 1, the Dunes Center is supported by federal, state and local agencies and a private nonprofit. Each handles different responsibilities for the coastal dunes that stretch from Pismo Beach 15 miles south to Point Sal.
In the small visitor center, Will, the education coordinator, provided historical and natural-history information, and supplied a helpful recreation map. The exhibit displaying artifacts from the set of the 1923 silent movie The Ten Commandments, shot in the dunes, reminded us of a tiny archaeological museum. Don't miss digging in the sand on the projected-light topo map.
While you're there, you can arrange to volunteer on an environmental-stewardship project. Or you can simply make a donation to support the center's important conservation work, as we did.
We drove out to Rancho Guadalupe Dunes Preserve County Park, a popular surf-fishing spot, and visited freshwater Oso Flaco Lake. The lake offered an easy hike with views of dunes, beach and colorful waterfowl, including ruddy ducks and cinnamon teal.
While camping in the quintessential beach town of Pismo Beach, we strolled the boardwalk, pier and small downtown, and walked on the beach at sunset. And since we were in the neighborhood, we couldn't miss eating at Jocko's, the iconic steak house in nearby Nipomo. This popular place serves quantities large enough that we enjoyed leftovers the following day.
Morro Bay
Morro Bay was our next temporary residence. As the name implies, it's more harbor than beach town. Instead of a boardwalk, it has an embarcadero, with a fair share of souvenir and T-shirt shops among the art galleries. But the big difference is the working harbor with its marina and commercial fishing fleet.
While sea lions lounged on their private dock in the middle of the bay and sea otters paddled nearby, we got a good look at the Morro Bay Estuary aboard Captain Stew's Bay Cruise. In the shadow of Morro Rock, the estuary is home to commercial oyster beds and an array of wildlife, and we learned that the Navy had an amphibious training base here during World War II.
Sportfishing charters, and kayak and paddleboard rentals provide more ways to experience Morro Bay and the ocean just beyond. Not to be missed is Tognazzini's Dockside Restaurant, featuring fresh seafood, much of it locally caught. It's a genuine local institution established by a fishing family to market its catch.
From its headquarters on the embarcadero, the Morro Bay National Estuary Program protects this wetland habitat, and organizes restoration and cleanup events, though none were planned while we were visiting. Again, if you can't volunteer, making any size donation helps support organizations like this one.
We signed up for a tour of the Point San Luis Lighthouse near Avila Beach. We had visited a decade ago when the only way to the lighthouse was hiking or kayaking. This time we rode a shuttle to the now-renovated lighthouse and toured the building with knowledgeable docents. We observed an artful restoration with period furnishings.
The nonprofit Point San Luis Lighthouse Keepers are responsible for the upkeep of the 1890 structure and other buildings on the site. By paying for a tour, we contributed in a small way to the restoration and maintenance of this historic place.
San Simeon
Heading north to the Piedras Blancas elephant-seal rookery, we arrived to see a beach crowded with seals, including huge males weighing up to 5,000 pounds and sporting pronounced proboscises, the inspiration for the species' name. Docents from Friends of the Elephant Seal answer visitors' questions, explaining that northern elephant seals travel up to 3,000 miles into the north Pacific and Gulf of Alaska, returning to the rookery to birth, rest and breed. The species has made a remarkable recovery from near-extinction about a century ago to more than 225,000 now.
Less than 10 minutes back down Route 1, we pulled into the parking lot of Sebastian's, now part of the Hearst Ranch Winery in the old village of San Simeon. It's across the highway from Hearst San Simeon State Historical Monument, better known as Hearst Castle. Opened as a general store in 1852 when the village served as a whaling and fishing port, Sebastian's is now a café and wine-tasting bar. Although the wine is mostly grown and produced inland near Paso Robles, the association of the family name and Hearst Castle draws visitors.
The venerable space was bustling when we arrived in late afternoon to be greeted by Geraldine, who poured several wines for us to taste and explained the vineyard's grape varieties and winemaking approach. We enjoyed learning about the winery, but when we discovered Geraldine was a fellow RVer, we traded stories about our favorite travel adventures. The well-crafted wine was very much to our taste, and one, the Pergola petite sirah, ended up in our trailer's "cellar."
Cambria
That evening we dined at Linn's on Main Street in Cambria, just south of San Simeon. Linn's is another local institution, known throughout the central coast as a bakery, but the family also operates a café, restaurant and specialty market. We'd describe the food we enjoyed in the high-ceilinged eatery as elevated down-home cooking.
Cambria is another appealing small town that is easy to hang out in, with an abundance of one-of-a-kind shops and galleries, good restaurants, beautiful ocean bluffs and historical architecture. Stopping by the Cambria Chamber of Commerce and Visitor Center on Main Street, we picked up a walking-tour map. Beginning at the town's eastern edge, the tour weaves through the center of the historic East Village. We strolled past structures dating from the 1860s to the 1930s, a mix of styles and functions.
The Shop Next Door, built in the 1880s and next to the 1877 Squibb House on Burton Drive, features beautifully handcrafted furniture, and the Vault Gallery, housed in a 1928 bank building on Main Street, struck our fancy with its eclectic collection from local artists and photographers. Having worked up an appetite, we headed for Indigo Moon, also on Main Street, where, seated on the covered back deck, we savored blackened salmon salad and salmon tacos with mango salsa.
Fiscalini Ranch Preserve is a 434-acre gem in the center of Cambria. Acquired as public open space in 2000 after several unsuccessful attempts at development, its miles of trails are accessible every day from dawn to dusk. Friends of the Fiscalini Ranch Preserve hold a conservation easement on the property, raise funds to support the preserve and organize volunteers for various projects. We hiked a loop on the Marine Terrace and Bluff trails with unobstructed views of the Pacific and northward-migrating gray whales breaching and spouting.
Two miles east of the center of Cambria's East Village, on Santa Rosa Creek Road, Stolo Family Vineyards defies the odds and conventional wine wisdom. Charlene and Donald Stolo and their talented crew coax some exceptional chardonnay, sauvignon blanc, pinot noir and, most surprisingly, Syrah, from their small hillside and creekside vineyard, 3 miles as the gull flies from the Pacific shore.
With coastal fog, onshore breezes and moderate temperatures, ripening grapes to the peak of flavor can be challenging, but attentive viticultural practices help. The small, rustic-modern winery, with its sun-bathed tasting room, was a welcoming and comfortable environment in which to savor some lovely and highly rated estate wines.
Several buildings on the historic walking tour are restaurants, and we returned to one of them, Robin's, for dinner. We first thought the menu, self-described as "handcrafted global cuisine," seemed pretentious, but we quickly reconsidered. It was an apt description of dishes that ranged from prawn enchiladas to pork osso buco, and included the tandoori chicken and pad thai we ordered. Local ingredients and deft and inventive preparation yielded a meal that exceeded our high expectations.
Piedras Blancas Light Station
On our final morning, we headed 12 miles north on Route 1 to the Piedras Blancas Light Station. Once 100 feet tall with a large first-order Fresnel lens, today the lighthouse tower stands at 70 feet, missing its lantern and watch room. The U.S. Coast Guard removed the top in 1949 when it was found to be structurally unsound following an earthquake.
Now owned by the Bureau of Land Management, the nonprofit Piedras Blancas Light Station Association provides maintenance, conducts public tours and raises money for these and other projects. So far, a redwood water tower that once served the station was reconstructed and the brick fog signal building was restored. The big, expensive undertaking is restoring the top 30 feet of the tower including the lantern. Financial donations will help realize that dream, and volunteers are encouraged to give of their time.
Near the lighthouse on the Piedras Blanca bluffs, a state park project proposes extending a coastal trail from the elephant-seal viewpoints to the beach at Arroya de la Cruz and creating a 29-space campground, which would be welcome additions to the region.
We could easily spend a week in each of these communities and never run out of enjoyable experiences or good places to eat. And surely we could dig up some more ways to give a little back.
What Is Stewardship Travel?
Stewardship travel connects tourists to the natural, cultural and historical environments
they visit and involves them in local conservation and preservation. It's something many travelers do without thinking about it, but the tourism folks in California's San Luis Obispo County have made it easier by identifying a variety of activities and attractions visitors can include in their travel plans to give back as they go.
www.highway1discoveryroute.com/stewardship-travel-activities
Camping on the Golden Coast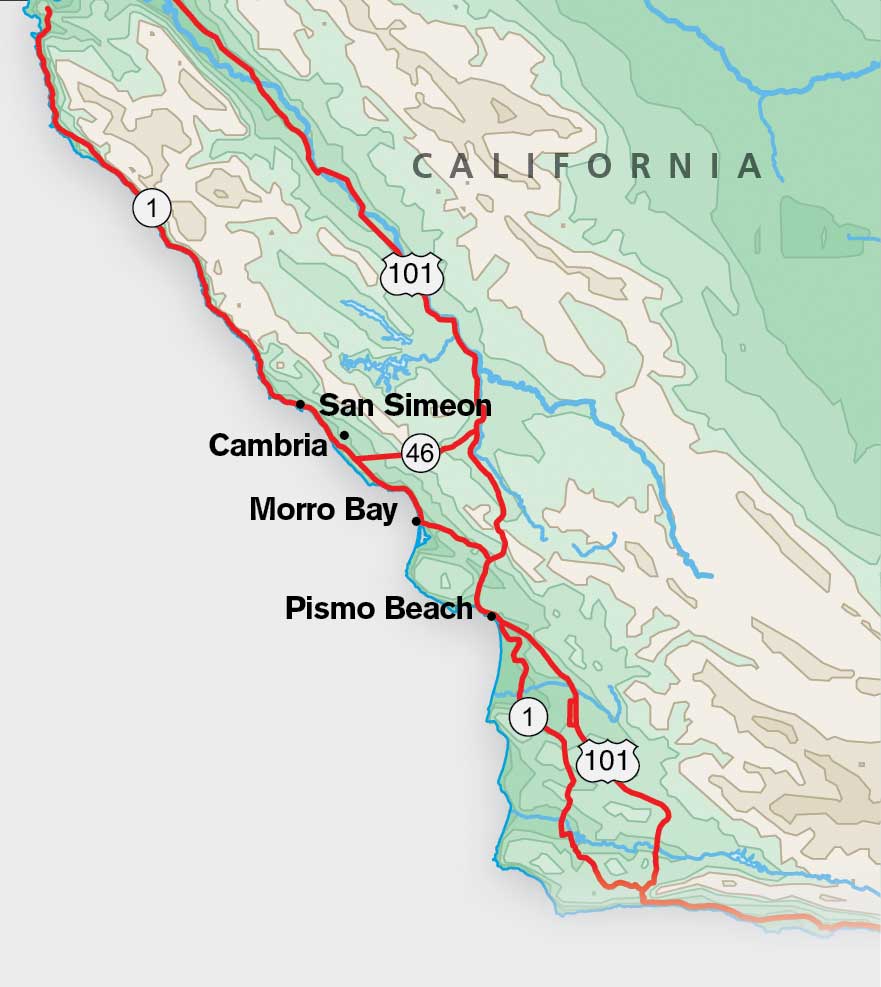 MORRO BAY
A ½-mile stroll from the embarcadero, Cypress RV and Mobile Home Park is situated near the harbor.
805-772-2515
Morro Bay State Park offers 27 public campsites 2 miles from the center of
the embarcadero.
805-772-2560 | www.parks.ca.gov
Right on the beach, Morro Dunes RV Park is a mile from the bustling heart
of the waterfront town.
805-772-2722 | www.morrodunes.com
OCEANO
A highly rated Good Sam Park, Pismo Sands RV Park sits 1 mile from the beach and 3 miles from Pismo.
800-404-7004 | www.pismosands.com
PISMO BEACH
Pismo Coast Village RV Resort, a large full-service facility, is right in town and on the beach.
888-782-3224 | www.pismocoastvillage.com
SAN SIMEON
With 115 campsites and beach access, Hearst San Simeon State Park is located 5 miles north of Cambria.
805-927-2020 | www.parks.ca.gov
---